New York City
Why Industry City rezoning is failing
Neighborhood activists convinced City Councilman Carlos Menchaca to oppose plans for the Brooklyn building complex.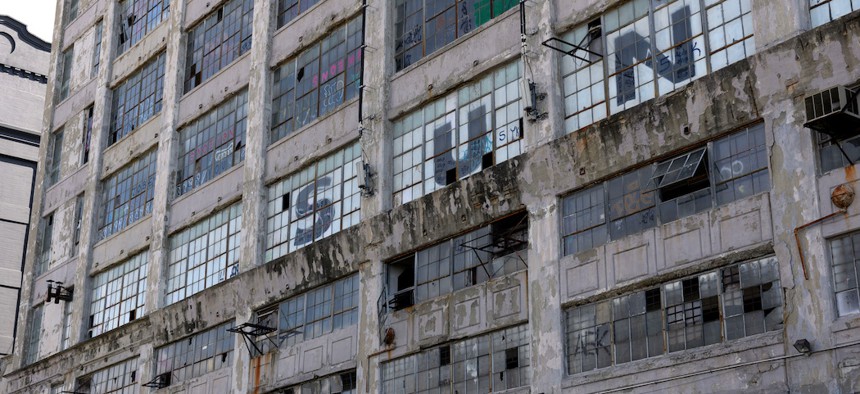 Last week, New York City Council Member Carlos Menchaca, who represents Brooklyn's Sunset Park neighborhood, announced he would officially oppose the rezoning application submitted by the owners of Industry City – a sprawling, 35-acre complex that once housed heavy manufacturing, but now includes retail, offices, storage and restaurants. Owners Jamestown, Angelo Gordon and Belvedere Capital sought to modify use, bulk, parking and public access requirements, in orderto add more than 1 million square feet of new development, including luxury hotels, a high school, office space, and large retail.
Since the City Council usually defers to members from affected areas on rezoning, that means the current proposal now has little chance of passing. Although the owners have yet to officially withdraw the application, The Real Deal labeled it "effectively dead."
The outcome is the culmination of more than a decade of community organizing and lobbying by grassroots groups advocating for environmental justice and against gentrification. Chief among them are Uprose and Protect Sunset Park, which organized rallies, distributed petitions, coordinated community strikes, pressured Industry City executives directly, and hosted workshops and information sessions.
Neighborhood activists are celebrating their victory. Others, including developers and some City Council members, lament the shift, which they say could cost New York City tens of thousands of jobs at a moment of acute economic precarity. The city's unemployment rate is hovering at 20 percent and projections suggest one-third of its 240,000 small businesses may never reopen.
Industry City's rezoning proposal, made public in 2015, was controversial from the start. The space, historically known as Bush Terminal, is a collection of warehouses, factories, and piers built in the early 1900s that moved between private and public ownership during the first half of the 20th century. Although Manhattan – the Garment District in Midtown, Chinatown and the Lower East Side – had long served as hubs for garment production, garment workers began moving to Sunset Park in the early 1990s, drawn by cheaper rents. Until around 2012, the neighborhood remained one of New York City's primary clothing manufacturing sectors, second only to the Midtown Garment Center.
Today, the publicly operated space known as "Bush Terminal" still occupies around 71 acres of space, from 40th to 51st streets – in 2018, the New York City Economic Development Corporation (EDC) announced a $136 million investment to transform it into a film and television production campus. Industry City refers to the privately owned commercial complex situated to the north, between 32nd and 41st streets.
The EDC is working to improve the area, situated between the harbor and the Brooklyn-Queens Expressway – a particularly undesirable part of Sunset Park – with $38 million in repairs and improvement to the streets between the waterfront and the expressway, spanning from 37th to 43rd.
Sunset Park, historically a blue-collar neighborhood home to Polish and Norwegian immigrants, drew new arrivals from Puerto Rico after World War II, and subsequent waves from South and Central America, primarily from Mexico and the Dominican Republic. In the last few decades, the neighborhood area has seen significant Chinese immigration; today, the eastern segment of Sunset Park is Brooklyn's largest Chinatown.
Despite being next to the highway and a hodgepodge of undistinguished low-slung buildings, Industry City boasts the spacious industrial-chic architecture that has become home to luxury lofts and creative industry working spaces in neighborhoods such as SoHo and Dumbo. While brownstones on Sunset Park's leafier streets just a block uphill already cost more than $1 million, the area's modest brick and clapboard row houses and relatively reasonably priced apartments are a working-class refuge near the increasingly unaffordable Brooklyn waterfront.
In recent years, the neighborhood began drawing young professionals increasingly priced out of neighborhoods like Park Slope, Sunset Park's neighbor to the north. Rent prices have been steadily rising; in 2018, one-third of Sunset Park households were "rent-burdened," meaning they spend more than half of their income on rent. Although the commercial corridors of 4th and 5th Avenues are dominated by unpretentious Latino-owned bodegas and restaurants, new types of businesses have trickled in – and many are concentrated in Industry City. Trendy offerings – from a fast-casual spot specializing in $11 avocado toast to a "ginger liqueur tasting room" – have some residents worried the area could undergo the same transformation as nearby neighborhoods such as Park Slope, Gowanus and Red Hook that have seen rapid gentrification upend formerly working-class enclaves with once-sizeable Latino populations. And they've eyed Industry City's planned expansion as an indication that even the neighborhood's cheapest blocks might soon be out of reach.
Industry City's current owners bought stakes in the complex in 2013 and hired CEO Andrew Kimball, who had overseen the Brooklyn Navy Yard's evolution for the previous eight years. They began renovations and leasing, attempting to draw a range of businesses, "from food manufacturing to clothing to technology to media, that all want to come together and be near each other, where their creativity feeds off of one another in this kind of space," a Jamestown executive said at the time.
In the last few years, some progressive activists began to worry that this new version of Industry City, the largest privately owned industrial property in New York, is driving up housing costs and increases displacement. In a particularly poignant example of an increasingly hostile dynamic, neighborhood activists demonstrated outside a $75 wine-tasting in 2016, saying the high-end event reflected a "vision to turn Sunset Park into the next SoHo, the next Chelsea."
In March 2019, the complex's owners planned to submit an application to the Department of City Planning, outlining a 10-year, $1 billion project that would expand the facilities' square footage from 5.3 to 6.6 million, build hotels, new retail space, and academic centers, creating an estimated 15,000 on-site jobs. At the time, Kimball said the proposal would "fully reactivate the long-dormant, non-productive buildings of Industry City into a job-intensive hub for manufacturers, innovators and entrepreneurs, while also maximizing economic opportunity for area residents and local businesses."
Menchaca urged the owners to hold off, largely in response to opposition from local groups, and conditioned his backing on a set of demands, including removing hotels from the application, entering a community benefits agreement with local groups, and receiving investments from City Hall, notably to preserve affordable housing. (The mayor's office rejected the request, claiming the city shouldn't intervene in a private dispute, comments Mayor Bill de Blasio reiterated earlier this week). Industry City's owners agreed to make the changes, but proceeded to initiate the seven-month public land-review process in October against Menchaca's wishes – and without altering the text of the application.
In mid-March, the pandemic put the land-review process on hold. But just as it was set to restart this month, Politico reported that Industry City was reconsidering the rezoning application altogether. The next day, Menchaca announced that he had mind up his mind: He would vote no on the rezoning, and called on Industry City's owners to pull the proposal.
"My decision around Industry City – like every land use decision – comes down to accountability," Menchaca said by email. "When (a) private developer say(s) they will create 20,000 jobs, it doesn't mean they will. We must always ask the follow up: for who?"
The activists who had been pressuring Menchaca are taking a victory lap. "Menchaca did the right thing in pledging to vote no – particularly in the face of the larger conversation we're having about equity and justice and COVID's impact on communities of color," said Elizabeth Yeampierre, the president of Uprose, a community-based organization that advocates for racial justice and sustainable development. "This application was never something that was going to benefit this community and it's not forward-thinking."
Uprose, founded in 1966, is Brooklyn's oldest Latino community-based organization, and pursues community engagement on issues related to the environment, housing costs and government accountability.
Even before developers set their sights on Sunset Park, Yeampierre – a former civil rights lawyer who served as a dean at Yale – was working to revive the area. She wanted to keep rents affordable and foster a diverse and livable neighborhood, advocating for a waterfront park and working with businesses to improve sustainability practices.
When Industry City arrived, "people in the community came to us and expressed concern about the waterfront," she recalled. "They asked us for alternatives. If not this, then what?" She feared its development goals would derail her vision and replace it with "a commercial, artisanal-bread vision that's been implemented in Dumbo, Williamsburg, Chelsea and everywhere else in New York City." 
Most of all, Yeampierre was concerned that Industry City's expansion would only exacerbate trends that have been underway in Sunset Park for the past two decades – a rise in housing costs that has pushed out many of the neighborhoods primarily Latino and Chinese immigrants. "The industrial waterfront wasn't supposed to be a beacon for the most privileged in the city."
In 2019, Uprose released its own proposal for a "Green Resilient Industrial District," or GRID, that aims to retain the waterfront's maritime and industrial character, creating opportunities for jobs in renewable energy production, sustainable business, and recycling and waste management. The plan would also incorporate green infrastructure to reduce flooding, such as installing rain gardens, wetlands, porous surfaces, and bioswales, which decrease stormwater runoff and remove debris and pollution. Yeampierre said the initiative would not only help improve the area's resilience to climate-related events – it experienced significant damage during Superstorm Sandy in 2012 – but would provide higher wages than the retail and office jobs created by Industry City.
Critics of Uprose question that proposal's economic feasibility: New York City doesn't have solar panel factories because heavy manufacturing has relocated to places with cheaper land and labor – not because people haven't said it would be nice to have them. By contrast, while service jobs at artisanal bakeries might pay less, they're comparable to the service jobs many Sunset Park residents hold and are better than no jobs at all. But Uprose argues their plan is consistent with the EDC's stated interest in supporting green industry on the publicly owned segments of the Sunset Park waterfront. In privately owned Industry City, making GRID possible could entail changing current zoning to limit further development of retail and office space. As of now, there are no immediate plans for implementation, but if the rezoning is ultimately rejected, Uprose plans to present GRID as an alternative before the City Planning Commission and City Council.
Activists say last week's developments were a long time coming. "Industry City's plan had been falling apart for a while," said Jorge Muñiz, an activist affiliated with Protect Sunset Park, a neighborhood coalition. Muñiz, an organizer and strategist, started approaching locals on the streets back in March 2019, when Industry City first submitted its rezoning application. "A lot of people didn't understand," he recalled. "They said, 'if it's private property, why does our opinion matter?' And we explained that it's not just about the buildings, it's about the land, and that involves you." Soon, the coalition had a 4,000-signature petition against the rezoning plan, which they delivered directly to Menchaca's office. "We encouraged people to show up at community meetings, to voice their opinions. It was clear that Menchaca was moving toward a deal with Industry City, and we worked to unify people against that," he said."After years of community pushback, Menchaca finally decided to stand with the community."
Industry City has not confirmed it will withdraw its application, and is "considering all options," spokesperson Vanessa Figueroa said by email. Still, she attributed the heightened reservations in part to the "the cost of appeasing even the most unreasonable requests" for modifying the application.
Backers of Industry City's expansion call Menchaca's decision shortsighted. In an op-ed in the New York Daily News, Councilmembers Ritchie Torres and Donovan Richards called the rezoning project a "historic" opportunity to create jobs and build tax revenue."The social safety net, needed now more than ever for hundreds of thousands if not millions of needy New Yorkers, does not pay for itself," they write. "It requires growth and, yes, wealth. We can squander $100 million a year in tax revenue or reinvest those dollars in public housing and public schools and public transit. We can create 20,000 jobs or destroy them."
Randy Peers, the president and CEO of the Brooklyn Chamber of Commerce, who previously served as chair of Community Board 7, which includes Sunset Park, echoed that sentiment. Now more than ever, he stressed, Sunset Park could benefit from what Industry City can offer: "jobs and opportunity, preserving industrial and manufacturing space, and investing in a community that can clearly benefit. When you consider all that, for us to just walk away and throw in the towel is unconscionable," he told City & State.
Peers argued that Industry City has long focused on community engagement, notably through its Innovation Lab, which offers education, training, and job placement, "with the goal of connecting the local community to new opportunities." He called Menchaca's announcement "completely unexpected," noting that "the community benefits task force was still in the process of meeting."
But according to Menchaca, Industry City's premature initiation of the land review process undermined local groups' bargaining power from the get-go, even within the context of the task force. "Industry City did not give the community the time it needed to negotiate effectively," he said, particularly given the asymmetry between a "private developer backed by global, multi-billion dollar investors" and a coalition of community volunteers, which "needs time to find proper legal counsel and other facilitators to make the negotiation fair." Industry City created "immense pressure to negotiate something, even if flawed, which is the antithesis of accountability and respect," he said.
Activists like Yeampierre and Muñiz also question the basis of Industry City's pledge to create 20,000 jobs. They say that, even if it was accurate, those aren't jobs the community needs. "Even if locals can take those entry-level jobs, they won't be able to afford to live in the community," Yeampierre said. Between May 2018 and May 2019, Industry City's Innovation Lab had placed 114 people in jobs, one-third of whom were from Sunset Park, with an average salary of around $17 per hour. "They say they'll create office jobs, but when 40 percent of Sunset Park residents don't have a high school diploma, well-paid office-sector jobs would be completely inaccessible."
For Menchaca, Industry City's capacity to reshape the neighborhood is clear. "Industry City has made an impossible pitch, claiming they will somehow restore the waterfront's manufacturing by building a luxury retail mall," he said by email, attracting "affluent New Yorkers and tourists" who, in turn, "will drive up rents."
With Industry City's fate uncertain, what's clear is that Sunset Park, reeling from the economic impact of Covid-19, is in need of jobs. "It will require politicians to go beyond flashy headlines of '20,000 new jobs,' and think about accessible jobs that create real opportunities for immigrant workers that can grow," said Muñiz. "Industry City acts as if they're the only ones who can create employment. But people in the community have big ideas."
Powered By
NEXT STORY: New York's 2020 congressional primary election results