New York State
2020 New York state legislative general election results
Will the Democrats secure a supermajority in the state Senate?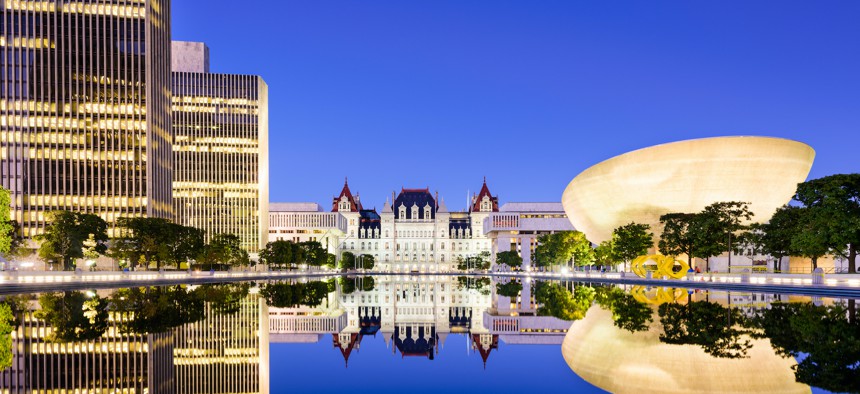 All eyes may be on the presidential election, but New York has no shortage of competitive and consequential state legislative races this year. The Democrats faced good odds to secure a supermajority in the state Senate after the party flipped the chamber as part of the 2018 "blue wave." But if the election night results were any indication, the party seems to be seriously underperforming expectations. In many of the state's most competitive Senate races, Republicans have managed to preliminarily come out on top. For example, Republican candidate Vito Bruno led state Sen. Andrew Gounardes in Brooklyn by nearly 8 percentage points, similar to other leads for Republicans in various races.
Several Democrats have already declared victory in races to flip seats from red to blue – Samra Brouk, Jeremy Cooney and Sean Ryan. At the same time, many first-term Democrats trailed their Republican challengers on election night, including nearly all of them on Long Island, and early results showed at least one open seat might flip from blue to red. Still, outstanding absentee ballots meant that the status of many races remained uncertain and could very well turn around for candidates on both sides of the aisle who found themselves behind on election night. Those mail-in ballots were obviously the major caveat in every race, which will likely drag out many results for a week or more.
The stakes were high for Republicans, who until 2018 had controlled the state Senate for all but three years since World War II. With redistricting coming up after this year's census, a continued Democratic majority could hamper the Republicans for the next decade. Many Republican state senators announced their plans to retire over the past year, and now there are plenty of open and vulnerable seats that Democrats are seeking to flip.
But Republicans are attempting to capitalize on rising crime rates and the controversial bail reform law that Democrats passed last year, which was unpopular in suburban districts. First-term Democrats on Long Island and in the Hudson Valley have found themselves fending off "law and order" challenges from the right that have attracted significant outside spending from Republican billionaire Ronald Lauder and other super PACs with law enforcement ties.
In addition to the many state Senate races in play this year, several Assembly races also promise to be competitive and could serve as potential bellwethers for the futures of those regions.
We'll be updating the vote totals as the results continue to roll in.
Note: An asterisk denotes the incumbent. In this election results page, the Conservative Party is CON, the Working Families Party is WFP, the Green Party is G, the Independence Party is IND, the Serve America Movement party is SAM and the Libertarian Party is LBT.
STATE SENATE
District 1
Anthony Palumbo (R, CON): 54.08%
Laura Ahearn (D, Protect the Taxpayer): 40.44%
With 209 out of 212 election districts reporting
Based on the election night results, Assembly Member Anthony Palumbo has a fairly decisive lead over attorney and social worker Laura Ahearn in this Suffolk County district on Long Island to replace the long-serving state Sen. Kenneth LaValle, who is retiring. The race attracted a significant amount of outside spending from a pro-charter schools super PAC in favor of Ahearn, but she still faced tough odds in a historically Republican district against a strong candidate like Palumbo. Given Palumbo's significant lead over Ahearn, it's hard to see a path to victory for her, even after the absentee ballots are counted.
District 2
Mario Mattera (R, CON, IND, Safe Neighborhoods): 59.66%
Michael Siderakis (D): 33.38%
With 215 out of 221 election districts reporting
The GOP tapped former local union leader Mario Mattera to replace former state Senate Minority Leader John Flanagan, who left the chamber abruptly over the summer. He appears well positioned to win against former state trooper Michael Siderakis based on the election night results. Mattera outraised Siderakis and consistently had more cash on hand during the campaign. He also benefited from a Republican voter enrollment advantage. Although absentee ballots must still be counted, it would seem to be extremely difficult for Siderakis to make up this deficit.
District 3
Alexis Weik (R, CON): 53.01%
*Monica Martinez (D, IND): 40.68%
With 206 out of 206 election districts reporting
This Suffolk County race was a top priority for Democrats to hold on to the seat and for Republicans to seize an opportunity to flip it back. State Sen. Monica Martinez won a narrow victory in 2018 for what was then an open seat. She is now fending off a tough challenge from Alexis Weik, the town of Islip collector of taxes, who had been attacking her on criminal justice issues and bail reform. Based on the election night results, Martinez seemed to be trailing significantly, but absentee ballots may change the outcome of this race.
District 4
*Phil Boyle (R, CON, IND): 55.49%
Christine Pellegrino (D, WFP): 37.26%
With 225 out of 225 election districts reporting
The race between state Sen. Phil Boyle and former Assembly Member Christine Pellegrino had not gained the same attention as some of the other races on Long Island. Boyle has consistently fended off challenges from Democrats, including a tight race in 2018 against a candidate personally recruited by Gov. Andrew Cuomo. And he appeared to be in a good position based on the election night results to do so again. Pellegrino's short tenure in the Assembly was plagued with negative reporting about a significant debt she did not disclose before she was elected. Still, she notched a surprise upset victory in that 2017 special election, and absentee ballots could still tighten this race.
District 5
Edmund Smyth (R, CON, LBT, IND): 51.33%
*James Gaughran (D, SAM): 41.00%
Barbara Wagner (G): 0.87%
With 294 out of 295 election districts reporting
State Sen. James Gaughran fought hard to protect the seat he won from former state Sen. Carl Marcellino in 2018, but he trailed on election night. He won by nearly 10 percentage points two years ago in a district where the Democratic enrollment advantage has only grown since then. But like many others on Long Island, he was attacked by Huntington Town Council Member Edmund Smyth on criminal justice issues and the fact that he voted in favor of bail reform. Gaughran was also the target of outside spending opposing him, though his own fundraising numbers, spending and party support were more impressive than Smyth's.
District 6
Dennis Dunne Sr. (R, CON, IND): 48.99%
*Kevin Thomas (D, WFP): 43.03%
Jonathan Gunther (LBT): 0.49%
With 267 out of 267 districts reporting
Rounding out the most vulnerable Long Island Democrats, state Sen. Kevin Thomas won a surprise and incredibly narrow victory in 2018 against then-state Sen. Kemp Hannon. On election night, he faced a slight deficit in his race against former Nassau County Legislator Dennis Dunne Sr., who has a long political history on the island. Thomas' campaign finances were far stronger than Dunne's, but Thomas was the target of significant outside spending attacking him on criminal justice issues, including by the New York City Police Benevolent Association, which spent exclusively on this race. However, Thomas also attracted a large amount of outside spending in his favor from a pro-charter school super PAC.
District 7
*Anna Kaplan (D, WFP, IND, SAM): 47.86%
David Franklin (R, CON): 44.39%
With 292 out of 292 election districts reporting
Like Phil Boyle's race, state Sen. Anna Kaplan's reelection bid gained less attention than her fellow first-term Democrats on Long Island. She won a decisive victory in 2018 against a first-term Republican incumbent in a district that backed Hillary Clinton by a large margin in 2016 and has a significant Democratic enrollment advantage. The race has attracted no outside spending, and former Port Washington Police Commissioner David Franklin's fundraising numbers were not very competitive. Although the race remained fairly close on election night, Kaplan declared victory.
District 22
Vito Bruno (R, CON, IND): 51.37%
Andrew Gounardes (D, WFP, SAM): 43.73%
With 202 out of 202 election districts reporting
In one of the few Republican strongholds in New York City, Democratic state Sen. Andrew Gounardes is on the defensive after election night against former nightclub owner Vito Bruno. Gounardes squeaked to victory in 2018 against then-state Sen. Martin Golden, but conservative sensibilities in this southern Brooklyn district were still apparent on election night. Bruno had been campaigning strongly on "law and order," attacking Gounardes for supporting bail reform while the state senator was also targeted by criminal justice-themed opposition spending, and it seems to be working. Bruno holds a fairly solid lead over Gounardes based on the election night results, but absentee ballots could turn the race around. According to the city Board of Elections, 39,290 were sent out in the district, of which 12,744 have been returned so far. Gounardes said in a statement the day after Election Day that he was "confident" his campaign will "prevail" after the counting of those ballots.
District 38
William Weber Jr. (R, SAM): 46.99%
Elijah Reichlin-Melnick (D, WFP): 44.12%
With 263 out of 265 districts reporting
Republican William Weber Jr. had a narrow lead over Democrat Elijah Reichlin-Melnick in the race to replace state Sen. David Carlucci on election night, but the Reichlin-Melnick campaign remained confident he would emerge victorious after the ballots are counted. The district is heavily Democratic and backed Hillary Clinton by 11 percentage points in 2016. Still, Reichlin-Melnick said in an election night statement that he expected the absentee ballots to break his way.
District 39
*James Skoufis (D, WFP, SAM): 50.00%
Steve Brescia (R, CON): 44.23%
With 230 out of 249 election districts reporting
Another first-term state senator seeking reelection after the 2018 blue wave, state Sen. James Skoufis seemed well positioned to win a second term. He won by about 7 percentage points in an open race in 2018 to replace the late former state Sen. William Larkin. But this year's race against Steve Brescia, chair of the Orange County Legislature, was tighter than expected on election night, with Skoufis leading by just a few percentage points. The race attracted far less attention and outside spending compared to many other first-term Democrats seeking reelection. The morning after the election, Skoufis released a statement declaring victory in the race.
District 40
Rob Astorino (R, CON, Rebuild Our State): 51.31%
*Pete Harckham (D, WFP, IND): 45.48%
With 258 out of 277 election districts reporting
Democratic state Sen. Pete Harckham, another 2018 success story, faced a stiff challenge from former Westchester County Executive Rob Astorino. A former gubernatorial candidate and once considered a rising star in the New York Republican Party, Astorino had name recognition and plenty of cash. But there were plenty of obstacles to flipping the seat, despite the fact that it had historically been held by a Republican. After the election night results came in, the race was still too close to call.
District 41
*Sue Serino (R, CON, IND, Rebuild Our State): 56.49%
Karen Smythe (D, WFP, SAM): 40.56%
With 236 out of 238 election districts reporting
Republican state Sen. Sue Serino barely hung on to her mid-Hudson Valley seat in 2018 after a challenge from Karen Smythe, who is now back for another shot in what may be one of the most competitive races in the state. After surviving the blue wave two years ago, Serino seemed to be the most vulnerable sitting state senator as Democrats attempted to gain a supermajority. But on election night, she appeared to be performing much better than she did two years ago, holding a commanding lead over Smythe, and it seems like it could be difficult for the challenger to overtake Serino, even after the absentee ballots are tallied. Serino declared victory on election night.
District 42
Mike Martucci (R, CON, IND): 52.65%
*Jen Metzger (D, WFP, SAM): 43.11%
With 256 out of 263 districts reporting
State Sen. Jen Metzger is in her first term representing a Hudson Valley district that voted for Trump in 2016. Mike Martucci, who owned a school bus business and led the New York School Bus Contractors Association, self-funding much of his campaign. So far, Martucci seems to hold a significant lead over Metzger in the preliminary results. But mail-in ballots could potentially make a difference in the race. Metzger released a statement declining to concede the race, saying: "There are about 25,000 absentee ballots to count, and we know that they are overwhelmingly from Democratic voters."
District 43
*Daphne Jordan (R, CON, IND): 55.58%
Patrick Nelson (D, WFP): 40.84%
With 248 out of 248 election districts reporting
With so many open seats in play that Democrats were looking to flip, and the number of potentially vulnerable first-term Democrats, challenges to sitting Republicans like state Sen. Daphne Jordan flew under the radar. And she seemed to have performed quite well with the election night votes that were tallied.  She led Stillwater Village Board Member Patrick Nelson by about 14 percentage points. A first-term senator herself, she won the open race to replace former state Sen. Kathleen Marchione in 2018. In the traditionally Republican district, she managed a solid victory two years ago against a moderate Democrat.
District 45
Dan Stec (R, CON, IND): 60.78%
Kimberly Davis (D, WFP): 35.98%
With 210 out of 210 election districts reporting
Assembly Member Dan Stec appears to be well positioned to win this year after the election night results so far. The rural North Country district has been in Republican hands for 50 years, voted for Trump in 2016 and has more Republican than Democratic registered voters. With the seat opening up for the first time in 18 years, Kimberly Davis had been aiming to turn the district blue by highlighting her moderate political stances. Stec also outpaced Davis, who serves as the treasurer of Clinton County, in terms of fundraising, which made it more difficult for her to pull off the upset.
District 46
Richard Amedure Jr. (R, CON, IND): 51.19%
Michelle Hinchey (D, WFP): 44.93%
Robert Alft Jr. (G): 0.77%
With 274 out of 274 election districts reporting
The election night results showed Republican candidate Richard Amedure Jr., a military veteran and former police union leader, in the lead so far. Michelle Hinchey, the daughter of the late Rep. Maurice Hinchey, a political legend in mid-Hudson Valley and Capital Region politics, is currently trailing by about 6 percentage points. The results of incoming absentee ballots will ultimately determine whether this seat will flip Democratic. In an election night statement, Hinchey said her campaign is "strongly encouraged by our competitive standing" and the large number of absentee ballots outstanding in the district.
District 50
Angi Renna (R, CON, IND): 51.45%
John Mannion (D, WFP): 45.57%
With 258 out of 258 election districts reporting
Republican candidate Angi Renna, a financial planner, took a lead over Democrat John Mannion on election night in the race for this Central New York seat. Both parties have been vying to win the district since Republican state Sen. Robert Antonacci left office. Still, it's too early to say whether those results will stick once absentee ballots are counted.
District 51
Peter Oberacker (R, CON, IND): 57.01%
Jim Barber (D): 37.70%
With 255 out of 255 election districts reporting
Otsego County lawmaker Peter Oberacker appears to be in a strong position to win this district that spans the Mohawk Valley and Finger Lakes region. Election night votes put Oberacker in a safe lead over Democrat Jim Barber. Republican voters also outnumber Democrats in the area, which voted for Trump by a large margin in 2016. Barber, a farmer, had managed to maintain fairly competitive fundraising numbers despite his voter enrollment disadvantage in the district. While not yet declaring victory, Oberacker said on Twitter that he was "optimistic" that his sizable lead will only grow after the absentee ballots are counted.
District 53
*Rachel May (D, WFP): 47.45%
Sam Rodgers (R, CON, IND, SAM): 47.31%
Russell Penner (LBT): 1.00%
With 241 out of 253 election districts reporting
First-term state Sen. Rachel May faced off against a young Republican challenger, Sam Rodgers, who currently serves as assistant district attorney in Madison County and was a long snapper on the Syracuse University football team. The results from election night were incredibly close. May came into election night with several advantages: The district leans Democratic and she won by about 14 percentage points in the general election two years ago. Despite only having a slim lead on election night, May said on Twitter that she was "confident of remaining ahead."
District 55
Samra Brouk (D, WFP): 49.88%
Christopher Missick (R, CON, IND, SAM): 45.65%
With 335 out of 335 election districts reporting
This Rochester-area district has oscillated between Democrats and Republicans for years. The most recent tallies from election night showed that Democratic candidate Samra Brouk was leading the race by just a few percentage points. Brouk, who has worked in the nonprofit sector, competed against Christopher Missick, an Army veteran and winery owner, who each attracted support from their party's respective state Senate campaign committees. But her lead and confidence that absentee ballots will maintain that lead was enough for Brouk to declare victory in a potential pickup for Democrats in their quest for a supermajority.
District 56
Jeremy Cooney (D, WFP): 47.16%
Mike Barry (R, CON, IND): 46.27%
With 322 out of 322 election districts reporting
This open seat, which includes parts of Rochester and its suburbs, may be ripe for a Democratic takeover, but right now, it's too close to call. Jeremy Cooney, the former chief of staff to Rochester Mayor Lovely Warren, currently holds a narrow lead over Republican opponent Mike Barry, a member of the Greece Town Council. The results from absentee ballots could shift the race, although Cooney has already declared victory. Cooney unsuccessfully tried to defeat Republican state Sen. Joseph Robach in 2018. But since Robach announced his retirement, Cooney has been in a better position to win in the district where Democrats hold an enrollment advantage.
District 58
*Thomas O'Mara (R, CON, IND): 59.23%
Leslie Danks Burke (D, WFP, SAM): 36.99%
With 245 out of 247 election districts reporting
Republican state Sen. Thomas O'Mara is facing off for a second time against Democratic candidate Leslie Danks Burke, an attorney who launched Planned Parenthood of the Southern Finger Lakes Action. She lost by 9 percentage points against O'Mara in 2016 and appeared to be even further behind on election night this year. The district, which encompasses the area around Ithaca, has a greater number of registered Republican voters. Though O'Mara came into the campaign with a fundraising advantage, Danks Burke outraised him by about $200,000 since January.
District 60
Joshua Mertzlufft (R, CON): 41.38%
Sean Ryan (D, WFP, IND): 54.41%
With 261 out of 261 election districts reporting
This open seat vacated by former Republican state Sen. Chris Jacobs, who has gone on to Congress, represented a strong possible pick-up for Democrats. And Assembly Member Sean Ryan seems to have delivered with a commanding lead over Republican Joshua Mertzlufft, an attorney, based on in-person results. Ryan declared victory fairly early on election night. According to The Buffalo News, there were 27,000 absentee ballots outstanding.
District 61
Ed Rath (R, CON, IND, SAM): 57.81%
Jacqualine Berger (D): 36.81%
With 239 out of 240 districts reporting
Erie County Legislator Ed Rath is aiming to keep this district, which encompasses part of Rochester and Western New York, in Republican control. But since state Sen. Michael Ranzenhofer announced his retirement and opened the seat up, Amherst Council Member Jacqualine Berger has been vying to turn it blue. Though registered Democrats outnumber Republicans in the district, Berger will still likely face a challenge trying to overcome Rath given his strong financial advantage. Numbers pouring in on election night indicated as much, as Ed Rath currently holds a significant lead.
ASSEMBLY
District 21
Patricia Canzoneri-Fitzpatrick (R, CON): 46.15%
*Judy Griffin (D): 45.40%
Barry Leon (LBT): 0.59%
With 132 out of 132 election districts reporting
Judy Griffin was among the Long Island Democrats who flipped a Republican seat in 2018, but her Republican opponent is hoping that backlash to bail reform will help her party regain some electoral ground in Nassau County, no matter what happens with more high-profile races in the state Senate. Preliminary results on election night gave Griffin a narrow lead so far. Preliminary results on election night gave Republican Patricia Canzoneri-Fitzpatrick a narrow lead.
District 76
*Rebecca Seawright (Rise and Unite): 45.72%
Lou Puliafito (R, Liberal): 37.26%
With 103 out of 103 election districts reporting
Some botched paperwork transformed an easy Democratic win for Rebecca Seawright into one of the most unexpectedly competitive races of the year. Seawright, a four-term incumbent, had been hoping that her constituents remembered her name – and it turns out they did, based on positive election night results. Building doorman Lou Puliafito, who had no political experience, would've become the first Republican elected to the state Legislature from Manhattan in nearly two decades. He's trailing by a significant margin with all precincts reported, but the mail-in ballots have yet to be counted.
District 99
*Colin Schmitt (R, CON, LBT, IND, SAM): 57.85%
Sarita Bhandarkar (D, WFP): 35.75%
With 125 out of 125 election districts reporting
Republican leaders are hoping that 30-year-old Colin Schmitt remains one of their rising stars in the state Legislature, but that all depended on the first-term legislator winning reelection in the seat that he wrestled from Democratic control two years ago by a 6-point margin. Schmitt has a big lead with most precincts reporting on election night, so it appears like Democratic gains in the Hudson Valley will be limited.
District 107
Jacob Ashby (R, CON, IND): 57.13%
Brittany Vogel (D, WFP): 38.79%
Charles Senrick (LBT): 0.91%
With 111 out of 111 election districts reporting
Democrats fell just 3 percentage points short of flipping this district on the eastern side of the Capital Region in 2018. A third-party challenge by libertarians and a Democratic voter registration advantage could have worked against Jacob Ashby's bid for a second term in the Assembly, but that doesn't appear to be the case, given Ashby's big lead on election night.
District 111
*Angelo Santabarbara (D, CON, IND): 54.70%
Paul DeLorenzo (R): 41.80%
With 95 out of 95 election districts reporting
This race pits two former members of the Rotterdam Town Board against each other. Angelo Santabarbara, who appeared to have a solid lead on election night, cultivated an image as a moderate lawmaker during his four terms in the Assembly, but his hometown Republican challenger, Paul DeLorenzo, had hoped that backlash to the Democratic majority would help the GOP flip a Democratic seat that includes parts of Schenectady and areas to the west.
District 113
*Carrie Woerner (D, IND, SAM): 49.49%
David Catalfamo (R, CON): 47.85%
With 116 out of 116 election districts reporting
Carrie Woerner has the distinction of being the only Democrat to currently represent an Assembly district where there are more registered Republicans than Democrats. While she won reelection by 13 points two years ago, increased polarization since then may have made it more difficult for her to win a district that includes Saratoga Springs and rural areas to the east. The election night results showed Woerner with a slim lead.
District 121
*John Salka (R, CON, IND): 60.80%
Dan Buttermann (D): 31.07%
Corey Mosher (WFP): 2.35%
Jake Cornell (LBT): 1.15%
With 83 out of 95 election districts reporting
Assembly Member John Salka ousted an incumbent Democrat by just 2 percentage points in 2018. This time, he appears to be winning by a much larger margin against a former member of the Oneonta City Board of Education and a third-party challenger backed by the Working Families Party. The race did not feature big spending like other upstate races, but it nonetheless highlighted how Republicans are blocking Democratic gains in rural areas of Central New York.
District 135
*Mark Johns (R, CON, IND): 52.97%
Jennifer Lunsford (D, WFP): 42.81%
With 148 out of 148 election districts reporting
Democrats can demonstrate their increasing power in Western New York by picking up a seat in the suburban and rural areas to the east of Rochester. This has not escaped the notice of the Democratic Assembly Campaign Committee, which is spending more money on this race than any other challenging an incumbent Assembly Republican. But so far it looks like Republican candidate Mark Johns has a substantial lead based on the election night results.
District 142
*Pat Burke (D, WFP, IND): 49.65%
Matthew Szalkowski (R, CON): 45.75%
With 124 out of 124 election districts reporting
The Democrats flipped this seat in the Buffalo suburbs two years ago, but the district has a reputation for bucking expectations, including in a previous race where a Democrat won as a Republican before forming a one-man legislative conference in the chamber. Republicans are hoping they can show that the district's unpredictability will once again work to their advantage. Pat Burke was trailing on election night, but took a slight lead the following day.
District 146
Robin Wolfgang (R, CON, IND): 56.23%
*Karen McMahon (D, WFP): 38.39%
Ruben Cartagena Jr. (G): 1.06%
With 83 out of 85 election districts reporting
A victory by Assembly Member Karen McMahon would show that Democrats are in firm control of a district that they won for the first time in 40 years in 2018. While a Republican victory, which appears likely based on the election night results, would not change much in terms of the partisan balance of power in the Assembly, it would suggest that Democrats still have a long way to go to solidify their control over longtime GOP strongholds in Western New York.
Powered By
NEXT STORY: Are New York's elections safe from cyberattack?