Campaigns & Elections
DSA can win. Can it win there?
Council candidates will try to spread the message to new areas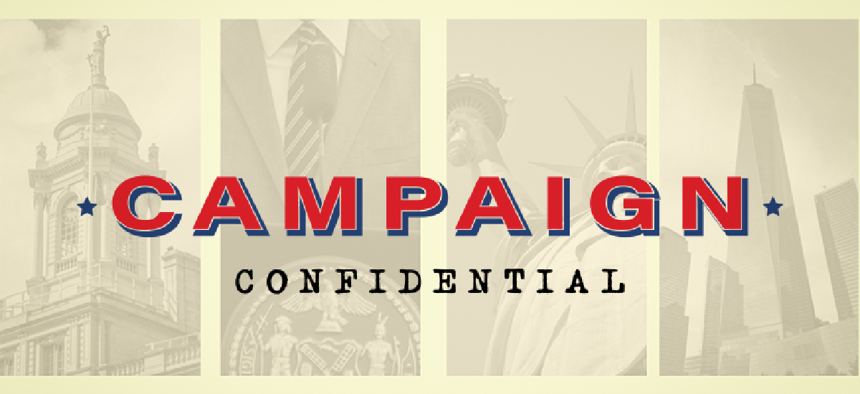 DSA for the whole city
Two criticisms are often lobbed against the DSA: It's all gentrifiers, and they can only win in certain districts – generally, those with a lot of gentrifiers. But the slate of six City Council candidates endorsed by the Democratic Socialists of America's New York City chapter on Saturday may challenge that narrative. 
They're all people of color, but that's nothing new. NYC-DSA has endorsed 17 candidates over the last five years, and only two have been white: Bernie Sanders and Cynthia Nixon. But previous DSA candidates such as Rep. Alexandria Ocasio-Cortez and state Sen. Julia Salazar got a disproportionate share of their votes from the gentrified portions of their districts. 
Four of the candidates are running in gentrifying western Brooklyn and Queens neighborhoods, where DSA candidates have run and won before, but two will be sending out red-clad volunteers into areas that have never shown a penchant for socialism. Jaslin Kaur is running for Barry Grodenchik's seat on Queens' eastern border and Adolfo Abreu is running for Fernando Cabrera's seat on the western edge of the Bronx. 
Kaur, 24, was reportedly initially hesitant to identify as a socialist running in the 23rd district, and you can see why. It's a district where neither Sanders in '16 nor Nixon in '18 had much success. It's chock-full of homeowners, rather than renters: 67% of housing units were owner-occupied, according to 2010 census figures, second-most in the city, behind the South Shore of Staten Island. When a progressive South Asian candidate ran here before – election lawyer Ali Najmi, in the 2015 special election – he finished fifth, with just 9% of the vote.
DSA has a more recent data point in the Bronx, but that's not reason for optimism. The group endorsed Samelys López for the South Bronx congressional primary in June. She finished fourth, with 14% of the vote. But Abreu, 27, said he has never worried about running as a socialist and he told City & State that his experience as an organizer with the Northwest Bronx Community and Clergy Coalition has shown him district residents are on board with socialist issues such as tenants' rights. 
Among a swath of candidates on the left, DSA has quickly become the most sought-after endorsement there is. This upcoming year, and these two Council seats especially, will be yet another test of the organization's strength.
Something else to watch? DSA hasn't won in Manhattan yet either, but they might try. A working group interviewed three district attorney candidates Monday night – Tahanie Aboushi, Janos Marton and Eliza Orlins – and is weighing an endorsement. 
By the numbers
8
The number of times former Housing and Urban Development Secretary Shaun Donovan said "Obama" in his 12-minute appearance at the West Side Democrats' mayoral forum Thursday night. "Bloomberg," for whom Donovan also worked, was said zero times. 
Adams' Bad Apples
One of the biggest questions for Brooklyn Borough President Eric Adams' mayoral campaign is how he'll position himself on criminal justice and police reform. Adams was in the NYPD for 22 years, he was once a registered Republican and he sees a path to victory through more moderate outer-borough older voters. On the other hand, he's a Black man who was the victim of police brutality growing up and was an outspoken critic of racism within the NYPD while on the force. Lately, he's been focusing on the need for the department to listen to and promote people of color – co-writing an amNY op-ed on the topic – and to weed out those who sully the "noble profession," as he said at the West Side Dems' forum. 
I Did NYC
City Council Member Carlos Menchaca doesn't have much on his mayoral campaign website yet, but his official City Council bio is clear: "Carlos authored the legislation for New York's first municipal identification card, IDNYC ..." But Council Member Danny Dromm reached out to City & State to say that isn't quite right. "He did not author the legislation," Dromm said. "That was my bill, not his. I allowed him to be second on it but it was my bill." Sure enough, Dromm is the prime sponsor of the 2014 bill and had requested a bill be drawn up in 2013, before Menchaca was even on the Council. (However Hiram Monserrate – yes, him – was first, back in 2007.) Menchaca responded that he was "proud to be a co-prime sponsor negotiating the final version of the IDNYC bill alongside" Dromm – adding that then-Council Speaker Melissa Mark-Viverito had a role too. Why's this coming up now, six years later? Menchaca's running for mayor, sure, but Dromm (who has one of the most progressive records on the Council) has been burning bridges and picking fights online with a new generation of progressive politicos. Menchaca's just the latest to provoke Dromm's ire.
Men Being Bros
At least five men have taken the 21 in '21 message to heart and suspended their City Council campaigns to endorse female opponents. In Astoria's 22nd district, Jesse Cerrotti, Rod Townsend and Nick Roloson all stepped aside for the juggernaut that is Tiffany Cabán. In the 6th district, on the Upper West Side, Seth Rosen dropped out to endorse Sara Lind – probably thinking that it's best to consolidate resources if anybody wants to have a chance at beating the extremely popular Manhattan Borough President Gale Brewer, who's expected to run for her old seat. And just last week, Julian Sepúlveda bowed out of the Central Bronx district 15 race and endorsed Elisa Crespo.
What's in a name?
Amid all the "Gennaro 2021s" and "Friends of Kevin Parkers", you might have caught a new city political committee with a curious name: the Marsha P. Johnson Committee. Johnson was a transgender pioneer and activist who died in 1992, and is not running for office. But Jordana Lusk, a 26-year-old Black trans woman, is running for office, taking on Keith Powers in the 4th district on Manhattan's East Side, and she named her candidate committee after Johnson to honor the Black trans icon. "We have to keep passing the torch," she said. "Giving credit is important, and that's why I named it what I did." Are you allowed to name your candidate committee after someone else? A Campaign Finance Board spokesperson said they've never seen it before, but there aren't any rules against it. Powers' take? "It's certainly odd."
Endorsement Watch
The Freelancers Union – led by former Council Member Rafael Espinal – is planning to get involved in the 2021 elections, and its first move is endorsing Brad Lander, lead sponsor of a 2019 bill protecting freelancers from discrimination, for comptroller … Cabán also backed Lander for comptroller and publicly defended the endorsement at length … Antonio Reynoso is firming up his position as the progressive candidate for Brooklyn borough president, announcing endorsements from former gubernatorial candidate Cynthia Nixon, plus state Sen. Jessica Ramos, Council Members Helen Rosenthal and Margaret Chin, Assembly Member-elect Marcela Mitaynes, City Council candidates Jennifer Gutiérrez and Sandy Nurse and the New Kings Dems … NKD also endorsed Nurse's Council campaign, over the County Committee-backed Darma Diaz … City Council Member Diana Ayala endorsed Scott Stringer … Rev. Dr. Johnny Ray Youngblood of Mt. Pisgah Baptist Church in Bed-Stuy wrote an op-ed in the Caribbean Times supporting Shaun Donovan for mayor … Democracy for America, the PAC arising from Howard Dean's 2004 presidential campaign, endorsed Maya Wiley for mayor.
Poll Sight
The New York City government is in a bad financial situation, thanks to the coronavirus pandemic, and it's going to take two to five years for the city's finances to recover, according to the latest City & State/Honan Strategy Group survey of political insiders. 
Poll respondents also think City Council Member Brad Lander is most likely to be the city's next comptroller, though state Sen. Brian Benjamin isn't far behind. You can read more, and find out when readers think the city's economy will recover, here.
And don't forget to take this week's survey, on the city's biggest issues, here.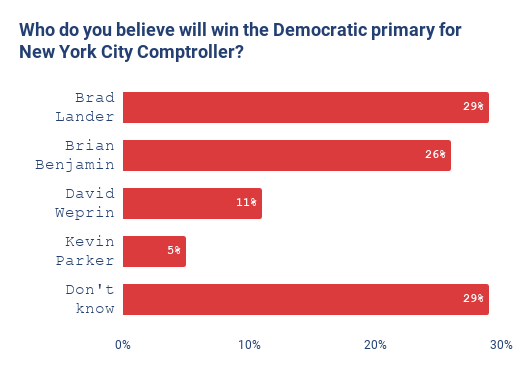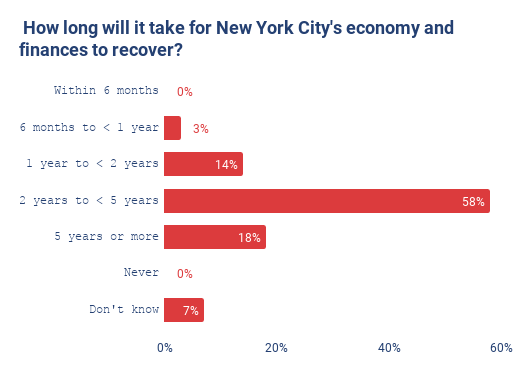 Staffing Up
Emilia Decaudin and Nick Rizzo are working on Moumita Ahmed's Council special for Rory Lancman's seat… Decaudin is also on fellow Queens district leader Jesse Laymon's Council campaign… Matt Anderson and Greenlight Media Strategies are on Deepti Sharma's Council campaign… Drew Kerr of Four Corners Communications is doing comms for Zach Iscol's mayoral campaign… Anne Marie Principe is co-campaign manager for Loree Sutton's mayoral run … Madison Dawkins is campaign manager for Shaun Abreu's Council campaign… Mercury's Jake Dilemani and Greg Lavine are on David Weprin's comptroller race, along with Tucker Green … Dilemani is also consulting on Dan Quart for Manhattan DA
Got tips? Email JColtin@CityandStateNY.com or dm me @JCColtin
District Data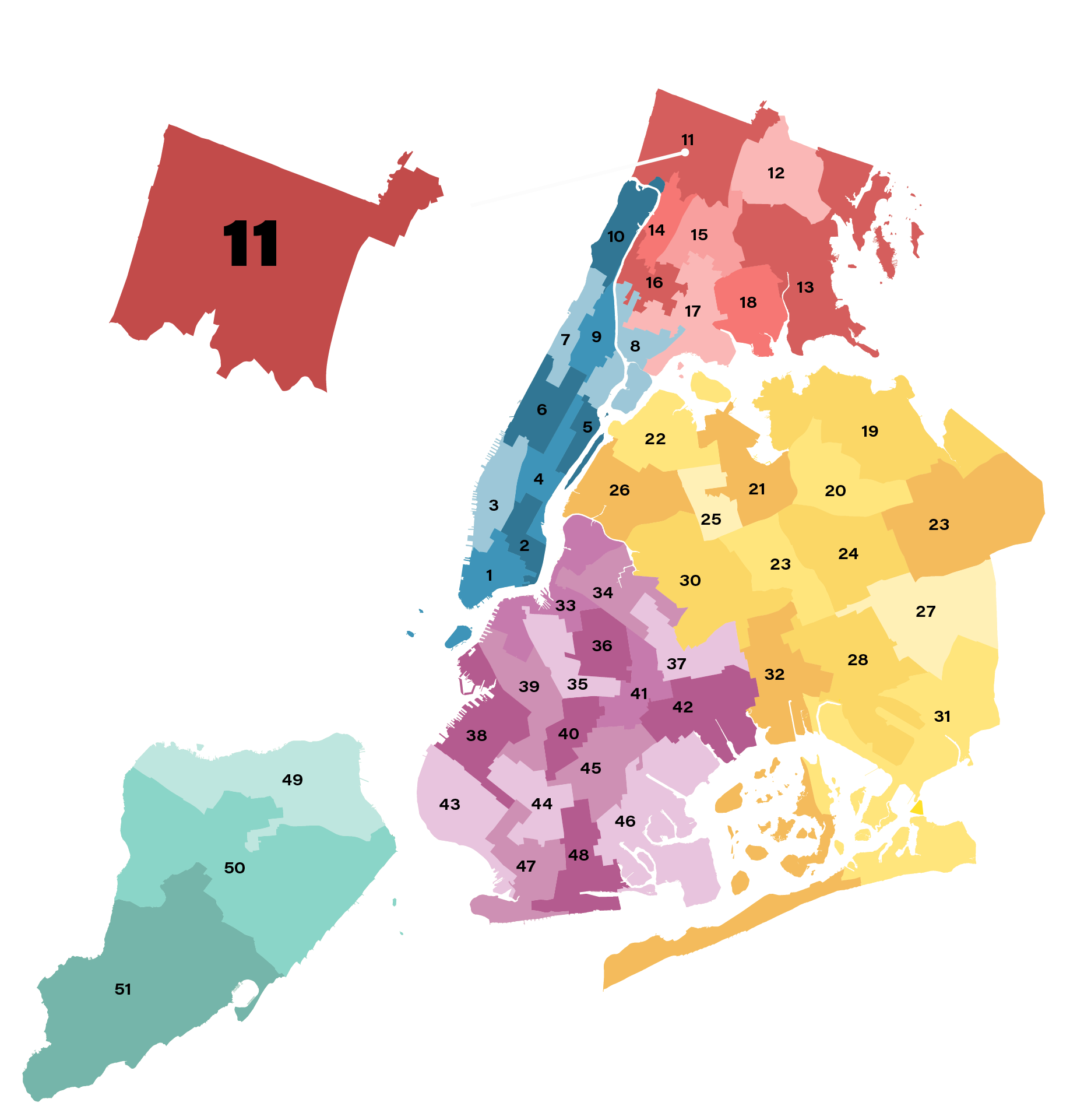 City Council District11, in the northwest Bronx, covering neighborhoods including Riverdale, Norwood and Woodlawn
Current council member: Andrew Cohen, who's expected to resign Jan. 1 after being elected a Supreme Court judge
2010 census demographics: 39% Hispanic, 33% white, 19% Black, 7% Asian American
Housing: 73% renter-occupied, 27% owner-occupied
2013 primary election results: Cohen: 68.4%, Clifford Stanton: 31.6%
2017 primary election results: Cohen uncontested
Who's running: Carlton Berkley, Eric Dinowitz, Jessica Haller, Mino Lora, Abigail Martin, Daniel Padernacht and Marcos Sierra. Dinowitz – a teacher, and the son of Assembly Member Jeff Dinowitz – is the one to watch, thanks to the family name and his huge $74k fundraising haul. Locals say Haller, a tech entrepreneur and neighborhood activist, is well known in the district, and has raised an impressive $56k. And Marcos Sierra won a competitive race for Democratic district leader earlier this year.
Twitter Posting
Guys, bad news. I just found out "NYPD, SMD" doesn't poll well so we can't say that anymore.

— Josmar Trujillo (@Josmar_Trujillo) November 13, 2020
Powered By
NEXT STORY: Poll: city finances will recover in 2-5 years