New York State
What Democratic supermajorities mean for New York's COVID-19 response
A Q&A with state Sen. Gustavo Rivera on the pandemic and the future of single-payer health care.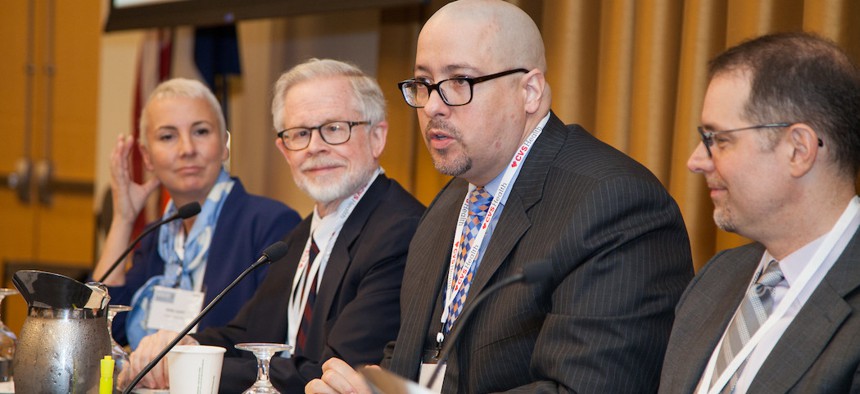 Democrats have won supermajorities in the state Senate and Assembly, which could have a big effect on the state's response to the coronavirus pandemic.
The ability to override gubernatorial vetoes and control the legislative and congressional redistricting processes will give Democratic lawmakers new political advantages against Gov. Andrew Cuomo and the Republicans in the upcoming years. That is inspiring hope among the political left about what Democrats can get done in the next year, including potentially raising taxes on the wealthy and establishing a single-payer health care system.
"New York has a Democratic supermajority for the first time and it couldn't come at a better time," New York City Council Member Brad Lander tweeted Monday. "We urgently need action from Albany to raise progressive revenue to keep people in their homes, fund excluded workers, save small businesses and keep our city running."
A lot about getting things done in Albany comes down to how legislative leaders and the governor work together, and both sides are talking down the prospects for conflict for now. While the governor has formidable budgetary powers that legislative supermajorities cannot override, there are reasons to believe that one way or another, state lawmakers are going to be pushing the state in a more progressive direction.
City & State caught up with state Senate Health Committee Chair Gustavo Rivera, a vocal critic of the governor in the state Legislature, on Monday afternoon to hear his thoughts on what the election results mean for the state's pandemic response and what Cuomo can do in the meantime to ensure that the state withstands the ongoing second wave of COVID-19. This interview has been edited for length and clarity.
The coronavirus is surging and a lot of people are feeling the economic pain. Where do you see things standing on the legislative front against the pandemic?
There's a few things that the governor has on his desk that he should sign already, for example, a contact tracing bill that passed unanimously in July. This one would actually guarantee the privacy of the information that folks will share with contract tracers. There (are) people who are having issues being able to pay their rent (and) haven't been able to work for months and months. I am still hopeful that we will return to Albany this year because there (are) a lot of bills that are (the) direct result of the COVID-19 hearings that we did in the last couple of months.
What issues stick out from the hearings your committee did on pandemic-related issues, including at hospitals and nursing homes?
There were certainly a lot of issues around nursing homes, and other assisted living facilities. We have introduced bills to address the accounting for deaths in these types of facilities.
The state Department of Health has still not released data on how many nursing home residents later died of the coronavirus at hospitals. State lawmakers do not need supermajorities to subpoena that information. Where are things on that?
I certainly share the frustration of many New Yorkers that this information needs to be released. I have been very public on the idea that we need to force them to do it. The only thing I will tell you is that I cannot do things on my own. I have to work a little bit harder to get us to the point where we will have consensus so that we can move forward.
Your Bronx district was hit particularly hard by the pandemic, what sort of struggles are you seeing among your constituents?
We're finally getting results from deaths and hospitalizations, and lo and behold, working-class communities of color are the ones that are worst hit. We've got to get to the bottom of health care disparities. The problem is that the governor has been in the way. This is a guy who chose to cut Medicaid during a pandemic, the guy who chooses – still – to not tax millionaires and billionaires, the guy who talks about how we need to sacrifice further but doesn't ask his millionaire friends to do the same. I am looking forward to coming into this next year with a supermajority because among other things, we will have the added bonus of having people in our conference that were not there before. We can talk about health care disparities. Two new members of our conference, Samra Brouk and Jeremy Cooney in Rochester, are going to be co-sponsors of the New York Health Act.
That's the longtime proposal to establish a single-payer health care system in New York. What is going to happen with that effort next year?
I will talk to all the new members of our conference. Then I want to really have a conversation with the rest of my colleagues to see how we can actually get it moving. We have had hearings, so I know that there were conversations with different groups about tweaking the bill further. This crisis has shown us how essential it is to move away from a health care system that is driven by profit. We must move toward a system that guarantees health care for every single person. I look forward to working along with my colleagues in the Assembly on this, but ultimately, the governor will be involved in what the final version of it is.
So how many people are you going to be celebrating Thanksgiving with?
I live by myself. And whether you believe me or not, it is true that I'm an introvert. I will be attempting to make a pumpkin pie from scratch and probably calling my folks and some friends of mine. They're going to do like a Zoom thing in the afternoon or evening.
Powered By
NEXT STORY: Mayoral candidates competing for second place