NYPD
What is the Defund the Police movement about?
Is it a viable criminal justice solution?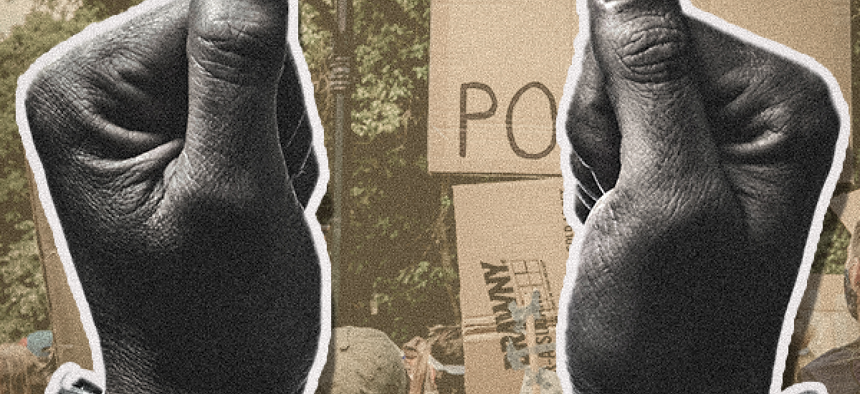 Excelsior is a weekly City & State newsletter that gets sent out every Wednesday at noon. If you like what you see, you can sign up to have Excelsior sent directly to you by clicking here!
A rallying cry
After the death of George Floyd in May, protests erupted calling for an end to police brutality all across New York – and the rest of the country. 
Many protesters began making calls to "defund the police" soon after the protests began, a phrase that has caused massive amounts of confusion since it was first uttered by activists and criminal justice advocates. Some have interpreted the phrase as a radical call to do away with law enforcement altogether, while others have understood it as a need to reduce the incredibly wide range of police responsibilities. You've probably seen some of these debates over the phrase's meaning in the news or on social media.
Several prominent lawmakers within the state, including Rep. Alexandria Ocasio-Cortez, Congress Members-elect Jamaal Bowman and Mondaire Jones, City Council Speaker Corey Johnson and Public Advocate Jumaane Williams, as well as advocacy groups such as Vocal-NY, Justice Committee and Communities United for Police Reform, have all supported the call to defund the police. 
However, several Black political figures have made a point of not calling to defund the police, such as Council Members Vanessa Gibson, Laurie Cumbo, Robert Cornegy Jr. and Alicka Ampry-Samuel. The Rev. Al Sharpton called it a "latte liberal" solution. Those opposed to cutting funding from the police feel that a reduction in law enforcement could lead to chaos in the areas they represent and are familiar with. "They don't want to see excessive force. They don't want to see cops putting their knees in our necks," Gibson told The New York Times in August, referring to her constituents in the Bronx. "But they want to be safe as they go to the store."
Police union officials have stood in direct opposition to the movement to defund the police – for obvious reasons – and have argued that the reallocation of funds has led to the city's recent increase in crime, despite crime rates rising around the country amid coronavirus lockdowns. However, the city's police commissioner, Dermot Shea, has said that he's in favor of redistributing some of the department's funds to youth programs. The commissioner has also said that he's OK with school safety and traffic enforcement duties being removed as the NYPD's responsibilities.
By the numbers
The NYPD's budget
There's some variation in its meaning 
What does it actually mean to defund the police?
While the term "defund the police" does refer to removing funding from the police force, there's a lot of nuance to the movement.
The idea behind removing or reducing funds from police budgets stems from frustrations over police brutality and the idea that restructuring the way funds are distributed could have an impact on the amount of power that law enforcement wields. It's also tied to the belief that the police should not be shouldered with responsibilities that they're not equipped to handle, such as dealing with people with a mental illness or those experiencing homelessness. It's like the old saying: When all you have is a hammer, everything starts to look like a nail. Advocates argue that police are trained to use force to subdue criminal suspects, and when they apply those same techniques when dealing with someone, for example, experiencing a mental health crisis, the results can be deadly, as in the cases of Daniel Prude in Rochester or Kenneth Chamberlain Sr. in Westchester County or Mohamed Bah in New York City. Advocates argue all those people would still be alive if mental health professionals had responded, instead of police.
Many criminal justice advocates have been pushing to redirect some of the city's funds to other social services that have struggled to stay afloat, such as mental health, school safety and homeless outreach programs. Others have been focused more on restructuring the city's law enforcement. And then there are some who are simply hoping to abolish the police force altogether, arguing that other reforms have failed and that proper investment in social services would render policing and prisons obsolete. 
For about a month, beginning on June 23, protesters camped outside City Hall, in what was called "Occupy City Hall," in an attempt to pressure lawmakers to remove $1 billion from the city's police budget as New York City was putting its budget together for 2021. In July, the encampment was broken up by the NYPD in a 4 a.m. raid. While the city said that it defunded $1 billion from the NYPD after finalizing its budget, an analysis revealed that the city did little more than move some money around, resulting in only $382 million actually being slashed from the police budget.
Despite city protesters' demands to remove $1 billion immediately from the NYPD's budget this year, it can take years to remove that kind of funding from the budget. In June, New York City Comptroller Scott Stringer – who is right now doing his damnedest to prove that he is the most progressive candidate in next year's mayoral election – proposed making smaller cuts to the police budget over the course of four years that add up to $1 billion, and reinvesting those funds into the city's most vulnerable communities.
From the Legislature
Police reform bills passed in 2020
It's not the solution advocates are looking for
What about community policing?
In June, when defunding the police was on everyone's mind, then-candidate Joe Biden offered up an alternative to removing funds from police departments: community policing. "I've long been a firm believer in the power of community policing – getting cops out of their cruisers and building relationships with the people and the communities they are there to serve and protect," Biden wrote in an op-ed for USA Today. "That's why I'm proposing an additional $300 million to reinvigorate community policing in our country."
Community policing tends to involve local law enforcement working with the communities they serve to make public safety decisions.In 2015, New York City Mayor Bill de Blasio launched a community policing program aimed at creating bonds between the police and members of the community that they're policing, in just 10 precincts. The program then expanded to include 76 precincts by 2017. While the program may have reduced low-level arrests at most of the precincts, those arrested were still disproportionately Black and Latino, according to a report by sociology and statistics experts from the University of Colorado and the University of Florida, assessing its effectiveness. The study also revealed that the community policing program had little impact when it came to reducing violent crimes. "It is also possible the policy is more symbolism than reform, challenged as it is to address the underlying causes like poverty and police intransigence that prevent some communities from being heard by police," wrote the study's authors.
The failure of these efforts in various communities have made some advocates turn to more drastic solutions.
Powered By
NEXT STORY: Eric Adams' latest role: mayoral candidate