Eric Adams
Eric Adams' latest role: mayoral candidate
The Brooklyn BP is launching his campaign with a video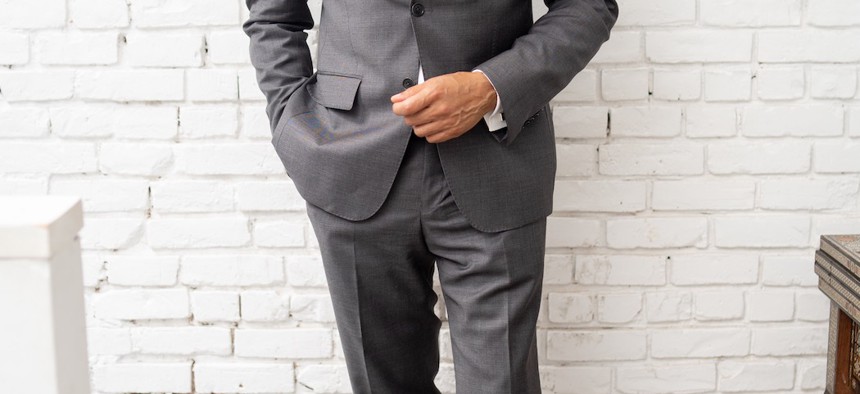 Eric Adams has played many roles throughout his life. He was a teenager, "traveling down the wrong path," arrested for trespassing into the home of somebody who owed him and his brother money.
He was the young Black radical who joined the New York City Police Department and became one of its fiercest critics, courting controversy while calling out racism throughout his 22 years on the force. 
He was a state Senator, and then Brooklyn borough president, always commenting on the issues of the day while sharing his own story of defeating diabetes through healthy eating. 
And on Wednesday, Adams is going to reintroduce himself to New York City voters in a new role: as a mayoral candidate.
Adams is releasing a video kicking off his mayoral campaign, shared exclusively with City & State. He's also hosting a digital press conference at noon with supporters and endorsements from elected officials where he's expected to officially make the announcement.
Adams' run has been anticipated for years, and he's made no secret of the fact that he would be joining the June Democratic primary for mayor. Adams has raised $2.1 million as of the latest filing deadline in June, and can expect millions more in his account when public matching funds are released in December. That will likely make him the best-funded candidate in the race. After years of laying the groundwork and building political connections, Adams is entering the race as one of the race's top candidates.
Given all that, Adams is disappointed that the ongoing coronavirus pandemic is keeping him from having the kind of kick-off party he wanted.
"We wanted to show people the diversity of our support," Adams said in an interview with City & State ahead of the announcement. "We were really looking forward to having people wearing a hijab, wearing a dashiki, wearing a yarmulke, a kufi, dressing in traditional garb. We just really want to put on display a thousand people who were coming out and saying that we know this man."
That's key to Adams' pitch to voters. While other candidates are looking to white collar workers and moneyed types, he's the candidate for a different type of New Yorker. 
"My voter wakes up in the morning, they pull the gate up in front of their shop," he said. "They sweep up so they don't get a summons from a heavy handed city. They do 13 or 14 hours hoping they can eke out a living for their family. And they want to be safe. That's my voter."
And Adams, though he has spent the last 14 years as an elected official, identifies as a different kind of New Yorker himself. "I am going to be the first blue collar mayor," he said. "My nails are not manicured. They're chipped. People shake my hand, they feel the callouses." 
But Adams is at home with the donor class too. He is "a guy that is comfortable drinking merlot in one community or drinking beer in another."
His launch video establishes that appeal. It's a four minute tour through Adams' life, starting with his story of getting arrested at age 15 with his brother and brought to a police precinct in Jamaica, Queens. There, the police officer told the boys they were going to get a "beatdown" and brought them downstairs to brutally kick them.
As anybody who heard Adams' "go back to Iowa" political invective against gentrifiers in January knows, the man is a New York native, raised in Brownsville, Brooklyn, then South Jamaica, Queens. Over video of the modest home where he was raised with five siblings, Adams talks of living on the edge of poverty, carrying a garbage bag of clothes to school because he was afraid the family would be evicted during the day. 
Adams, now 60 years old, lives in a Bed-Stuy townhouse he owns – when he isn't sleeping at Brooklyn Borough Hall, as he did throughout the early months of the pandemic. 
From a difficult youth, Adams was able to "rise up" into the NYPD, activism and politics, the launch video says. Just as the city can "rise up" out of the coronavirus pandemic, increasing crime rates, and government inefficiency. "Rise up" seems to be a campaign slogan throughout the video, but the candidate himself declined to elaborate when asked about it, preferring his own bon mot: "We're dysfunctional," he said, referring to city government. "And the inefficiencies lead to inequities that give us the injustices that we're seeing."
Adams is all about inefficiency, and will go on at length about government programs that could be fixed. The foster care system. Rehabilitating public housing. Licensing pet dogs. Politically, he identifies as "a pragmatic progressive" who thinks "the term progressive has been hijacked" when the real progressives are people like him who promote dyslexia screenings in every school as a way to combat educational inequities. 
Adams faces many opponents in the Democratic primary, including New York City Comptroller Scott Stringer, City Council Member Carlos Menchaca, former counsel to the mayor Maya Wiley, former Citigroup Vice Chair Ray McGuire, former White House Budget Director Shaun Donovan, former Sanitation Commissioner Kathryn Garcia, former nonprofit executive Dianne Morales and former Veterans' Services Commissioner Loree Sutton. Many of them will try and paint Adams as a moderate who is all too happy to take donations from real estate interests that other candidates shun. Adams was, after all, a registered Republican from 1995 to 2002. But Adams can be difficult to characterize politically – never somebody to easily fit in a political box. This campaign launch gives Adams an opportunity to reinvent himself once again, as a serious contender for mayor of New York City, and millions of voters will be watching.
Powered By
NEXT STORY: Trump's surprising gains in NYC