Campaigns & Elections
The sky's the limit for Ray McGuire's fundraising
The mayoral candidate's money could change things for his opponents.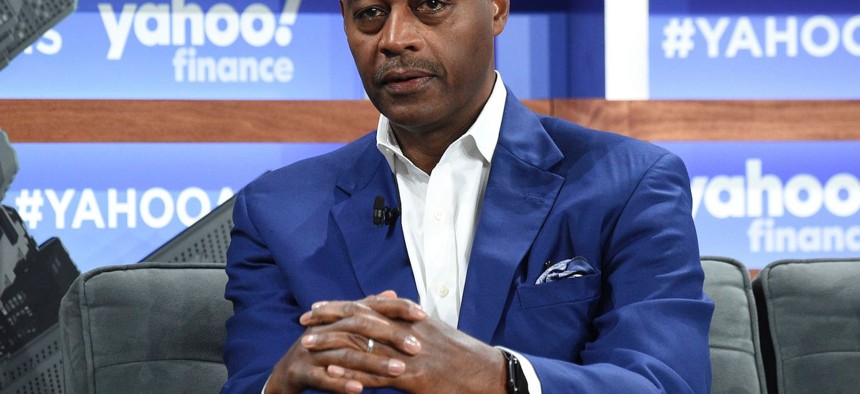 Welcome to City & State's Campaign Confidential newsletter, where Senior Reporter Jeff Coltin is covering the run-up to New York City's hugely consequential 2021 municipal elections for mayor, City Council and more.
Weekly, on Tuesdays. Sign up here.
With more than six months to go until the mayoral primary, New York City Comptroller Scott Stringer and Brooklyn Borough President Eric Adams, two of the leading candidates, were fully funded, or close to it. After years of raising money, each had more than $2 million in their campaign accounts, and once the matching funds come in, they are each expected to have somewhere around $7.3 million, the spending limit for anybody taking part in the matching funds program.
Then Ray McGuire came along, and changed the rules of the game. The former vice chair of Citigroup has opted out of taking public funds, which means he isn't subject to spending limits in the Democratic primary. (Although he still has to stick to a $5,100 per person donation limit.) McGuire's campaign says he's already raised more than $2.3 million, and everyone is expecting him to keep on raising – and spending – until he's well past $7.3 million. The New York City Campaign Finance Board, however, has a fail-safe. If a nonparticipant in the matching funds program like McGuire were to spend half that – $3.6 million – then the spending cap would be raised to nearly $11 million. And if McGuire were to spend three times the limit – nearly $22 million – then the cap would be lifted for everyone.
So Stringer and Adams would have to go back to fundraising, if they want to compete with McGuire's millions. Why was Adams holding indoor fundraisers during the pandemic? Probably because he feels like he now needs more money to compete.
Of course, in every campaign crisis is a fundraising opportunity, and candidates have been quick to draw a contrast between themselves and McGuire. "Big money is against Scott," read the subject line of an email from Stringer's campaign. "A wealthy Wall Street executive jumped in this race," the body of the email read, above a link to donate. "We need your help to stay competitive in this race."
Candidates are also quick to praise the public financing program for keeping them competitive.
Stringer campaign spokesperson Cameron Hellerman said matching funds "ensures that the voices of every day New Yorkers aren't drowned out by the privileged and the powerful."
Adams campaign spokesperson Evan Thies said Adams is "proud to be the only candidate who has endorsed a fully publicly financed campaign system that would take the money out of politics once and for all."
McGuire's campaign is framing his eye-popping fundraising as a matter of necessity – born out of his disadvantages as a candidate. "Ray doesn't have the luxury or being in office for 25 years of being borough president for eight," said McGuire spokesperson Lupe Todd-Medina, referencing Stinger's and Adams' backgrounds in politics.
McGuire needs to spend more to raise his name recognition, McGuire campaign manager Basil Smikle argued. But other candidates shouldn't be complaining, since the spending cap could be raised for everyone. "It's going to give other candidates the opportunity to do the exact same thing," he said. And given their existing name recognition, "The advantage is not really ours – it really is all theirs."
Some competing candidates are fine with the increased spending. The campaign of former White House Office of Management and Budget Director Shaun Donovan has been raising money at a good pace and expects to spend up to the limit, even if it's pushed higher to $11 million.
McGuire's spending potential doesn't change anything for former nonprofit executive Dianne Morales, according to campaign spokesperson Dan Doubet. "The old game is played on television, and by (other) ways you pay to get your message out. We're going to be investing in talking to real people," he said. "You can't drown out an ocean."
And Kathryn Garcia, the former city sanitation commissioner, also said that McGuire's money doesn't change her game plan. She suspects her campaign will spend up to the $7.3 million limit, but she doesn't want to presume anything. And it's fine if she doesn't, she told City & State. "I know that I can run this campaign efficiently on less. And clearly, money doesn't necessarily buy elections, or we would have won Florida," she said, referring to President-elect Joe Biden's loss in the state despite outspending President Donald Trump.
Much of that money in Florida came from the bank account of Michael Bloomberg, whose three successful campaigns to be mayor of New York City are an obvious point of comparison for McGuire, another mayoral candidate attempting to make the move from Wall Street to City Hall. Bloomberg spent $74 million in 2001, $85 million in 2005 and $109 million in 2009 – obliterating all records in the process.
But McGuire's campaign insists that he is "not Bloomberg 2.0." Bloomberg founded his own company and is the 14th-richest person in the country. McGuire is a high-ranking banking executive and easily in the city's top 1% of wealth, but he's not a billionaire. Bloomberg self-funded his campaign. McGuire hasn't put money into his own campaign yet, and doesn't anticipate doing so.
Those differences could keep him from pulling off a Bloomberg-like upset in the race. "$9 million is not $90 million," said one Democratic political operative who was granted anonymity to speak frankly about the race. "Every four years there are rich guys who do not understand that."
But McGuire could end up with $90 million worth of support, or more. Real estate executive Stephen Ross has floated the idea of raising $100 million to support a favored candidate in the mayoral race. Given his background as a titan of capitalism, McGuire would presumably be in the running for Ross' support, but the candidate wouldn't say whether he'd been in touch with Ross. It might not matter – Ross' spending would presumably come in the form of independent expenditures so as to avoid donation limits, and he therefore wouldn't be allowed to directly coordinate with any campaign.
With or without that outside help, it seems likely that McGuire's spending will increase inequality in the race, growing the spending difference between the best-funded candidates and the least. But it remains unclear just by how much. The picture will get a little clearer on Dec. 15, when the first round of public matching funds will be delivered to the candidates who have qualified. And a much fuller picture will be revealed around Jan. 15, when candidates, including McGuire, will release their financial disclosures.
But McGuire's opponents aren't liking what they can already see.
"It really is a problem," said a mayoral campaign staffer granted anonymity to speak frankly about the race. "When Ray McGuire essentially doubles the amount you have to raise just by showing up, it drowns out anybody who can't raise the max."