Campaigns & Elections
NYC Council candidates seek to cancel petitioning because of COVID-19
Nearly 100 candidates signed a letter to Gov. Andrew Cuomo.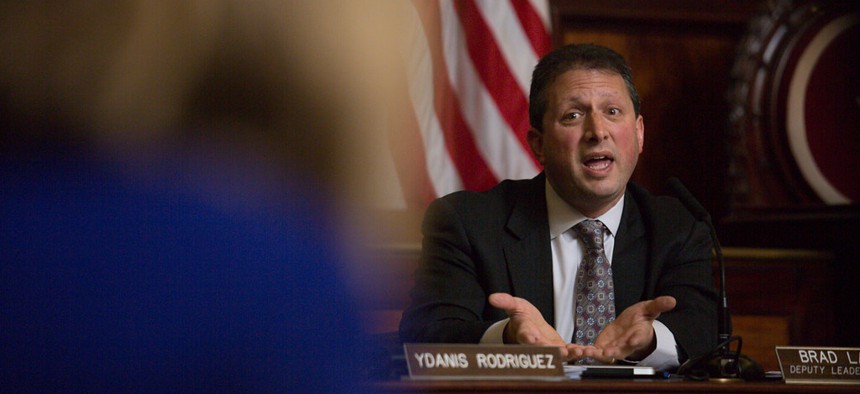 More than 100 candidates for office in New York City and their allies are releasing an open letter asking Gov. Andrew Cuomo, New York City Mayor Bill de Blasio and other Democratic Party leaders to cancel petitioning requirements to gain ballot access in this year's elections. 
Typically, potential candidates need to get hundreds or even thousands of registered voters to sign their petitions in order to qualify for the ballot for offices such as mayor or City Council. But the candidates say that activity is too dangerous during the ongoing coronavirus pandemic. 
"Collecting signatures for a successful designating petition creates an unacceptable risk of exposure to COVID-19 for candidates, their staff and volunteers, and political club members through what are essentially hundreds of thousands of mandated, non-socially distanced interactions," the letter reads. 
The letter was shared exclusively with City & State, and the signers are planning a virtual press conference Thursday morning. The letter was drafted by Erica Vladimer, a county committee member in Manhattan, and Lauren Trapanotto, a state Democratic committee member from Manhattan, and the pair joined forces with Corey Ortega, a City Council candidate in District 7 in Manhattan who has been organizing candidates around the issue. 
Bigger names to sign on include New York City Council Member Brad Lander, who is running for city comptroller, Council Member Jimmy Van Bramer, who is running for Queens borough president, and William Boland Jr., mayor of the upstate city of Corning. None of the current New York City Council members seeking reelection had signed as of Tuesday night. But at least a dozen political clubs and grassroots groups, which often carry petitions for candidates, also signed on, including Manhattan's Grand Street Democrats. 
While New York City's 2021 municipal elections are getting the most attention, there are local elections across the state this year, including for mayor of Buffalo and Rochester and for district attorney in Suffolk County. Petitioning requirements for all these seats are set by state law.
Cuomo has favored reducing signature requirements in order to limit physical interactions during the pandemic, rather than cancelling petitioning altogether. He passed an executive order requiring candidates to get just 30% of the typical number of signatures for last year's primary elections, and has already reduced signature requirements for a few upcoming special elections this year. The governor's office did not immediately respond to a request for comment. 
State legislators seem to be following the governor's lead. The state Senate passed a bill Tuesday that would require candidates to gather 30% of the usual number of signatures. A companion bill was passed by the Assembly on Tuesday. 
But that's not enough for those who signed the letter – who altogether make up about one-quarter of the 350 candidates who have filed to run for New York City Council this year. They're asking that any candidate who files a one-page cover sheet with the appropriate information make the ballot. 
But they may be open to other, innovative solutions. Vladimer pointed out that nearby states, including New Jersey and Rhode Island, have moved petitioning online. New York's leaders "have had a year to prepare for petitioning this year, and nothing has been done or implemented," she said. "Anything else beyond cancelling petitions is too little, too late.
Corrections: More than 100 candidates signed the letter. The companion bill passed the Assembly on Tuesday. 
Read the letter here:
On the Urgent Need to Cancel Ballot Petitioning in NYS - Jan 27, 2021 by City & State NY on Scribd