Andrew Cuomo
Could Cuomo be impeached?
It's only happened once in New York history, and past governors have survived plenty of controversies.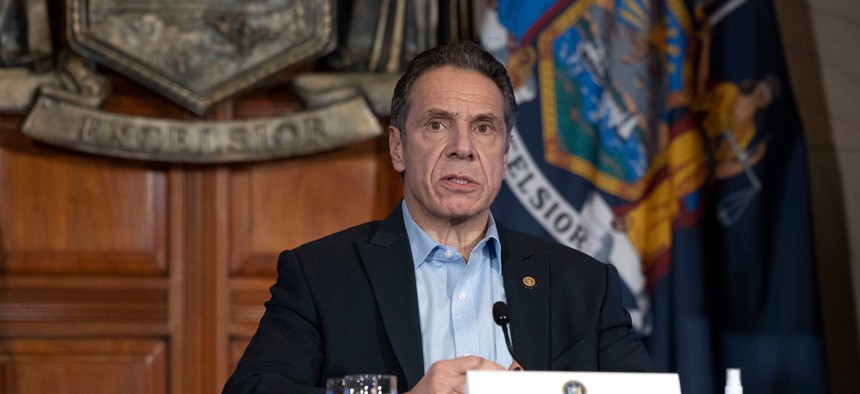 Even though Republican lawmakers only hold one-third of the seats in the state Legislature, they're hoping to oust Gov. Andrew Cuomo over withholding information regarding nursing home deaths.
On Thursday, the New York Post reported that Cuomo's top aide Melissa DeRosa admitted to state legislators that the state had delayed revealing the total death count of nursing home residents from COVID-19. During a video conference with Democratic lawmakers, DeRosa confessed that "basically, we froze" over the summer after the state Senate called for a full tally of nursing home deaths, while the state was facing scrutiny from the Department of Justice. 
A number of Republican lawmakers, including state Republican Chair Nick Langworthy, are calling upon Cuomo to resign or be impeached over this latest development in the state's ongoing saga over its handling of nursing homes in the COVID-19 pandemic. 
For most New Yorkers, this is probably the first time they've even considered the fact that impeaching a governor is possible. But what is the actual likelihood of Cuomo facing impeachment and how exactly does this rarely-used political tool work in the Empire State?
The state's impeachment process is much like that of impeaching a president, beginning with the introduction of articles of impeachment which must then be voted upon by the state Assembly. If impeachment is passed by a majority of Assembly members, then a court impeachment trial may commence with the lieutenant governor, members of the state Senate, and judges from the court of appeals who preside. A conviction requires two-thirds of the Senate to vote for impeachment, similar to the U.S. Senate.
If a governor be impeached, convicted and removed from office then the lieutenant governor would be charged with carrying out the governor's duties for the remainder of the term.
In New York's history, only one governor, William Sulzer, has been impeached. Sulzer was impeached in 1913, after serving fewer than 10 months in office, for embezzling his own campaign funds for personal use. Historians, familiar with Sulzer's impeachment, however, have come to understand that the state's impetus for ousting the governor was more of a fight for political power than anything else. Despite being elected with the help of Tammany Hall, a powerful political machine at the time, Sulzer angered the organization when he refused to appoint Tammany boss Charles F. Murphy's business partner as a state highway superintendent. "He was really impeached because he got into a battle, a political battle, a battle for supremacy with Tammany Hall," Jack O'Donnell, an author who has studied Sulzer's impeachment, told NY1 in January, 2020.
Interestingly, the state's constitution provides little guidance on what constitutes an impeachable offense. An article published by Fordham Urban Law Journal in 1987, which reviews Sulzer's impeachment, points out that the state has failed to flesh out its impeachment procedures since 1913. The article's authors, John Dunne and Michael Balboni, suggest amending the constitution with descriptions of what acts may be considered impeachable to prevent impeachment from being used as a political tool in the future
The only other governor who has come close to being impeached in recent history is former Gov. Elliot Spitzer, who became entangled in a prostitution scandal in 2008. Spitzer resigned after serving 15 months in office, right as state lawmakers began drafting articles of impeachment. 
"Far worse behavior (than Cuomo's) by public officers in recent years did not result in impeachment," Gerald Benjamin, an expert on the state's government, told City & State in an email. "I don't think impeachment of the governor is in the offing, nor from what I now know, should it be."
At the time, then-President Donald Trump was still in office and Cuomo's team feared any negative information about the state's response could be used as a cudgel by Trump's politicized DOJ, or lead to greater penalties because of Trump's animosity toward New York.
While it's unlikely that Democrats would move articles of impeachment, a bipartisan effort to strip Cuomo of his emergency executive powers has begun to gain some traction. 
Powered By
NEXT STORY: An apparent nursing home coverup and arenas open up