Andrew Cuomo
Cuomo's approval treading water, for now
A new poll suggests the governor's standing with voters did not suffer following the release of the AG's report.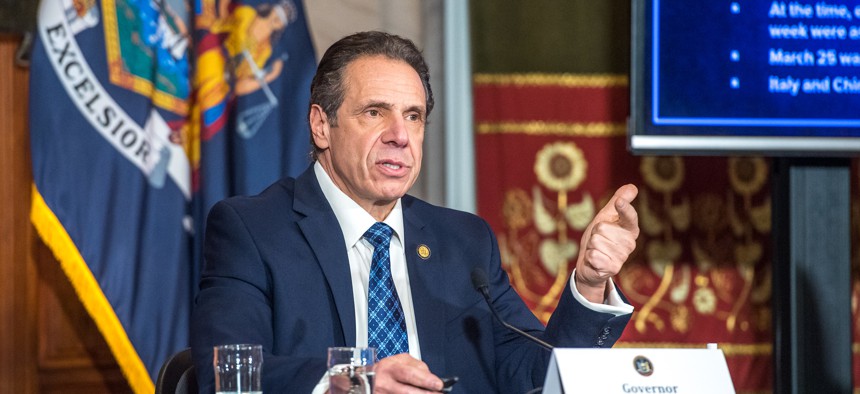 Gov. Andrew Cuomo is feeling the political heat like never before over his handling of nursing home deaths. His latest comments on the reported admission from his administration that it withheld data from state lawmakers is generating new tensions with the Legislature. Republicans are calling for his impeachment. Democrats are saying the time has come for new investigations. The repeal of the governor's sweeping emergency powers appears imminent. Gubernatorial explanations continue to fall short of contrition. "Apologize? Look I have said repeatedly, we made a mistake in creating the void," Cuomo told reporters Monday in his latest defense of his handling of nursing homes deaths.
A new Siena College poll, which conducted its polling before the bombshell story was published by the New York Post on the administration not disclosing data on nursing home deaths, showed the governor remained in a strong position following a critical report from state Attorney General Letitia James. Registered voters continued to give him high marks for his handling of the pandemic as COVID-19 caseloads are decreasing in New York. Big majorities liked the federal rescue package he is pushing, which appears likely to help his political position now that it appears more likely than ever that the state will receive at least $12 billion in new federal funding to balance the state budget.
"Cuomo retains real strength among the electorate," Democratic consultant Bruce Gyory said in an interview. "The nursing home controversy raises questions but it does not erase the strong support he has in terms of how he's handled the COVID crisis."
The new poll was conducted from Feb. 7-11, which was more than a week after Attorney General James released a scathing report on the Cuomo administration's handling of nursing homes. While the poll does not reflect whether voters feel differently about the governor after recent critical news stories, it undoubtedly contained some welcome news. "NYers saw with their own two eyes how (the governor) worked day & night to get us on the other side of this pandemic. Replaying the tape is the press' job & the political attacks are expected & predictable, but this poll shows Gov's favorability is rock solid," spokesperson Rich Azzopardi tweeted Tuesday.
More than 3 in 4 Democrats – and 56% of registered voters overall – had a favorable impression of the three-term governor, according to the poll. Less than half of voters – but still a plurality – had a favorable view of the state Senate and Assembly. When it came to the governor's emergency executive powers, 53% supported Cuomo keeping those powers, and he still appears to be in a relatively strong position compared to state lawmakers. A January Siena College poll found the vast majority of registered voters did not know Assembly Speaker Carl Heastie and state Senate Majority Leader Andrea Stewart-Cousins. "The most critical numbers in that poll are not even the overall numbers but rather that he continues to remain strong with Democrats," Evan Stavisky, a Democratic political consultant, told City & State. "As long as he continues to remain strong with Democrats, he'll be in a commanding position for reelection."
State lawmakers are not meeting this week or holding any budget hearings as the Democratic majorities consider whether to vote to rescind Cuomo's emergency powers. Democratic lawmakers have vowed to take action on nursing homes after they reconvene on Feb. 22, but some political observers are already noting how few of them are talking about impeachment like the Republicans. "We will continue to discuss the issue and will act responsibly with the best interests of the people of the State of New York in mind," a spokesperson for Heastie said in a statement. A Senate spokesperson did not respond by publication time to requests for comment on what legislators will do next.
Some state lawmakers have reportedly floated the idea of using the threat of subpoenas and the revocation of Cuomo's emergency powers to gain an edge over the governor in state budget negotiations. However, even that might not change the underlying power dynamics of the state budget process that overwhelmingly favors the governor. Plus, voters seem to like what the governor is up to with the budget. Big majorities told Siena College that they favor the $1.9 trillion relief plan backed by President Joe Biden as well as the billions of dollars in new funding it would send to New York. More voters support legalizing mobile sports betting than oppose it, and nearly two-thirds of registered voters also support the legalization of recreational marijuana, which could help the governor pressure state lawmakers to make concessions to legalize it through the budget process.
There may be some warning signs ahead for the governor. More damaging headlines about nursing home deaths could continue coming out. Democratic state lawmakers could reveal damaging information through new investigations, hearings, subpoenas and budget testimony. State Health Department Commissioner Howard Zucker is scheduled to testify on Feb. 25. If anything goes wrong, new polls might show the governor's approval rating slipping below 50% for the first time during the pandemic.
Yet, the new Siena College poll shows that registered voters have yet to match the level of outrage seen by lawmakers from both sides of the aisle. "There are a lot of people that are still riding high and think the governor did a fantastic job during 2020, especially when compared to some of his colleagues in other states, so I don't think that we'll see a plummet," Christina Greer, an associate professor of political science at Fordham University, said in an interview. Plus, Cuomo has weathered several major political scandals before. "Voters have short memories," Greer added. "I think they're sort of willing to look at his record in the aggregate as opposed to this one particular instance."
Powered By
NEXT STORY: Could Cuomo be impeached?