Campaigns & Elections
Manhattan DA candidates expect to inherit Vance's case against Trump
But they're not all saying how they would handle it yet.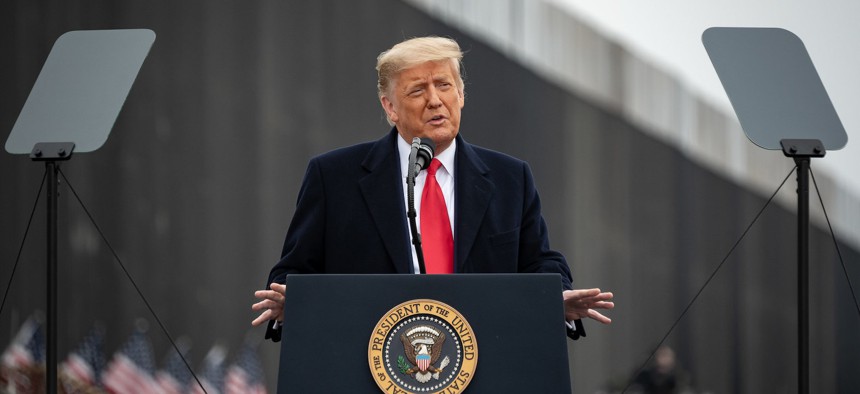 Whoever wins the election to be the next Manhattan district attorney will inherit an office that processes tens of thousands of low-level misdemeanors each year. The next district attorney will also, most likely, inherit what may be the most high-profile and closely watched court case in the entire country, where more than 159 million voters on either side of the 2020 presidential race have a rooting interest: the anticipated prosecution of Donald Trump for financial crimes.
"As long as the work of the DA's office and the current DA is pending, these are going to be things that we inherit," said Tahanie Aboushi, one of eight candidates competing in the Democratic primary for Manhattan district attorney. "So if the investigation is still open, we're not just going to come in and interfere with that, but we're going to have an opportunity to actually have that inside information, assess (the case) and make a decision there."
Investigation ongoing
The stakes are high, but information about the case is limited. Manhattan District Attorney Cyrus Vance Jr.'s office reportedly intensified its criminal investigation of Trump's personal and business finances once it became clear that the former president had lost his reelection bid and would no longer have the legal protections of the White House. Updates have leaked out into the press over the past month. Vance's office had subpoenaed records for Trump's Seven Springs estate in Westchester County. His office was also considering bringing charges against Steve Bannon, Trump's former campaign strategist. And just last week, The Associated Press reported that, although the federal investigation into the legality of hush money payments to cover up Trump's extramarital affairs appears to have petered out, it may still be continuing on the state level, in Vance's office. And in fact, Manhattan prosecutors interviewed Trump's former fixer Michael Cohen for hours in January.
Legal-minded New Yorkers are anticipating the announcement of charges against Trump, but it isn't clear when that announcement may come, or what the specifics of the case may be. But it's safe to assume that if Vance were to bring a case against Trump, the former president would not accept any punishment quietly. Trump's legal team already sued Vance in 2019 to block a subpoena of the then-president's tax returns, and Trump would be expected to decry any prosecution as politically motivated.
Lips are sealed
Vance is term-limited at the end of 2021 and is not expected to run for reelection. So following a Jan. 28 DA candidate forum hosted by The Appeal and NowThis News, City & State asked all the candidates running for district attorney their thoughts on the potential case against Trump. Would they expect the next DA to inherit the case? And given the likely accusations of political bias in what could be a lengthy, drawn-out case, would the candidates accept a plea bargain under the right conditions?
None of the candidates talked specifics, and a few emphasized that they couldn't – after all, they don't want Trump's lawyer citing this story to argue that their prosecution is biased. Tali Farhadian Weinstein, who served as general counsel to Brooklyn District Attorney Eric Gonzalez, declined to answer at all and later sent a statement from campaign spokesperson Jennifer Blatus that said: "The next DA may inherit a complex investigation of tax and other fraud involving a former president, with all of the hard questions that brings, (and for that reason,) candidates should not discuss any case that they could potentially oversee."
Dan Quart, an Assembly member running for the post, responded but kept his comment broad. "Now that Trump is out of office, restoring the rule of law must be our top priority. And that requires uniform and certain enforcement," he said, adding that he would "follow the facts wherever they may lead."
Highlighting experience
Other candidates tackled the questions by arguing that they would be best equipped to take on the job. "I've handled these kinds of complex matters a lot, including those involving Trump himself," said Alvin Bragg, who served as chief deputy state attorney general while Trump was in office. Bragg noted that he worked on the office's investigation of the Trump Foundation – which resulted in the charity's dissolution – and that the office, under then-Attorney General Eric Schneiderman, took more than 100 legal or administrative actions against Trump in his first year in office. We know that Vance's office is investigating tax fraud issues and valuation of assets fraud, Bragg said. "I've done that kind of work and feel very equipped to inherit that if that should be the case."
Diana Florence, who used to be a top deputy in Vance's office, highlighted her record leading the office's construction fraud task force, saying "there's no one in this race who has the depth of experience at holding real estate developers and construction companies like Donald Trump accountable. … That meant racketeering, that meant money laundering, that meant tax fraud, that meant workman's compensation insurance fraud, wage theft." The City reported that Florence resigned from her position leading the task force last year after she was accused of withholding damaging evidence in seven major bribery cases. She denied deliberately withholding evidence and accused the office of "bullying" her.
Another candidate, Liz Crotty, drew quite the comparison explaining why she was best equipped to prosecute Trump. "I've investigated Saddam Hussein. I've investigated Saudi princes," she said, referring to cases she handled as an assistant district attorney under then-Manhattan District Attorney Robert Morgenthau. "I'm fully equipped to do any and all international, complex cases, including ones that are (being) investigated now."
Aiming at Vance
Other candidates used the opportunity to criticize Vance's handling of high-profile cases. ProPublica, WNYC and The New Yorker reported that Vance dropped a fraud case in 2012 against the former president's children, Donald Trump Jr. and Ivanka Trump, not long after their lawyer, a major donor to Vance's campaign, met with the district attorney.
"The way in which the current Manhattan district attorney's office has operated has undermined any trust or integrity in that office," said Eliza Orlins, a public defender, vowing that when she is district attorney, powerful people won't be "getting their cases dismissed because they're receiving huge, max-out donations from the lawyers involved in those cases and from the other people and rubbing shoulders with the 1 percenters in order to maintain this system where we disproportionately lock up poor people and Black and brown people."
Lucy Lang, who served as a special counsel in Vance's office, also said she'd do things differently than Vance. "For far too long, there have been backroom meetings that have given the public the impression – rightfully or not, and I think that none of us know – that there is impropriety in how decisions were made," she said. Lang promised that, in her administration, "The public defense agencies will have the same access to the district attorney and senior staff as the most well-heeled defense lawyer."
Aboushi, a civil rights attorney, went further than just talking about equal access by saying that the potential case against Trump "is an opportunity where the community needs to be part of what accountability looks like, and any decisions that are made. Because he has impacted so many people's lives across this city."
Of course, prosecutors are generally discouraged from letting public sentiment against a defendant – no matter how hated Trump may be in his hometown – from influencing their case. Asked to clarify, Aboushi said that as district attorney, "My focus will be on making every aspect of the office a community-driven process, including determining what kinds of cases will be prioritized." Aboushi said she would hire people who were not prosecutors, and not lawyers at all, to be part of the office's intake of cases and investigations. "There needs to be accountability and a recognition of the harms that those in power have caused, and this starts by talking with the communities impacted by those harms," Aboushi said.