Campaigns & Elections
Frozen pens and face masks – petitioning in the pandemic
And more coverage of key 2021 races.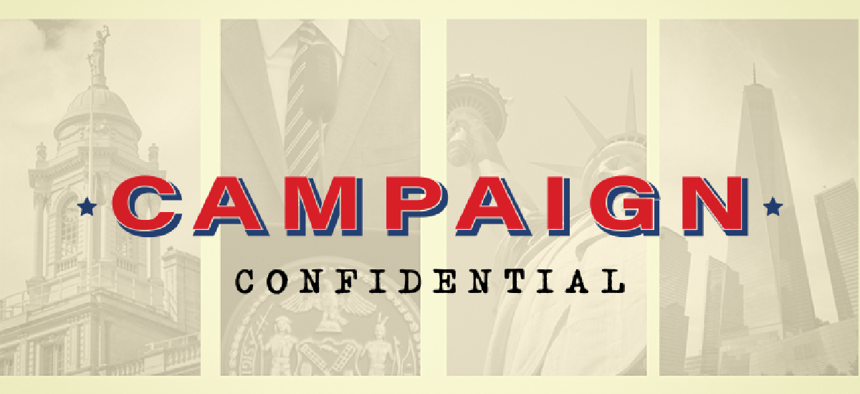 Petitioning … on ice!
Scott Stringer was a bundle of energy Tuesday morning, the first day of petitioning for the June primary. And I do mean bundle – he pointed to four, or maybe even five layers of clothing he was wearing. But it wasn't just clothing keeping the city comptroller warm on a what felt like a 12 degree day – it was the excitement of petitioning, that most granular of political processes, the kind of thing that grabbed Stringer's attention 49 years ago, leafleting as a 12-year-old, and hasn't let go of him since. Stringer and a couple staffers walked the plaza around Brooklyn Borough Hall, not acknowledging that they were right outside the sometimes literal home of his opponent, Brooklyn Borough President Eric Adams. "Hello sir, I'm Scott Stringer, I'm running for mayor, nice to meet you," he said to a man who didn't stop walking, but did take a palm card. He didn't gather many signatures, but Stringer was just happy to be seeing voters. "It's opening day! We're not living in a Zoom," he said, then added an existential aside. "Maybe we are?"
The transition from Zoom screens to real, pen-and-ink signatures on green sheets of paper is just one way this petitioning season is unlike any other. Gov. Andrew Cuomo, the state legislature and later a state judge resisted calls by candidates to cancel petitioning altogether during the coronavirus pandemic and instead nodded to the potential public health risk by passing a law requiring candidates to gather just a fraction of the normal number of valid voters' signatures. Mayoral candidates need 2,250 instead of the usual 3,750. Council candidates need at least 270 instead of 450. They're due in just three weeks, on March 25.
But the pandemic didn't feel as present of a problem as the numb hands and tingling toes. The new move to June primaries for city office means that petitioning got moved up three months from the warmth of early summer to the chill of March. 
"The ink is freezing in the pens," said Drisana Hughes, Stringer's organizing director, braving the early morning chill on the other side of Borough Hall. Lincoln Restler, an experienced petitioner who's running in City Council District 33, also noticed something different this year. "People don't want to stop in the f---ing cold," he said. 
But for mayoral candidate Shaun Donovan, petitioning wasn't different this year – it was entirely new. He's running for office for the first time, and while he said he had gathered signatures before, he couldn't recall when, or for whom. "You look familiar," one 20-something man said as he passed by Donovan outside a subway entrance on Court Street. "I was in President Obama's Cabinet for all eight years," Donovan tried. That didn't net him a signature. But Donovan, a natural charmer, tried different lines. "Hey, good morning, would you help me get on the ballot for mayor?" No dice. "Good morning ma'am, I'm running for mayor, would you mind helping me get on the ballot?" Got it! One signature down, 2,249 to go. 
Tuesday afternoon on Manhattan's Democrat-rich Upper West Side, three supporters of Diana Florence's Manhattan district attorney campaign rested outside Fairway Market while their box truck with a video screen on the side continued to spread the word about the candidate. One of them, Brian Brady, a lead council representative with the District Council of Carpenters, said March petitioning was "a different world" because people wanted to keep moving rather than stand in the cold. But still, he was proud of their world. 110 signatures already.
Half a block up Broadway, a petitioner for Zach Iscol's comptroller campaign was still working. But the job wasn't easy – he was rebuffed as he approached a man waiting in line outside Citarella Gourmet Market. "It's too cold, it's too cold," the man said, holding up his hand and shooing the worker away.
By the Numbers
$881.02
The amount spent per vote by City Council candidate Neeta Jain in the District 24 special election last month. Jain reported spending $199,992 and earned 227 first-ranked votes. That is the worst dollar-to-vote ratio in the past 10 years of special elections, and possibly ever – but District 24 opponent Mujib Rahman was nearly tied with Jain, spending $879.30 per vote. Both Jain and Rahman brought in more than $130,000 in public matching funds, so critics like consultant Patrick Jenkins harped on the spending as an example of the excesses of the system. For context, Michael Bloomberg spent $185.03 per vote in his $108 million 2009 election – but all of that was private funds. And the winner of the District 24 special election, James Gennaro, spent $47.33 per vote, or $73.85 if you factor in outside spending on his behalf. Jain, Rahman and others will have a chance to run again in the June primary, where Gennaro told City & State he expects a challenge. Moumita Ahmed ($178.85 per vote) has said she's running again, but Assembly Member Daniel Rosenthal confirmed that he will not run. 
Not my first choice, but ...
Unlike neighboring City Council District 11, where Mino Lora and Jessica Haller are teaming up, not a single candidate at the Council District 15 forum hosted by the Bronx Young Democrats and moderated by City & State would say who else they were ranking on their ballots. But one candidate who skipped the forum will be vying for their No. 2's: Ariel Rivera-Diaz, who will be appearing in the March 23 special election on the "Second Choice" ballot line. Rivera-Diaz told City & State he chose the name because the Bronx is "the Second Choice when it comes to legislation." But it seems like there might be more to the name. Rivera-Diaz is a finance clerk at the city Board of Elections, so he knows all about how ranked-choice voting works. We'll see if the ballot line gets voters in the heavily Democratic district to rank Rivera-Diaz, a 22-year-old Republican, second.
Weprindebted
Most city comptroller candidates start with $0 and have to work their way up. (Likely candidate Corey Johnson and his $585,000 on hand, and $4.9 million in expected matching funds, is the obvious exception.) But David Weprin had to start his campaign $319,711 in the hole, since he has been carrying around a debt owed to the New York City Campaign Finance Board for nearly a decade, dating back to his failed 2009 comptroller campaign and its improper mingling of public and private funds. Weprin finally paid off the debt on Dec. 15, 2020, but did so with his state campaign account that he's used for his Assembly campaigns. Weprin's team made sure to clear that with the CFB in advance, but that doesn't mean all's well between the two – Weprin was denied $1.5 million in matching funds that the campaign expected. Like Maya Wiley's team, and comptroller rival Brian Benjamin's before that, the Weprin campaign says it's just a paperwork error, and they expect the matching funds to come at the next review on March 15. And the campaign says it has not lost its Weprin-mentum.
The tribe has spoken
Tahanie Aboushi's Manhattan district attorney campaign got the Working Families Party's endorsement on Tuesday, and, along with it, announced support from New York City Public Advocate Jumaane Williams, Assembly Member Yuh-Line Niou and Citizen Action of New York. Those are all big pick-ups in a race that still lacks a Tiffany Cabán-like figure that the progressive left can coalesce around. But the debate continues, even within the WFP, since some Manhattan members were miffed that the party didn't follow the local chapter's vote to recommend endorsing Eliza Orlins for the seat instead. "For whatever reason in their structure, chapters are not really empowered to do anything," said one Manhattanite. Orlins, a former "Survivor" contestant, said the WFP's choice was "disappointing," but called herself "the only grassroots campaign," pointing to the fact she had the most individual contributions in the race. The WFP defended the "democratic, multistep endorsement process," and of course, debate over endorsements is nothing new. (Remember Warren over Bernie?) It has happened a couple times recently, with the New York Working Families Party backing Amit Bagga over the members' pick, Julie Won, in District 26 and opting for no endorsement in District 25 over the Queens chapter's choice of Carolyn Tran.
Endorsement Watch
The New York Hotel and Motel Trades Council endorsed Eric Adams for mayor … Maya Wiley picked up mayoral endorsements from Assembly Members Khaleel Anderson and Latoya Joyner and from former City Council Member James Vacca … the Coalition for a District Alternative endorsed Dianne Morales No. 1 and Wiley No. 2 for mayor … The Republican Party in the Bronx, Manhattan and Queens each endorsed Fernando Mateo for mayor, Daby Carreras for comptroller and Janelle King for public advocate … and for Manhattan district attorney, the Manhattan GOP endorsed Thomas Kenniff, who apparently lives on Long Island … the Conservative Party in all five boroughs endorsed Bill Pepitone for mayor, John Tabacco for comptroller and Tony Herbert for public advocate … the Bronx Democratic Party endorsed Brian Benjamin for comptroller … and while the Brooklyn Dems haven't endorsed yet – and might not – former county leader Frank Seddio backed Benjamin, as did state Sen. Roxanne Persaud and others … the Brooklyn Democratic Party did endorse Dweynie Esther Paul for Surrogate's Court, despite accusations that she underpaid and mistreated a home care worker … Rep. Adriano Espaillat endorsed Mark Levine for Manhattan borough president … City Council Member Helen Rosenthal endorsed Jessica Haller in the District 11 special election in the Bronx … the Sunrise Movement backed Elisa Crespo in the District 15 special election in the Bronx … and Churches United for Fair Housing Action endorsed Brad Lander for comptroller, and another slate of council candidates, including Josue Pierre as their top choice in District 40 in Brooklyn and Rita Joseph as their second choice … and City Council Member Carlina Rivera, a likely speaker contender, endorsed a slate of 13 female council candidates, including Sandy Nurse in District 37 in Brooklyn.
Staffing Up
Nandi O'Connor has joined Shaun Donovan's mayoral campaign as digital director … Tucker Green & Company has joined Maya Wiley's mayoral campaign to help with fundraising … Green is also with David Weprin for comptroller and Jumaane Williams for public advocate … André Richardson, Rep. Hakeem Jeffries' former political director, is joining Andrew Yang's mayoral campaign as senior adviser for politics and strategy … Lauren Liles has joined Dianne Morales' mayoral campaign as communications director… Aziz Yakub is campaign manager for Justin Krebs' City Council campaign in District 39 in Brooklyn … Caroline Cutlip is campaign manager for Maria Ordoñez's Council District 7 campaign in Manhattan … and Despina Costalas, formerly of Rep. Max Rose's office, is field director for Doug Schneider in Council District 39.
Got tips? Email JColtin@CityandStateNY.com or DM me @JCColtin
District Data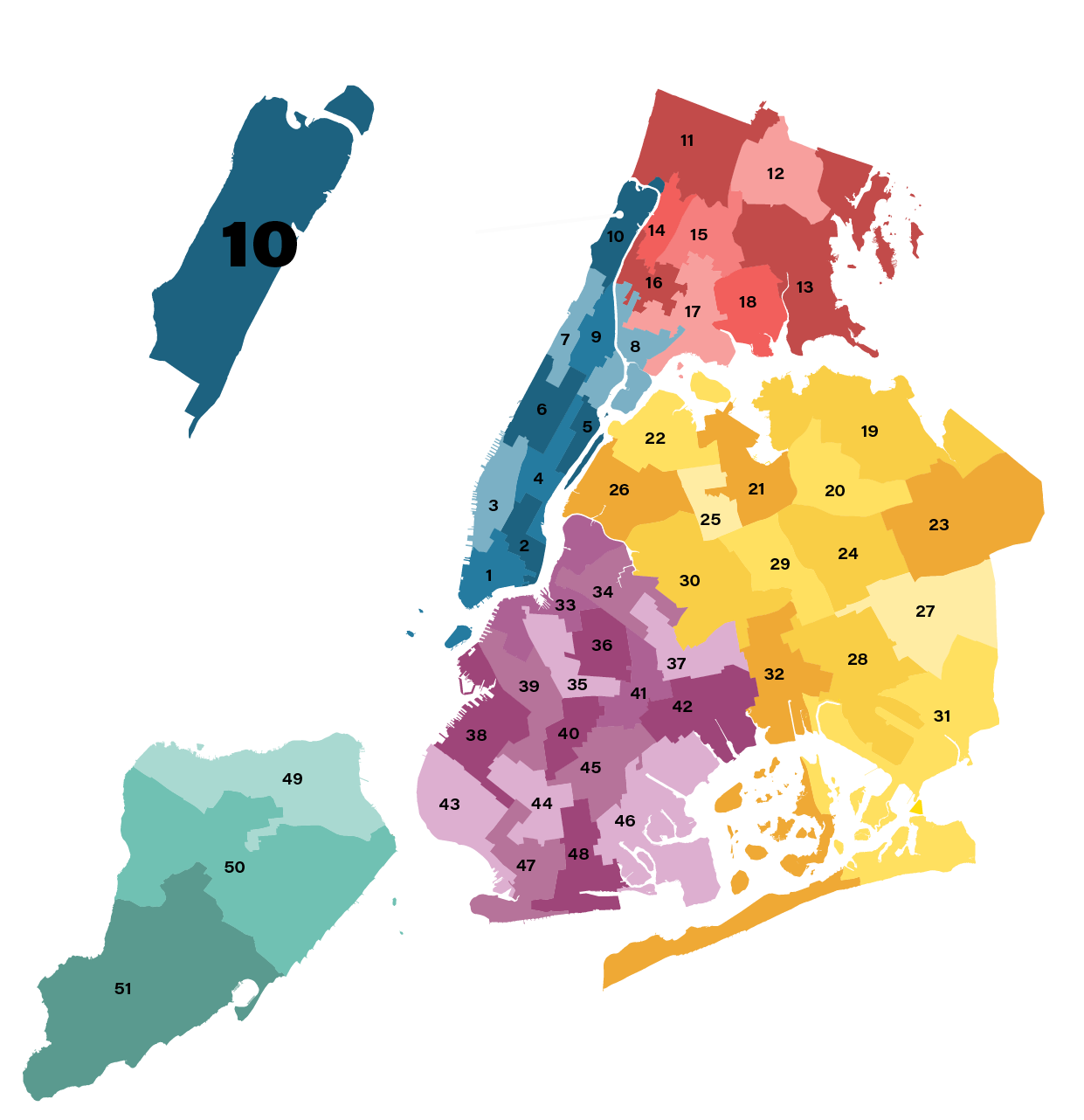 City Council District 10 in Upper Manhattan, covering neighborhoods including Washington Heights, Inwood and Marble Hill
Current council member: Ydanis Rodriguez since 2010, who's term-limited at the end of this year
2010 census demographics: 81.4% Hispanic, 9.2% white, 6.3% Black, 1.9% Asian
Housing: 96.6% renter-occupied, 3.4% owner-occupied
2009 primary election results: Rodriguez: 60.3%, Richard Realmuto: 15%, Manny Velazquez: 9.9%, Ruben Dario Vargas: 5.1%, Francesa Castellanos: 3.7%, Francisco Spies: 2.1%, Luis Facundo: 1.9%, Cleofis Sarete: 1.8%
2017 primary election results: Rodriguez: 61.5%, Josue Perez: 30.8%, Francesa Castellanos: 7.3%
Who's running: James Behr, Carmen De La Rosa, Angela Fernandez, Johanna Garcia, Josue Perez, Tirso Pino and Everett Reed. Carmen De La Rosa has represented much of the district in the Assembly since 2017, and was Rodriguez's chief of staff in the council before that. She has the endorsements to prove it, including many of the city's biggest labor unions, Rep. Adriano Espaillat and former contender Manny De Los Santos. But Johanna Garcia was a chief of staff too, to then-Council Member Robert Jackson, and is well-connected to the current state senator's network. Both De La Rosa and Garcia have raised more than $220,000, but more of Garcia's total came from Upper Manhattan. Right up with them in fundraising is Angela Fernandez, an immigrant rights advocate, making this a rare field where all the top contenders are women. Josue Perez, a high school math teacher who challenged Rodriguez in 2017, is also running.
Twitter Posting 
Just a reminder for NYC candidates recording your candidate video statements, the @NYCCFB will not accept your video if you are fully or partially nude in it.

One wonders what situation this rule was originally crafted to avoid repeating. pic.twitter.com/K17DyIRvOy

— aries dela cruz (@riesinthewild) March 1, 2021