New York City
First-time candidates and government veterans face off for New York's UES
High-profile endorsements and impressive fundraising numbers are split in this close race for the City Council District 5.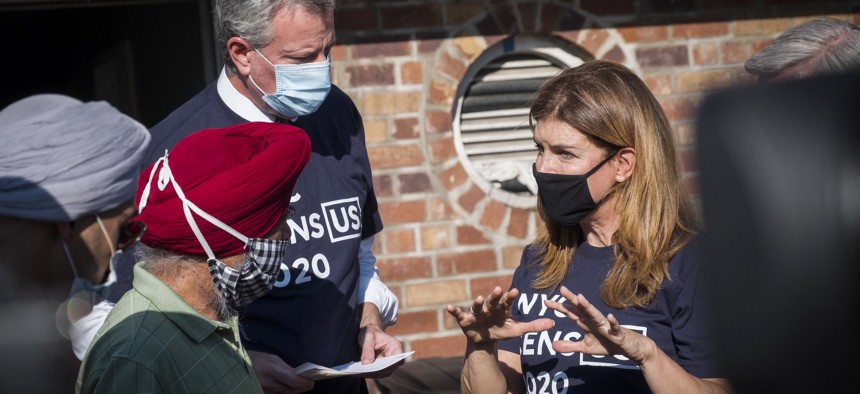 Trying to keep track of all the City Council races? Check out our dedicated Council Countdown section. We've partnered with City Limits, Gotham Gazette, and the Queens Daily Eagle for top notch local election coverage, organized by borough. Don't waste any more time, get informed now.
Less than two months out from the June 22 primary election, residents, lawmakers and influential clubs in New York City's 5th City Council district are still split over who they want to represent them next in the Council.
As is the case in two-thirds of the city's other Council seats, the 5th district's sitting Council member, Ben Kallos, is term-limited out this year. Kallos' impending exit has opened up a crowded field of candidates eager to represent the district. Among the seven Democratic primary candidates are former New York City Census Director Julie Menin, social worker Tricia Shimamura, labor organizer Rebecca Lamorte, former journalist and District Leader Kim Moscaritolo, attorney Billy Freeland, former journalist and state Senate staffer Christopher Sosa, and architect Marco Tamayo. Shimamura, Freeland, Lamorte and Tamayo all serve on Community Board 8 in the district. 
The 5th district, which spans parts of the Upper East Side, East Harlem, Midtown East and all of Roosevelt Island, is majority white, with roughly three-quarters white residents, 10% Asian, 7% Hispanic and 3% Black as of the 2010 census. It's solidly blue, with Kallos easily winning reelection in 2017 and largely voting for President Joe Biden, along with much of the rest of Manhattan, last fall. The winner of the June primary will face Republican Mark Foley in the fall, but Republicans face longshot odds in the district.
As a whole, the field to succeed Kallos consists of a progressive crop of candidates whose objectives include reducing the budget and responsibilities of the New York City Police Department, scaling back the city's reliance on cars and favoring more open streets, and supporting the creation of affordable housing, including a new Safe Haven shelter in the district.Menin, who has been characterized as the establishment candidate – she served in both Michael Bloomberg and Mayor Bill de Blasio's administrations – has supported some of these more progressive proposals as well, including downsizing the FDR Drive and removing police from responding to people in mental health crises.
The candidates are aligned on some hyperlocal issues as well, lining up to express doubts about the proposed expansion of the New York Blood Center on the Upper East Side, for example. But while the race has been marked by significant points of agreement and collegiality among candidates – a hallmark of the friendlier campaign tactics in a ranked choice voting environment – residents still face a distinct choice between a candidate who brings years of city government experience to the table, and others who promise life experience outside government will enable them to bring a new and progressive perspective to the Council. Some in the district point to Menin and Shimamura as the race's two frontrunners at this point. The former comes with years of experience in high-level roles in city government, and scores of endorsements from elected officials such as Reps. Jerry Nadler and Nydia Velázquez, major unions including the United Federation of Teachers, and local Democratic clubs. "This district is lucky to have a handful of good candidates; intelligent people with good intentions who would probably make for fine council members," said Jake Dilemani, a district leader on the Upper East Side who has endorsed Menin. "But I do believe Julie stands out, given her depth and breadth of public sector experience."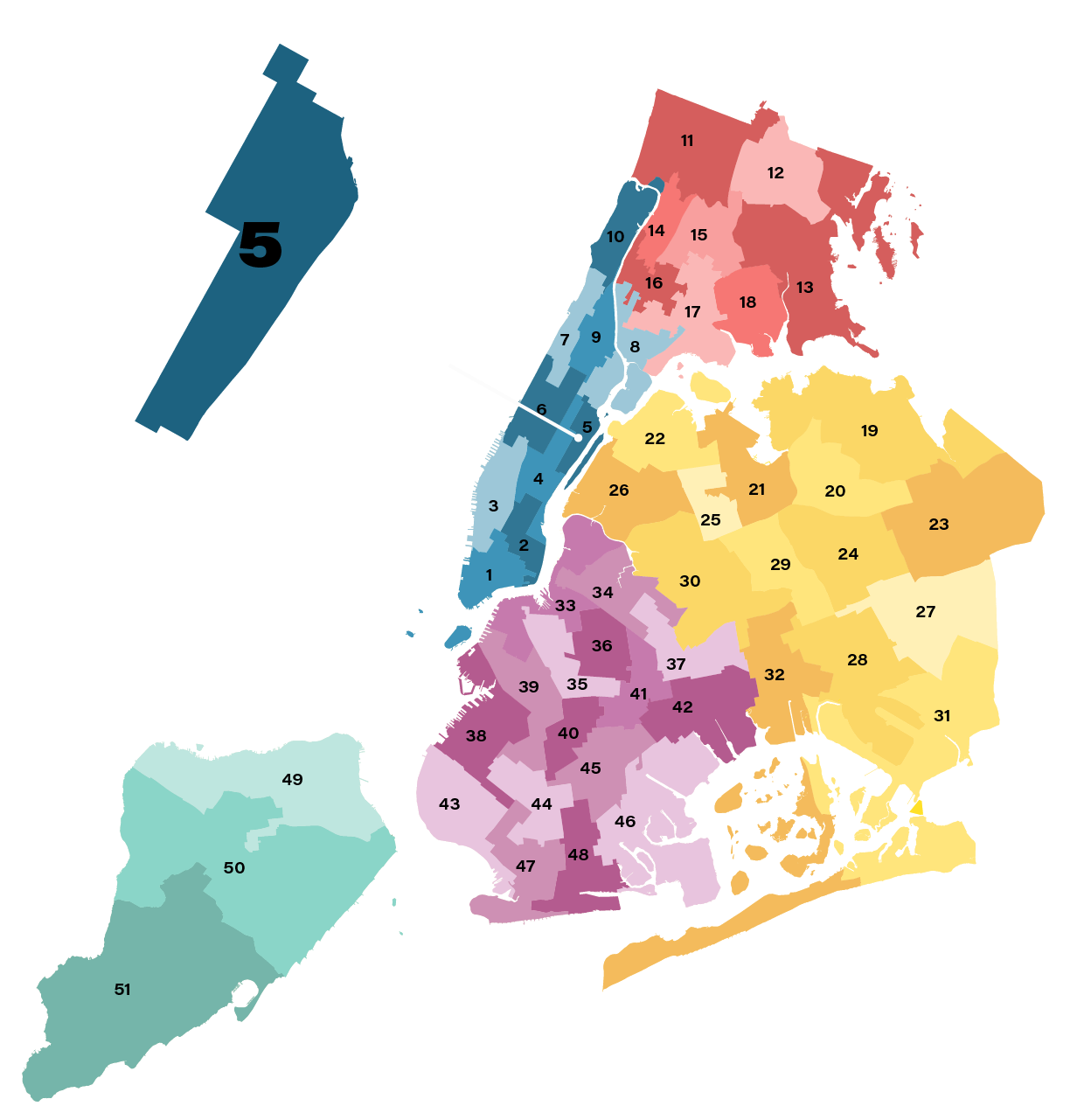 Menin has emphasized that experience – most recently as census director, and before that as the commissioner of the Department of Consumer Affairs, commissioner of Media and Entertainment, and chair of Community Board 1 in Lower Manhattan. (Menin, like many of the other candidates, moved to the district in the past several years, though her family originally settled there after fleeing the Holocaust.) "The city is in dire straits, and we need people who really understand city government and understand how to advocate for the needs of our community," Menin told City & State. Like other candidates, Menin cited COVID-19 recovery as her top priority, including connecting small businesses to grant money and fully reopening schools. But she didn't hesitate to point out some differences between her and her opponents, including her desire to see the city's Gifted and Talented programs expanded to a wider and more diverse pool of students, rather than seeing them completely eradicated.
Shimamura, a social worker, has highlighted lesser discussed issues such as the maternal mortality crisis and environmental protections for New York City Housing Authority residents living near flood areas. Shimamura, who is a Japanese Puerto Rican woman, would be the first Japanese-American member of the City Council. She also counts her former boss Rep. Carolyn Maloney, the East River Democratic Club, and the political group '21 in '21 among her endorsers. "There are a number of qualified people in this race, but I absolutely think Tricia has distinguished herself already," said Jasmine Fernández, a co-founder of the political group Women of Color for Progress, which endorsed Shimamura. "When you see Tricia's campaign platform around environmental justice and then housing, you'll see that it's not a one-off when she talks about the NYCHA community. That is a common thread."
Shimamura pointed to economic recovery and housing affordability as post-pandemic priorities as well, citing an intersectional "social work" perspective she brings to policy making. "Housing issues are never just housing issues," she said. "To me, they're housing, health care, education issues, and I am always looking for comprehensive solutions that are empowering and engaging those who are most vulnerable." Shimamura has also made affordable and universal child care a key issue, as well as maternal mortality, which Black women face at disproportionately high rates. 
That's all not to say the race is a dead heat between Menin and Shimamura. Moscaritolo has also secured endorsements from elected officials popular in the district, sharing joint nods from state Sen. Liz Krueger and Assembly Member Rebecca Seawright with Shimamura. Seawright said both Shimamura and Moscaritolo would be well suited to lead the district. "I've had the experience of working with them over the years, and I've seen their dedication to local issues in our community," Seawright said of making a dual endorsement. Moscaritolo touted her experience winning election as a district leader and as a journalist as distinctive, citing the latter as a strength when it comes to the Council's role in demanding transparency and accountability from the executive and city agencies.
Freeland has an impressive $66,000 in private contributions so far, and has occupied one of the farther left lanes in the race, winning endorsements from groups like UES Progressives – an endorsement he shares with Lamorte – and calling for completely replacing the FDR Drive in favor of creating more green space and investing in subway, bus and bike lane improvements.Lamorte, who has a physical disability from a subway accident in 2013, has distinguished herself in the race for centering accessibility issues, not only in transportation, but in other areas like housing. She has garnered endorsements from a handful of unions and raised over $35,000 in private contributions. Sosa has been endorsed by Council Member Carlos Menchaca, has roughly $27,000 in private contributions, and said he sees himself in the left lane of the race; he opposes the creation of any new jails and has proposed a city-run program to alert immigrant communities of U.S. Immigration and Customs Enforcement activity. Tamayo, meanwhile, has yet to rack up significant endorsements or fundraising numbers, but he cites ending the unofficial policy of member deference and fighting overdevelopment in the district as among his top priorities.
Kallos said that voters will look to where the candidates fall on local issues, counting the proposed New York Blood Center expansion, widely opposed by the district, and the creation of affordable housing among those. All candidates have been skeptical of the Blood Center plans, while affordable housing is a central platform issue across the board as well. (Menin has proposed expanding accessory dwelling units and basement apartments as one means to increase affordable housing, and Shimamura has called for a permanent eviction moratorium during the winter months.)What voters aren't looking for is a shill for the next mayor. "My district hates de Blasio," Kallos said. "And so they want anyone who will continue to stand up to ... whoever the next mayor is."
Kallos, who is currently running for Manhattan Borough President, said he does not plan to endorse in the race, though he has personally encouraged several of the candidates to run for public office, this year and in the past. He asked Menin to consider running for his seat this year, along with several other women who declined to run. Kallos said he also previously asked Shimamura to run for the seat now held by Council Member Keith Powers, which partly covers the Upper East Side, when it was open in 2017. "I just want to make sure that whoever wins carries on my legacy," Kallos said. "So far, all the candidates running are running a very positive message on how they wish to continue the great work we've been doing."
See more City Council coverage here.