Campaigns & Elections
Can the Barrons swap seats again in City Council District 42 in East New York?
Assembly Member Charles Barron is running for Inez's seat, which he previously held, but he faces opponents with their own support.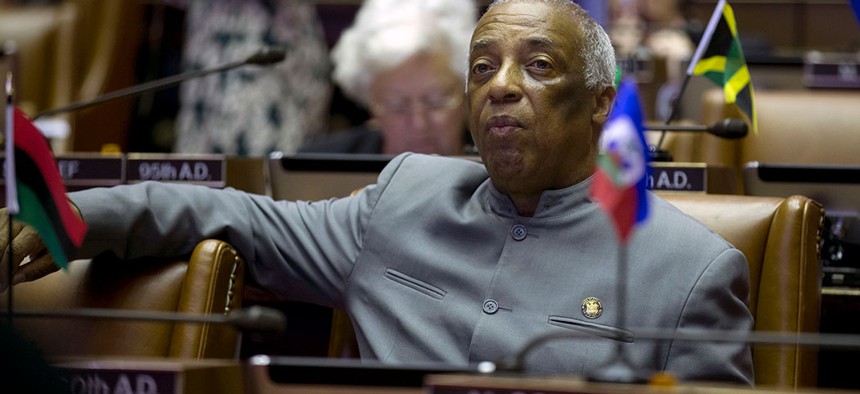 Trying to keep track of all the City Council races? Check out our dedicated Council Countdown section. We've partnered with City Limits, Gotham Gazette, and the Queens Daily Eagle for top notch local election coverage, organized by borough. Don't waste any more time, get informed now.
Some call East New York Assembly Member Charles Barron and his wife, City Council Member Inez Barron, who have represented the neighborhood on Brooklyn's eastern edge for the past 20 years, a political dynasty. Others call them a political machine. But if you ask Charles Barron, he says they are a "political movement" that simply cannot be defined.
Charles Barron is vying to win Inez Barron's 42nd District New York City Council seat, which she is leaving this year due to term limits. The majority-Black district encompases East New York and its subsections such as Spring Creek and Starrett City. Charles Barron previously won the same seat in 2001. His wife won the Assembly seat in 2008 and they swapped seats when Charles was term-limited out of the City Council in 2013, with Inez running successfully to replace him and Charles then replacing her in the Assembly.
"We're not a machine, you can't define us. We define us. We are a political movement, a progressive, radical political movement. You don't define us, we define us for ourselves," the Assembly member and council candidate said in an interview with City & State in April. "We are a movement that beat the machine," he added, referring to the Brooklyn Democratic Party, Rep. Hakeem Jeffries, who represents East New York in Congress, and former Brooklyn Democratic Party boss Frank Seddio who lives in neighboring Canarsie.
Some have grown tired of the Barrons' seat swapping, particularly local politicos who say the district is in need of new leadership, pointing to the neighborhood's high rates of poverty and unemployment and a recent upward trend in shootings as some of the most pressing issues in the district.
But others remember Charles Barron, a former Black Panther, for stopping the construction of an incinerator in East New York back when he was just head of a block association, bringing landlords to the negotiating table when they did not want to work with tenants or going out of his way to help constituents with a gas leak problem on Thanksgiving Day. "He says what he means and he means what he says and he stands up for the people," said Joyce Scott-Brayboy, the head of the Emerald Green Tenants Association. "He's not led by the powers that be."
The iconoclastic, radical couple has generated their share of controversy during their time in power. As district leaders, they abstained from voting for Assembly Member Rodneyse Bichotte Hermelyn, who is Black, as the next Brooklyn Democratic Party boss because they did not want a leader "selected by the white power." Charles Barron has compared Israel's treatment of Palestinians to the Holocaust, called dictators Moammar Gadhafi and Robert Mugabe his heroes and even invited Mugabe to City Hall for a reception in 2002.
There are two leading alternative contenders in the Democratic primary race for the City Council District 42 seat. One is Nikki Lucas, the founder of the president of the People First Democratic Club and the People First Education Fund, which provides opportunities for members of the community to become educated and engaged with lawmakers, city agencies and organizations.
There's also Wilfredo Florentino, an openly gay Army veteran who identifies as Afro-Latinx. He is a senior grants manager at the NAACP and sits on Brooklyn Community Board 5 and is a founding board member of the progressive political club New Kings Democrats.
The Barrons not only hold East New York's two legislative seats, but are also both of Assembly District 60's district leaders in the Brooklyn Democratic Party. Their longtime associate, Andre Mitchell, who heads the anti-violence nonprofit Man Up, a group the Barrons have come under fire for steering hundreds of thousands in taxpayer funding to, is the chair of East New York's Community Board 5.
Charles Barron has amassed $181,604 in campaign cash for his council run and won coveted union endorsements including from the city's largest public employees union District Council 37. Barron said he has also secured endorsements from service workers union 32BJ SEIU, the Council of School Supervisors and Administrators, and progressive advocacy group New York Communities for Change.
But his opponents have their own impressive resumes and slates of backers.
Lucas previously served on Community Board 5 and as a district leader. She has been endorsed by Jeffries, who defeated Barron in a Democratic congressional primary in 2012, former Rep. Ed Towns, state Sen. Roxanne Persaud, the United Federation of Teachers, the Council of School Supervisors and Administrators, and District Council 9 of the International Union of Painters and Allied Trades.
Florentino has won progressive endorsements from the pro-gay rights group Stonewall Democrats of NYC, progressive organizations Make the Road Action and Citizens Action of New York and from United Auto Workers Region 9A.
They also have raised competitive sums. Including public matching funds, Lucas has raised $220,622 and Florentino has brought in $153,057.
Both would represent a generational shift from the Barrons: Lucas is 50 and Florentino is 39, whereas Charles Barron is 70 and Inez Barron is 75.
"Our community has suffered for decades through disenfranchisement, disinvestment and disregard," Florentino, a first-time candidate, told City & State during an interview in April. He said he wants to bring "new voices to the table" who live intersectional experiences like himself and run campaigns that focus on "equity, justice, and transparency."
Although the Brooklyn Democratic Party has not made an endorsement in the race and declined to comment when asked by City & State if it plans to, party boss Bichotte Hermelyn has quietly donated to Lucas' campaign coffers, while Bichotte's communications director Sabrina Rezzy donated to Florentino.
Lucas has previously tried to claim this seat. In 2013, she ran in a seven-way primary that was ultimately won by Inez Barron, and Lucas received just 6.7% of the vote. The same year she lost, she began organizing her Democratic club, which she said has grown to more than 250 members.
"(The Barrons) have been manipulating the system and people have been fooled … not even understanding the idea that they have been swapping seats for the past several decades," Lucas told City & State in an interview in April. "No one has been seeing any real deliverables that folks are tired of it now. So they, I believe, have run their course."
For now, political observers think it's likely to be a close race but see Barron and Lucas as having the best shot at winning the seat. "It's going to come down to Nikki and Barron. … I think that there are basically people that like the Barrons and people that don't," said a Brooklyn political operative who asked to remain anonymous to speak freely about the race. "There's a bit of Barron fatigue and other elected officials and players in that district and beyond I think are also going to come out and support Nikki just for the purpose of it's time for new leadership."
Barron supporters say money and endorsements don't matter in East New York – showing up does, which they say Barron has a well-earned reputation for in the community. Last Thanksgiving, Keron Allenye, a local community organizer who previously worked as an office assistant for Charles Barron, recalled that Barron spent the day making phone calls and getting food for families following a gas leak issue at Noble Drew Ali Plaza. "Those are things that people remember and that sort of name recognition is good in the 'hood," he said. "I really do think East New York is unique in that it really just comes down to who's been doing the work and the work that people see."
See more City Council coverage here.
Powered By
NEXT STORY: Race heats up to fill Corey Johnson's council seat