New York State
2021 Democratic upstate mayoral primary results
Insurgents show strength in Buffalo and Rochester while incumbent can declare victory in Albany.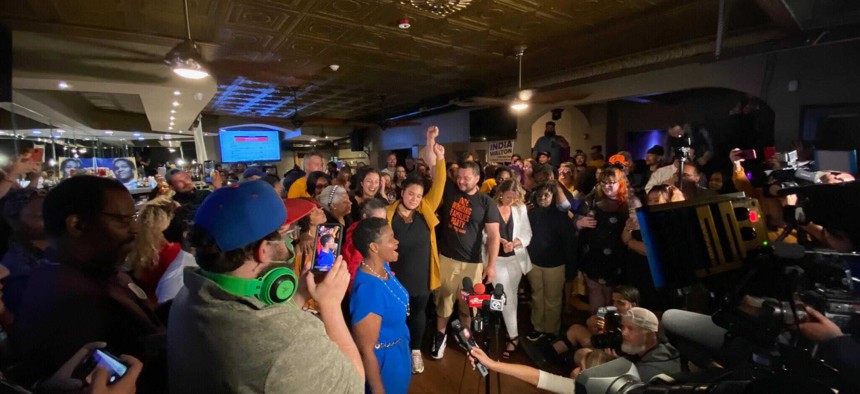 Primary elections ended Tuesday night as a test of the strength of established political party interests and partisan insurgents, with incumbent mayors in Albany, Buffalo, Rochester and Syracuse battling challengers who wanted to deny them another term in office. 
The mayors of each of these cities share the goal of getting reelected, but vary widely in the types of campaigns they ran. Four-term Buffalo Mayor Byron Brown ignored his left-leaning opponent who now has a significant lead over him. Two-term Albany Mayor Kathy Sheehan debated hers and still cruised to victory. Two-term Rochester Mayor Lovely Warren had to deal with an array of scandals and lost in a landslide to an upstart member of the City Council with no such political baggage. First-term Syracuse Mayor Ben Walsh is a political independent who got to rest easy Tuesday night as Democrats and Republicans faced off for the right to run against him in November.
The final results in the races will depend on absentee votes that have yet to be counted. Brown could somehow defy the odds and beat back a primary challenger from the left. Either one of two Democratic mayoral candidates in Syracuse could still win. Other candidates like Warren are not so lucky. In any case, Democrats will likely waltz to victory in Buffalo, Rochester and Albany in November considering their dominance of local politics.
Here is a rundown of the races and results from Tuesday.
Albany
Kathy Sheehan (incumbent): 61.44% 
Valerie Faust: 34.87%
With 128 out of 128 election districts reported.
The Rev. Valerie Faust offered Albany voters the chance of electing their first Black mayor, but she faced some tough odds at unseating incumbent Mayor Kathy Sheehan, who has said the coronavirus pandemic and the need to help the city recover scrambled her plans to step down after two terms. Democratic voters ended up favoring Sheehan by a large margin. 
Buffalo
India Walton: 51.85%
Byron Brown (incumbent): 44.83% 
Le'Candice Durham: 3.03%
With 117 out of 117 election districts reported
India Walton, a community activist and registered nurse, is on the brink of becoming the first female mayor of Buffalo. Her candidacy once appeared to be a longshot, but support from groups like the Working Families Party and local chapter of the Democratic Socialists of America added some activist energy to her campaign. Walton attacked Brown on longtime problems like poverty, segregation and police violence. The four-term incumbent meanwhile did little campaigning in an apparent effort to avoid giving free publicity to Walton. 
Rochester
Malik Evans: 66.03%
Lovely Warren (incumbent): 33.83% 
With 113 out of 113 election districts reported.
There is such a thing as bad publicity. Two-term Rochester Mayor Lovely Warren got plenty of that over a past year that has included a federal indictment for alleged campaign finance violations, an alleged cover-up of a police killing and a state police raid on her home in relation to gun and drug charges against her estranged husband. Malik Evans, a member of the City Council, had no such political baggage and won the Demoratic primary in a landslide. 
Syracuse 
Democratic primary
Khalid Bey: 49.85%
Michael Greene: 49.01%
With 138 out of 138 election districts reported
Republican primary
Janet Burman: 66.62%
Thomas Babilon: 31.38%
With 138 out of 138 election districts reported
First-term incumbent Mayor Ben Walsh is the first political independent to seek a second term as mayor in over a century. The country Democratic Party backed Michael Greene, an at-large member of the Syracuse Common Council, to face Walsh in November instead of Khalid Bey, a former state Senate aide, who touted his community roots.
Republicans meanwhile chose between two candidates with differing visions of the role of policing. Former state Senate candidate Janet Burman ran for the GOP nomination on restoring funding that was cut from law enforcement as part of a wider reassertion of policing. Thomas Babilon, a former City Hall attorney, expressed support for some ideas backed by the defund the police movement like reinvigorating the Citizen Review Board for investigating complaints against officers.
Powered By
NEXT STORY: 2021 Manhattan district attorney primary election results