Campaigns & Elections
Exclusive Data for Progress poll: Wiley in second behind Adams
The poll also found Bragg and Farhadian Weinsten tied in the Manhattan DA race.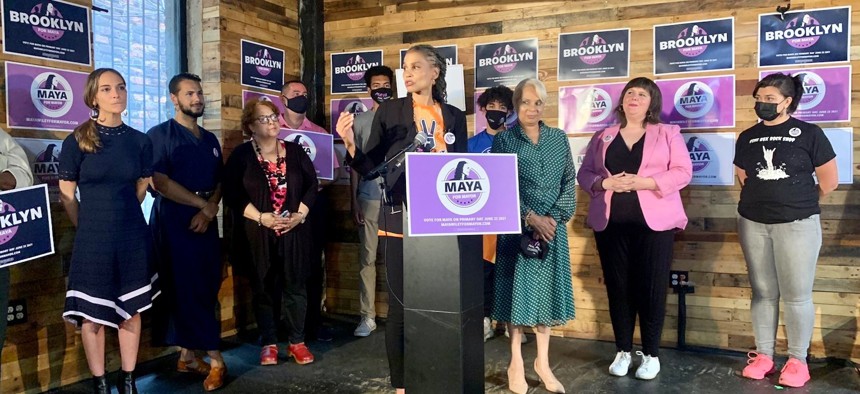 As New York City progressives urge consolidation around Maya Wiley in the Democratic mayoral primary, a new poll from progressive think tank Data for Progress shows her in second place in the race, trailing just Brooklyn Borough President Eric Adams. 
The poll shared exclusively with City & State shows Adams in first place, as 26% of likely Democratic primary voters' top choice, Maya Wiley, former counsel to Mayor Bill de Blasio, in second, with 20%, Andrew Yang, the entrepreneur and former presidential candidate, in third with 16% and Kathryn Garcia, the former New York City sanitation commissioner, in fourth with 14%. All other candidates are in the single digits. The text message poll of 998 likely voters was conducted between June 7-13. That followed a period when prominent progressive elected officials and organizations lined up behind Wiley alone. Reps. Alexandria Ocasio-Cortez and Jamaal Bowman and state Sen. Julia Salazar all endorsed Wiley between June 4-5, and on June 4 the New York Working Families Party said Wiley would be the only mayoral candidate it would be supporting.
New York City Comptroller Scott Stringer lost major endorsements and support in the polls following accusations of sexual misconduct in 2001 and 1992, and former nonprofit executive Dianne Morales lost endorsements and grassroots support following complaints about working conditions on her campaign that led to a labor dispute and the firing of more than 50 campaign staffers. That has left Wiley as the last progressive standing, hoping to garner some of the energy that helped elect de Blasio in 2013 and has flipped so many legislative seats from moderate Democratic incumbents to more progressive newcomers in the last few years. 
Data for Progress is actively rooting for Wiley and against Adams, who is more conservative. "After a volatile race for Mayor, Data for Progress polling shows that the race has narrowed and that Maya Wiley remains the only viable progressive who can win this race," Data for Progress Political Director Marcela Mulholland said in a statement emailed to City & State. "In close second, Wiley has a window of opportunity to bring together a winning coalition ahead of next Tuesday — and block Eric Adams, a veritable Republican who's looking out for the NYPD and corporate interests instead of working New Yorkers, from becoming Mayor."
Data for Progress had previously polled the mayor's race between March 21-April 5, when it found Yang in first place as 26% of likely Democratic voters' first choice, Adams in second with 13%, Stringer in third with 11% and Wiley in fourth with 10%.
With support from many major labor unions and elected officials and a massive campaign warchest buoyed by outside spending from super PACs, nearly every public poll of the mayoral race in the last six weeks has shown Adams leading. A WNBC/Telemundo 47/POLITICO/Marist Poll conducted from June 3-9 also released Monday showed Adams with a comfortable lead. Insiders were eagerly awaiting a poll from the trusted Marist Institute for Public Opinion, since many of high-profile pollsters have stayed away from the mayoral race, thinking it would be difficult to accurately poll the first citywide use of ranked-choice voting in New York. The Marist poll found Adams in first, as 24% of likely Democratic voters' top choice, Garcia in second with 17%, Wiley in third with 15% and Yang in fourth, with 13%. All other candidates were in the single digits, and 13% of voters are still undecided ahead of election day on June 22. 
Data for Progress also polled the comptroller race, finding New York Council Speaker Corey Johnson and City Council Member Brad Lander tied for first place, as 23% of likely Democratic voters' top choice. However Johnson outperformed Lander when voters were asked for their second and third choices. Michelle Caruso-Cabrera, a former financial journalist, was in a distant third with 10% of voters' top choices, and every other candidate was in single digits – but 29% of voters were undecided. Public polling in the comptroller race has been limited, but this poll would be the best result for Lander by far. Lander has positioned himself as the most progressive candidate in the race. He has consolidated support on the left and has been running TV ads touting support from Ocasio-Cortez, New York City Public Advocate Jumaane Willians and U.S. Sen. Elizabeth Warren of Massachusetts. 
Data for Progress is also releasing a text message and web poll of 642 likely Democratic voters in Manhattan, asking who they would vote for in the race for Manhattan district attorney, which will not use ranked-choice. Alvin Bragg, former chief deputy state attorney general and Tali Farhadian Weinstein, former general counsel to the Brooklyn district attorney, were tied for first with 26% each. Some 21% of voters were undecided and every other candidate was in single digits. 
Farhadian Weinstein is running on a much more moderate platform than some of her competitors, including Bragg. Progressive activists including former state attorney general candidate Zephyr Teachout and former Manhattan district attorney candidate Janos Marton have urged Manhattanites who support progressive criminal justice reform to consolidate behind Bragg, though supporters of other progressive candidates in the field like civil rights attorney Tahnie Aboushi have pushed back. But just about every one of Farhadian Weinstein's opponents criticized her this past weekend after campaign finance filings revealed that she has donated $8.2 million of her own money to her campaign in the span of just two weeks. That massive sum was more than any other candidate had raised for the race in total. And Data for Progress is openly advocating against Farhadian Weinstein. "Tali Farhadian Weinstein poured $8 million dollars of her own coin into her campaign for DA — and still is only tied," DFP Executive Director Sean McElwee wrote in an emailed statement. "It's clear that progressives have an obligation to consolidate and block Weinstein's Bloomberg-esque run for Manhattan DA and back Alvin Bragg, the only progressive positioned to beat Weinstein."