Campaigns & Elections
In a pride month election, LGBTQ council candidates hope to grow the caucus
The New York City Council's LGBTQ membership could be increased and diversified.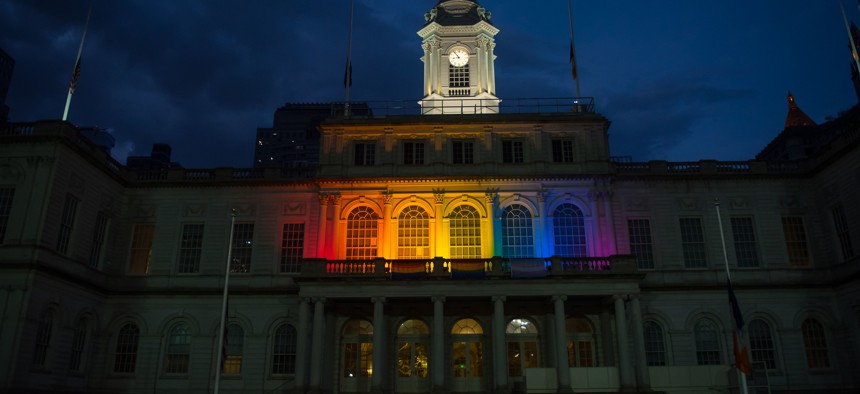 After decades of holding New York City primaries in September, the contest is in June this year, and this Pride Month primary could result in the most LGBTQ council members of all time. At least nine candidates who are members of the community are widely considered to be among the leading contenders in their races, and many more are running viable campaigns.
"To be elected as the first gay Black woman during Pride Month would be unprecedented, obviously," said Crystal Hudson, who is running in District 35 in Brooklyn, where Majority Leader Laurie Cumbo currently represents Fort Greene, Prospect Heights and Crown Heights. The timing of the race "gives us an opportunity to really talk about pride and what it means to have pride in oneself, whether you identify as LGBTQ or not." 
The first two openly gay council members, Thomas Duane and Antonio Pagán, were elected in 1991. In 2010, there were four openly gay members, including the City Council speaker at the time, Christine Quinn. By 2016, when longtime member Jimmy Vacca came out, there were seven members in the council's LGBT Caucus. That fell to five members in 2018, including City Council Speaker Corey Johnson, and is now down to four, after Rep. Ritchie Torres left the council following his election to Congress. That's 8% of the 51-member council who are LGBT, which is actually more than the approximately 7% of New York City residents who self-identify as lesbian, gay, bisexual, other sexual orientation or transgender, according to 2014 to 2016 survey results from the state Department of Health. 
That percentage may have grown, as homophobia and transphobia decline and the LGBT Caucus may grow too, even though all four of its current members are term-limited out of office at the end of this year. "We have really viable, top-notch candidates running. There's a lot of good people in a lot of races, hopefully we'll be enlarging our caucus," said Allen Roskoff, president of the Jim Owles Liberal Democratic Club, a progressive, LGBTQ focused political club. Surpassing the high watermark of seven LGBTQ members could be a challenge, but it's a goal for some members of the community in this June election. "Everybody's got pride on their mind, so maybe we'll surprise everyone," Roskoff said. 
Erik Bottcher is hoping to be the fourth openly gay candidate in a row to represent District 3 on the west side of Manhattan, following Johnson, Quinn and Duane. Amit Bagga is hoping to succeed the openly gay Council Member Jimmy Van Bramer in District 26 in western Queens, and Alfonso Quiroz is running to replace the openly gay Danny Dromm in District 25 in western Queens. 
Other candidates would be first LGBTQ-identifying candidates in their district, like Lynn Schulman, who is running in District 29 in central Queens, Josué Pierre, running in District 40 in Central Brooklyn, and Tiffany Cabán in District 22 in western Queens. 
Marti Gould Allen-Cummings, running in District 7 in Upper Manhattan, is hoping to be the first out nonbinary council member ever. Other LGBTQ candidates running include Wilfredo Florentino in District 42 in the East New York section of Brooklyn, Aleda Gagarin in District 29 in central Queens, Billy Freeland in District 5 on the Upper East Side of Manhattan, Jeffrey Omura in District 6 on Manhattan's Upper West Side and Kristin Richardson Jordan in District 9 in Central Harlem, also in Manhattan. 
All of the LGBTQ candidates, like all previous LGBTQ members of the council, are Democrats. 
In a sign of growing LGBTQ visibility, Hudson and Chi Ossé, who is running in District 36 in Brooklyn, witnessed history in the midst of their own runs for office. State Sen. Jabari Brisport, who represents a district that overlaps with the council districts that Hudson and Ossé are running in, became the first openly gay person of color in the state Senate when he took office in January.
The council races are also increasing representation of queer New Yorkers of color. Cabán is Latina, Ossé is Black and 23 years old and Bagga would also be the first South Asian American to serve on the City Council. 
Many of the LGBTQ candidates have been talking and messaging amongst each other, sharing stories, advice and support. Cabán, who ran for Queens district attorney in 2019, said she has "the weird experience of being the seasoned veteran," of some of the queer candidates. "My role has been to say, 'What you're feeling is entirely normal. You're not crazy.'" 
Cabán wants the camaraderie to continue in the council, with the next iteration of the LGBT Caucus. 
"I think we're having more intentional conversations about what a quote-unquote queer agenda looks like," she said. In Cabán's eyes, that agenda is a progressive, intersectional one that considers bigger issues like housing "because queer youths are exponentially more likely to experience homelessness" and expanding employment rights. But she'll need allies on the council to work with her. 
"The same reason we talk about how we can't have these tables full of white, cisgendered straight men being in charge of legislating around our reproductive rights," Cabán said. "We have to make sure there are enough of our experiences at the table to be able to effectively push an agenda."
But first, successful candidates will get to take pride in making history. "I can't wait to be victorious on June 22 and have the biggest, gayest, celebratory party," Hudson said.