Queens
Queens electeds are starting to look more like Queens
There is a lag between changes in the population and political representation, but this year's races could close that gap.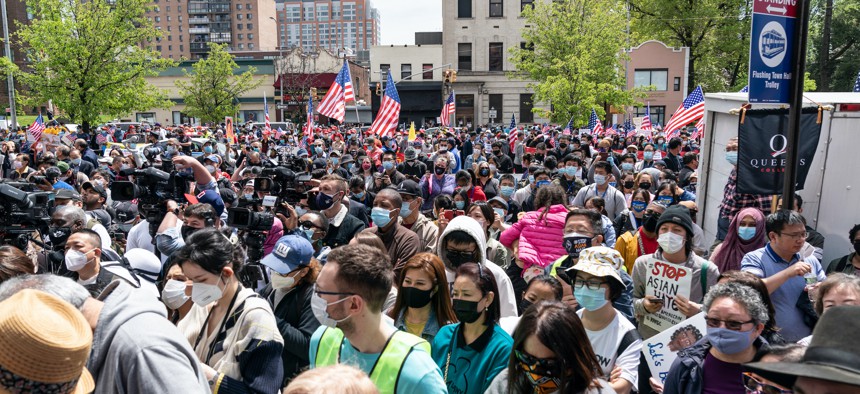 State Sen. John Liu first ran for a New York City Council seat in District 20, which includes Flushing, Queens, in 1997. The white incumbent, Julia Harrison, called Asian Americans "colonizers" a year earlier. Harrison won that election despite outrage over her comments, but four years later, Liu took over her seat, becoming the city's first Asian American City Council member.
It was an inflection point signaling a demographic shift in the once mostly white borough, which received an influx of foreign-born population after changes in the U.S. immigration policy. Census data shows Queens is now 47% foreign-born. More languages are spoken there than anywhere else on Earth, according to the Endangered Language Alliance. Yet today, some racially diverse parts of Queens do not have elected leadership at the city level that matches those demographics.
Despite the borough being 53% people of color, eight of its 13 City Council members are white. Jackson Heights, with large Ecuadorian, Colombian, Bangladeshi, Nepali and Indian immigrant populations, has only had white council members. The borough's community boards have also been criticized for their lack of diversity, partly due to the fact that for decades they did not have term limits. According to a 2019 analysis by Queens Daily Eagle and Measure of America, Latinos were underrepresented by 25% or more in at least three community boards, and Asian Americans were underrepresented in 10 of the borough's 14 boards. Those numbers improved this April, when Queens Borough President Donovan Richards appointed 110 new members, 25% of whom are Latino, 25% Black and 26% Asian American.
In the Assembly, the numbers are more aligned with the population; seven members are white, five are Black, three are Asian American and two are Latina. The borough's delegation in Congress is diverse: Only Rep. Carolyn Maloney, who represents Astoria, Long Island City and parts of Manhattan and Brooklyn, is white.
"It takes people a while to get pulled into the political system when (immigrants) show up in the United States," said Andrew Beveridge, a demographics expert and a professor at Queens College.
According to Beveridge and other experts, reasons for the lag between local population shifts and political representation include the city's large noncitizen population, the Queens Democratic machine and its grip on the borough's politics, and a lack of civic outreach among immigrant communities. That might change this year, as 35 of the city's 51 City Council seats will have no incumbents running due to term limits. 
Drashti Brahmbhatt, an Indian American who grew up in Jackson Heights and Sunnyside, organizes with the Queens Democratic Socialists of America on their electoral working group, sees the borough's racial representation as well as its politics changing in the upcoming election cycle. "I think the tide is shifting and will shift more," she said. 
A large share of Queensites are noncitizens and unable to vote. Data from the 2019 American Community Survey showed that 1.8 million of the borough's 2.25 million residents are of voting age.
Brahmbhatt said her parents were undocumented for 30 years but now have green cards and are on the path to citizenship.
"It's people like my parents who run Queens," said Brahmbhatt, who describes her upbringing as working class. "My dad works at a convenience store, he is the person who people see every day and yet he doesn't have the right to say something and change the conditions he's living in." She advocates expanding the vote to undocumented people, and individuals who are incarcerated.
"Down ballot, I've only had white male elected officials," said Jaslin Kaur, 25, who is running to represent District 23, which includes Glen Oaks, Bayside, Little Neck and Queens Village on the City Council. That seat opened only when Council Member Barry Grodenchik announced he would not be seeking reelection. Prior to Grodenchik's run in 2015, the seat was held by Mark Weprin, whose term directly followed his brother, David Weprin, both white. (Their father, Saul Weprin, was once Assembly speaker.)
The Queens County Democratic Committee has also been an impediment historically, according to some observers. "It takes a long time to penetrate the party's structure," Beveridge said. The party puts its weight behind candidates who have developed relationships with party bosses and incumbents, which can hinder representation from more recent immigrant groups. "Candidates are often anointed years in advance, these are people chosen and cherry-picked to lead their districts," Kaur said. The New York City Board of Elections has also sometimes disqualified insurgent candidates, often candidates of color, from the ballot over technicalities. 
Representatives of the Queens Democratic Party and its chair, Rep. Gregory Meeks, did not return a request for comment in time for publication.
Many districts are also drawn in a way that divides certain communities and prevents them from voting as a bloc. Brahmbhatt points to Assembly Member Brian Barnwell's district, which zigzags through Sunnyside with its large Asian American and Latino populations, into whiter neighborhoods like Maspeth and Middle Village. "If you look at a map, you're like, 'What? This doesn't make sense,'" Brahmbhatt said. "I think that's very common for all of Queens."
For those who can vote, the city can do a better job encouraging civic engagement, said Jo-Ann Yoo, executive director of the Asian American Federation. Yoo pointed to the new system of ranked-choice voting, and said there's been insufficient voter education on the process for newer voters. "Oftentimes, immigrants come from communities where there isn't as much engagement in civic life, so this is new for them," Yoo said.
Kaur said that growing up in her district, there was a lack of outreach and information from elected officials, and no one in her Sikh Punjabi community ran for office. "People are just used to voting for the same Democrats," she said. Kaur also mentions that there are pockets in her district where people do not know the name of their council member.
There are models for building political power in the borough, particularly among Black elected officials who hold office across Southeast Queens. Several Black politicians from Southeast Queens have recently ascended to powerful positions in the borough, including Donovan Richards, only the second Black Queens borough president, and Gregory Meeks, the first Black leader of the Queens Democratic Party. The borough's first Black City Council member, Archie Spigner, served from 1974 to 2001. Spigner went on to serve as a district leader and continued to mentor a generation of Black elected officials from Southeast Queens, including helping to elect the borough's first Black state senator, Andrew Jenkins, and its first Black Assembly member, Kenneth Browne.
Richards, formerly a City Council member whose district encompassed Far Rockaway, Edgemere and Rosedale, said Southeast Queens is a stronghold for Black political elected officials because of its strong civic associations and political clubs, such as Guy R. Brewer as well as the Thurgood Marshall Regular Democratic Club. "You could go to three meetings, four meetings, five meetings a night, because there's so much civic infrastructure," he said.
Latino political representation has also grown gradually, though it does not match the borough's composition. Today, the offices of the immigrant rights nonprofit Make the Road New York are in Jackson Heights, as well as its political arm, Make The Road Action, which tries to support candidates with strong immigrant rights records. The nonprofit endorsed, among others, Francisco Moya, the first Ecuadorian American elected to office in the city, whose district covers parts of Elmhurst and Corona.
Several races appear poised to shift representation in the borough. In the City Council, District 25, which represents parts of Jackson Heights and Elmhurst, longtime City Council Member Danny Dromm, who is white, is term-limited. All eight Democratic candidates vying for his seat are people of color. The two candidates with the biggest fundraising advantage include Shekar Krishnan and Yi Chen. In District 23, the leading fundraiser is Linda Lee, who is Korean American, and Kaur has raised the second most. And in District 32, which has large Latino and Indo-Carribean communities, several candidates of color are hoping to replace term-limited Republican Eric Ulrich, the only Republican City Council member from Queens.
Some parts of the borough are actually getting whiter. City Council District 22, which includes Astoria, was 47% white in 2000 and 52% white in 2010 – due to an influx of transplants – mostly young professionals. District-level census data from 2020 is not yet available, but that trend likely continued. 
Of the six Democratic candidates running in that district, all but one, Tiffany Cabán, are white. (A Latino candidate, Edwin DeJesus Jr., is running as an independent.)
While all of those who spoke to City & State wanted increased diversity among the borough's elected officials, many said that they would prefer voters to support a candidate with the interests of their community, whether or not they look like them. "You don't have to be Asian American to represent the Asian American community," Yoo said.
The borough's nonwhite electeds have a broad range of political positions. Peter Koo, who immigrated from Hong Kong and now holds the council seat once held by Liu, is a former Republican, while Assembly Member Ron Kim, who also represents Flushing, is much more progressive. Queens is home to a club for Pakistani Christian Trump supporters as well as DSA-endorsed South Asian American Assembly Member Zohran Mamdani, and the more moderate South Asian American Assembly Member Jenifer Rajkumar, who voted against legalizing marijuana. This is why a younger cohort of activists of color want electeds who will represent their material interests and social values. "Representation is important only if it comes from substantive representation," Brahmbhatt said.
Clarification: Rajkumar voted against the Marijuana Regulation and Taxation Act.
Powered By
NEXT STORY: How does NYC's budget process work?