Power 100 – Albany 2016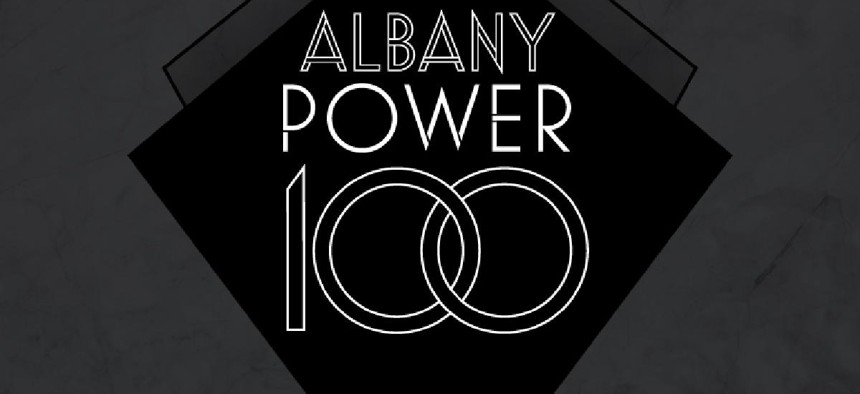 Putting together our annual Power 100 list for Albany is a lot of fun. We talk to sources we trust and get pitches from people – some with clear agendas and others with opaque objectives – that leave us scratching our heads. In the end, we take all the information we've gathered and have some grand discussions (even a few heated yelling matches) over who should be on the list, or who should be on top. This year we spent roughly 14 hours talking through the list in a series of seven meetings over the course of two months.
I mention all this because I want you to know how seriously we take this list. And not just because it's fun, but because understanding who has influence and power helps shed at least a little light on why some things get done, and others don't. And, as our list makes clear, almost nothing in Albany gets done solely on merit. It requires political maneuvering that often involves a handful of people, if not dozens, weighing in and helping craft a final decision – whether it's a bill, a budget allocation or an implementation of policy.
Times may be changing, though. The overarching trend we noticed is that lobbyists, fundraisers and top lawmakers don't have as tight a grip on control. This I think we can directly attribute to the string of corruption convictions and plethora of investigations coming from the U.S. attorney for the Southern District of New York. While the fear of Preet hasn't halted traditional Albany government operations, it definitely has leveled the playing field a little. Advocates, rank-and-file lawmakers and many other politicos who have long been ignored now feel like they have a little bit more power to get things done. That sentiment played heavily into making this list, which includes more members of the state Legislature than in past years and a wider range of advocates at the expense of some of the prominent campaign fundraisers who may not wield as much power in the new Albany (emphasis on the word "may").
Like all of our lists, this is a snapshot in time. I have no doubt that there will be large shifts in the coming weeks and months, but right now this is our view of the power structures at the Capitol. Enjoy.
-Michael Gareth Johnson, City & State Editorial Director
1. Andrew Cuomo, Governor
2. Preet Bharara, U.S. Attorney, Southern District of New York
3. Charles Schumer, U.S. Senator
4. Carl Heastie, Assembly Speaker
5. John Flanagan, Senate Majority Leader
6. Eric Schneiderman, State Attorney General
7. Thomas DiNapoli, State Comptroller
8. Jim Malatras, Director of State Operations
9. George Gresham, President, 1199 SEIU
10. Robert Mujica, New York State Budget Director
11. Jeffrey Klein, State Senate Independent Democratic Conference Leader
12. Rob Speyer, President and CEO, Tishman Speyer
13. Alphonso David, Counsel to the Governor
14. Melissa DeRosa, Chief of Staff, Governor's Office
15. Kirsten Gillibrand, U.S. Senator
16. Bill Mulrow, Secretary to the governor
17. William Rudin, Chairman, Association for a Better New York CEO, Rudin Management Company
18. Peter Ward, President, New York Hotel and Motel Trades Council
19. Steven Cohen, Former secretary to the governor
20. Bill de Blasio, New York City Mayor
21. Gary LaBarbera, President, Building and Construction Trades Council
22. Neal Kwatra, Founder/CEO, Metropolitan Public Strategies
23. Jennifer Cunningham, Managing Director, SKDKnickerbocker
24. Tom Prendergast, Chairman and CEO, Metropolitan Transportation Authority
25. Kenneth Shapiro, Regional Managing Partner, Wilson Elser
26. Howard Zemsky, President and CEO, Empire State Development
27. John Banks III, President, REBNY
28. David Weinraub, Managing Partner, Brown Weinraub
29. Patrick Brown, Managing Partner, Brown Weinraub
30. Karen E. Magee, President, New York State United Teachers
31. Joseph Morelle, Assembly Majority Leader
32. MaryEllen Elia, Commissioner, state Department of Education
33. Kenneth Langone, Founder and CEO, Invemed Associates LLC
34. Michael Mulgrew, President, United Federation of Teachers
35. Jason Helgerson, State Medicaid Director
36. Betty Rosa, Chancellor, Board of Regents
37. Ruben Diaz Jr., Bronx Borough President
38. Kenneth Raske, President, Greater New York Hospital Association
39. Liz Benjamin, Host, "Capital Tonight"
40. John DeFrancisco, Deputy Majority Leader, State Senate
41. Kenneth Lovett, Albany Bureau Chief, New York Daily News
42. Joanie Mahoney, Chairwoman, New York State Thruway Authority
43. Elizabeth Garvey, Counsel for Senate Republican
44. Blake Washington, Secretary, Assembly Ways and Means Committee
45. Jill Furillo, Executive Director, New York State Nurses Association
46. Kathryn Wylde, President and CEO, Partnership for New York City
47. Emily Giske, Partner, Bolton-St. Johns
48. Hector Figueroa, President, SEIU 32BJ
49. Kevin Law, President and CEO, Long Island Association
50. Andrea Stewart-Cousins, Senate Democratic Leader
51. Mario Cilento, state AFL­CIO
52. Nancy Zimpher, Chancellor, State University of New York
53. Richard Kauffmann, Chairman, Energy and Finance for New York
54. Daniel Donohue, President, Civil Service Employees Association
55. Andrew Zambelli, Pollster
56. Heather Briccetti, President and CEO, The Business Council of New York State
57. Patrick Jenkins, President, Patrick B. Jenkins & Associates
58. Cynthia Shenker, Founding Partner, Shenker, Russo & Clark
59. Catharine Young, Chairwoman, State Senate Finance Committee
60. Michael Gianaris, State Senate Deputy Democratic Conference Leader
61. Suri Kasirer, Founder and President, Kasirer Consulting
62. Peter Mooney, Senior Adviser to the State Senate Majority Leader
63. Harold Iselin, Albany Managing Shareholder and Chairman, Government Law and Policy Practice, Greenberg Traurig
64. Peter King, U.S. Congressman
65. Jef Pollock, Founding Partner and President, Global Strategy, Group
66. Mike Elmendorf, President and CEO Associated General Contractors of New York State
67. Jenny Sedlis, Executive Director, StudentsFirstNY
68. Alfonse D'Amato, Founder, Park Strategies
69. Risa Sugarman, Chief Enforcement Counsel State Board of Elections
70. Susan Arbetter, News and Public Affairs Director, WCNY
71. Evan Stavisky, Partner, The Parkside Group
72. Marcos Crespo, Chairman, Bronx County Democratic Party
73. Joseph Crowley, Chairman, Queens County Democratic Party
74. Basil Smikle, Executive Director, State Democratic Party
75. Keith Wright, New York State Assemblyman
76. John Emrick, Independent Democratic Conference, Chief of Staff
77. Andrew Farkas, CEO, Island Capital Group
78. Michael McKeon, Partner, Mercury Public Affairs
79. Wayne Spence, President, Public Employees Federation
80. Robert Duffy, President and CEO, Greater Rochester Chamber of Commerce
81. Beth Finkel, State Director, AARP NY
82. Joseph Robach, Chairman, State Senate Transportation Committee
83. Josh Mohrer, General Manager, Uber NYC
84. Janet DiFiore, Chief Judge
85. Lou Ann Ciccone, Program and Policy Secretary, Assembly Democratic Conference
86. Vicki Fuller, Chief Investment Officer, State Comptroller's Office
87. Gil Quiniones, President and CEO, New York Power Authority
88. Kathy Hochul, Lieutenant Governor
89. Edward Cox, Chairman, State Republican Party
90. Josh Benson, Co­-Founder and Co­-Editor, Politico States
91. Bill Lipton, State Director, Working Families Party
92. Tom Precious, Reporter, The Buffalo News
93. Carl Paladino, Chairman, Ellicott Development
94. Simcha Felder, State Senator
95. E.J. McMahon, President, Empire Center for Public Policy
96. Timothy Dolan, Cardinal, Archbishop of New York
97. Don Levy, Director, Siena College Research Institute
98. Cathy Nolan, Chairwoman, Assembly Education Committee
99. John Degnan, Chairman, Port Authority of New York and New Jersey
100. Robert F. Kennedy Jr. Chief Prosecuting Attorney, Riverkeeper