If they can't knock on doors, how do candidates get face time?
If they can't knock on doors, how do candidates get face time?
The coronavirus is making it even harder for challengers to break through.
If anyone could recreate Rep. Alexandria Ocasio-Cortez's shocking 2018 upset, it would be Jessica González-Rojas. Like Ocasio-Cortez before her, González-Rojas is a Latina challenging an older, moderate white man who took office years ago. Assemblyman Michael DenDekker, this race's Joe Crowley, is a six-term Democrat representing Queens neighborhoods like Jackson Heights that lie entirely within what is now AOC's district. González-Rojas has sharp branding, nabbed an endorsement from the Working Families Party and nearly matched DenDekker's fundraising. Heck, González-Rojas and Ocasio-Cortez are even alumnae of the same school, Boston University. And of course, JGR has her own three-letter nickname. To some, a primary victory might have seemed preordained.
Then the pandemic hit.
In a district that has suffered some of the worst effects from the coronavirus, González-Rojas, the former executive director of the National Latina Institute for Reproductive Health, had to retool her campaign for our new, socially distanced reality. She's focusing almost exclusively on the health crisis and has hosted frequent webinars. Instead of calling to ask for votes, she's calling voters to ask how the campaign can help them.
Her transition to digital campaigning was quick, but it hasn't gone off without a hitch, González-Rojas told City & State. Relying on Zoom for virtual events does come with its own set of security concerns, though the campaign has luckily avoided any "Zoom bombings" so far. Then there's the matter of the digital divide, and the fact that many lower-income voters in the district lack access to the internet. "As a candidate who wants to hear people's story one on one and engage with folks and really elevate those experiences as part of the solutions I want to bring to Albany, it is hard to not be able to knock on doors," González-Rojas said.
"As a candidate who wants to hear people's story one on one ... it is hard to not be able to knock on doors." – Jessica González-Rojas, Assembly candidate
Despite the rising death toll and the sputtering economy in New York, which has seen more COVID-19 cases then anywhere else in the country, the state is still scheduled to hold primary elections on Tuesday, June 23. Voting is more important than ever, González-Rojas said, but "in some ways you're competing with the urgency of the virus. … People may not be as attentive to the election."
That's a serious issue when you're trying to introduce yourself to voters for the first time. And González-Rojas is not alone – not in the state, and not even in her own primary race, in which two other Democrats are also challenging DenDekker. That's just one splash of New York's influx of primary challenges to House members and state legislators.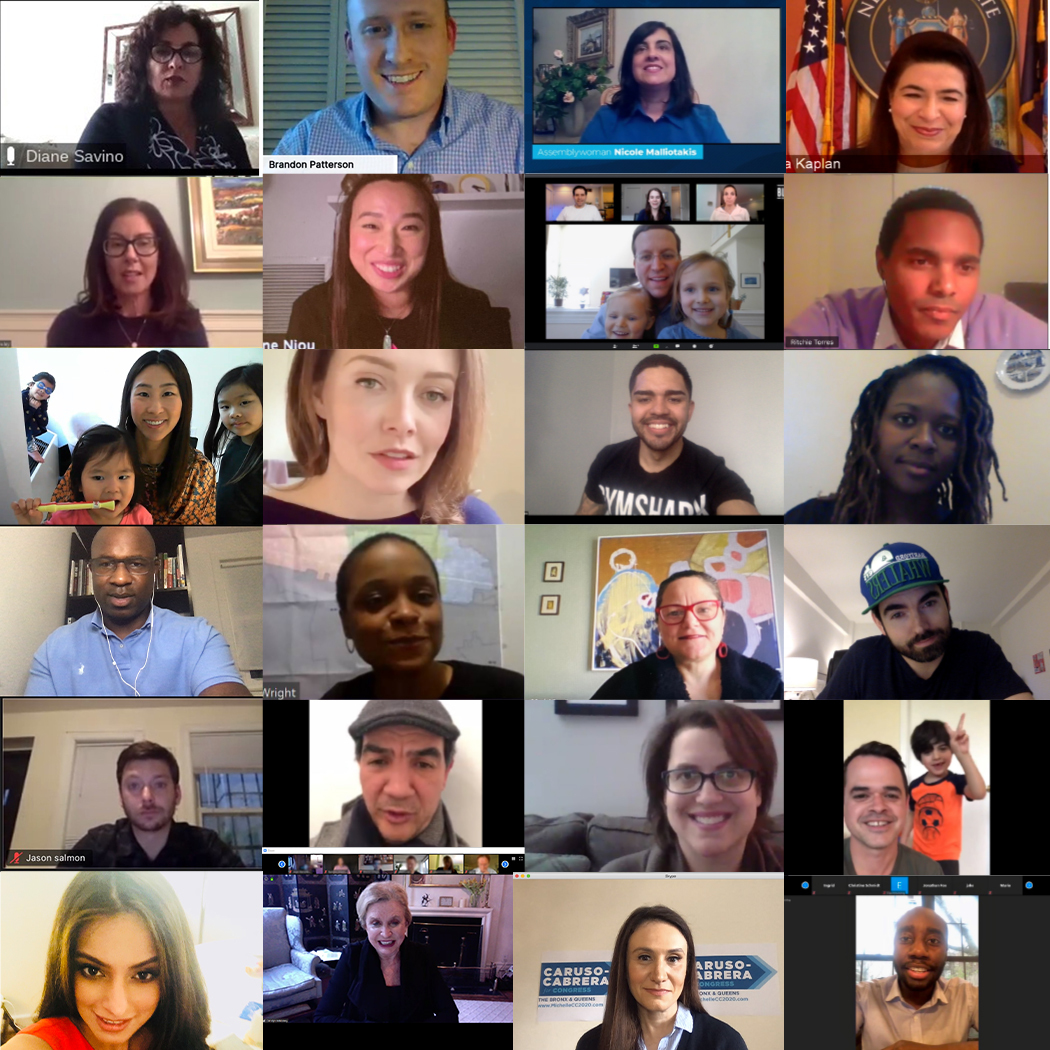 Indeed, progressives were hoping to build on a string of stunning upsets in the previous election cycle – not only Ocasio-Cortez's victory over Crowley, but the ouster of a number of moderate state Senate Democrats – with an influx of House hopefuls and challengers targeting middle-of-the-road incumbents in the Assembly. Yet early on, there were signs that incumbents would fare better this year. For one thing, they wouldn't be taken by surprise the way Crowley was. For another thing, increasingly crowded primaries were likely to reduce the chance of an individual challenger capturing enough votes to unseat an incumbent.
But now, the most significant factor protecting sitting lawmakers and hobbling inexperienced newcomers is the coronavirus.
The pandemic has altered almost everything about running for office. As campaigns go fully digital and as anxious constituents turn to elected officials for assistance, many of the changes – from crowded ballots to fundraising shortfalls to not being able to knock on doors – are bolstering the ability of incumbents to hold onto power.
As Steve Kramer, a political consultant whose clients include both incumbents and challengers in dozens of federal and state races, put it: "The establishment is back."
Before March, candidates would talk about housing, taxes, public safety, you name it. Now, the coronavirus isn't just one thing to talk about – it's the only thing. "It's COVID all day every day," Rep. Yvette Clarke told City & State.
Clarke recalled her first time running for the New York City Council, when the primary day was on Sept. 11, 2001. The city rescheduled the election for two weeks after the terrorist attacks, but in the meantime, everything about the campaign changed. It's the same way now. "People are not as focused on 'Who am I going to vote for' right now," Clarke said. "They're focused on 'How do I contact my congresswoman to make sure that my family member who has been overseas for over a month now can get back to the United States?'"
"People are not as focused on 'Who am I going to vote for' right now. They're focused on 'How do I contact my congresswoman to make sure that my family member can get back to the United States?'" – Rep. Yvette Clarke
That helps incumbents like Clarke, who are much better positioned to help voters than candidates who don't have a government office, staff, money and connections. Aggressive challengers can try to attack incumbents for not doing enough, but polling suggests that voters have largely been happy with the response to the crisis, at least at the state government level. A Monmouth University poll found that 72% of respondents thought their state's governor was doing a good job. And while Congress' approval rating is always low, it has gone up by more than 10 percentage points in the past two months.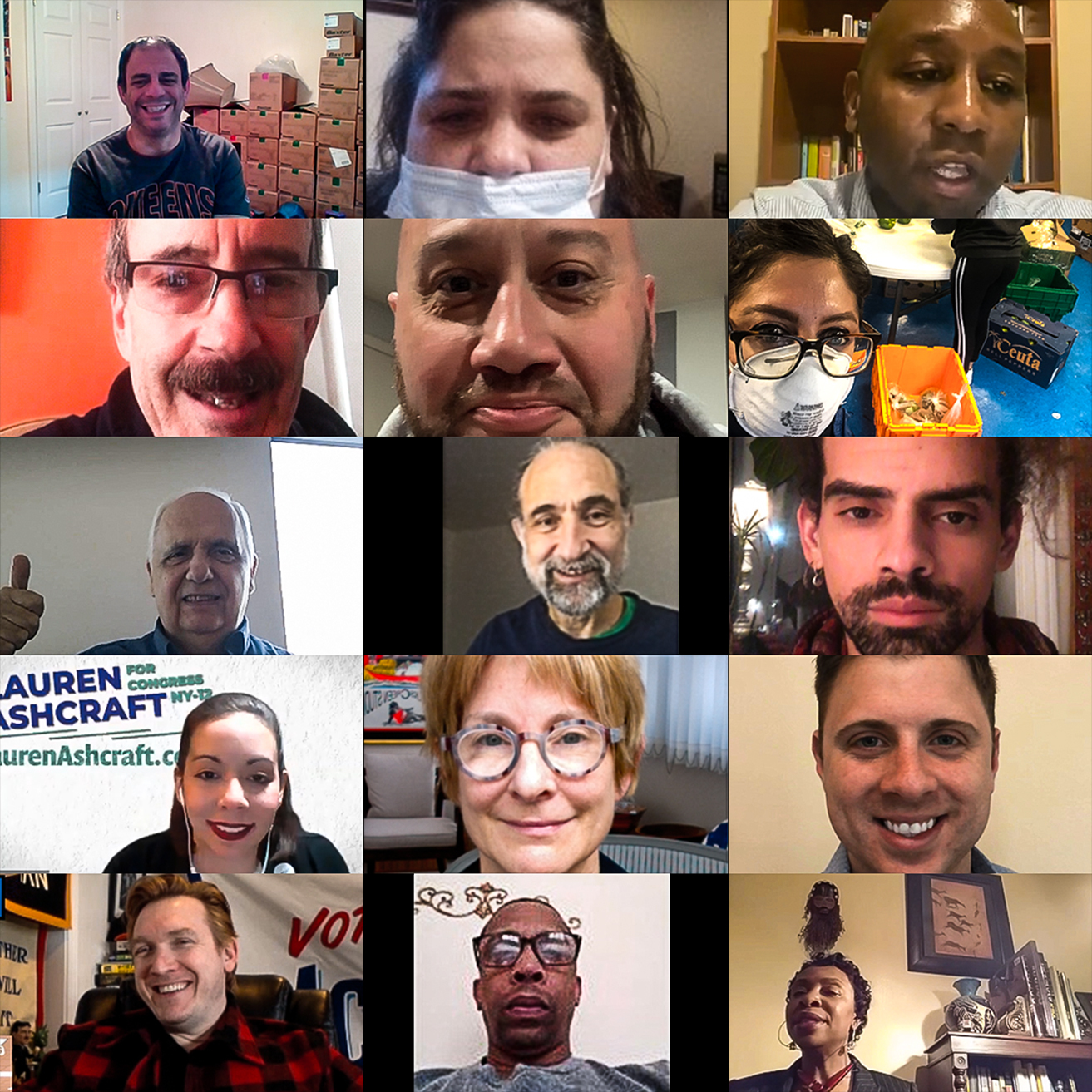 The coronavirus only amplifies the built-in advantages officeholders have in providing services to constituents. Take Assemblyman Michael Miller, a Queens Democrat who has been reelected five times is facing a primary against two opponents, including the
well-funded
Jenifer Rajkumar, who
used to work for Gov. Andrew Cuomo
. "We're not campaigning," Miller said. "We're just out there making phone calls to our constituents, seeing if there's anything they need." When asked if this was just another way to win over voters, Miller said it wasn't his campaign team doing the work, but his government staff. "We're not asking for votes," he said. "We're not mailing stuff, handing stuff out. We're just making calls and trying to help as best we can."
Rajkumar isn't an elected official, but she's trying to make her team look like one. "On March 15, my canvassing team came back from door-knocking," she told City & State. "That night I told campaign staff, don't come back tomorrow. And then overnight, we revamped the campaign operation into a 24/7 coronavirus hotline and response team for South Queens."
Rajkumar said anybody can call the number, which is routed to her phone and to two staffers, and get quickly connected to somebody to respond in any of seven languages – English, Spanish, Bengali, Punjabi, Hindi, Albanian or Polish. The "24/7" nature has come under question from a Yahoo News reporter who claimed to call and get an answering machine at 2:21 a.m., but Rajkumar said her team has taken more than 100 calls in the past few weeks, including one from a family in Ozone Park who was going hungry. That night, the campaign delivered food to the family's doorstep and connected them with government resources for the long term, Rajkumar said. "Maybe if I was an incumbent, I would have some extra resources at my disposal," she said, "but even though I'm not elected yet, there's a lot I can still do."
Rajkumar also sparked an online controversy by seeking to remove another Democratic rival, Joey De Jesus, from the ballot by knocking on the doors of some people who signed his petitions, even after the state had issued a stay-at-home order. Rajkumar's team didn't ultimately file an objection. "We did not want to endanger (city Board of Elections) workers or campaign staff," she said.
While candidates like Rajkumar are responding in relatively low-tech ways, others are embracing digital solutions to get their message across and connect with voters. Emails, videos and social media aren't anything new on the campaign trail, but in the age of the coronavirus, digital outreach and digital advertisements have become imperative. With door-to-door campaigning and subway stop flyering all but impossible, one of the only options to reach voters is to do it online.
"Digital campaigning now is not an accessory to campaigns – it's the campaign," said Andrew Bleeker, founder and president at the consulting firm Bully Pulpit Interactive. "We're seeing fundraisers on Zoom; we're seeing press conferences on Zoom. We're seeing, basically, town halls and Q&As, and not just from kids. It's really made it fairly mainstream." Bleeker's firm, which is based in Washington, D.C., worked on Cuomo's 2018 reelection campaign, but he isn't working for any New York candidates this cycle.
"Digital campaigning now is not an accessory to campaigns – it's the campaign." – Andrew Bleeker, founder and president of Bully Pulpit Interactive
In the weeks since New York went into lockdown on March 22, campaigns have largely been shifting to video teleconferencing forums and virtual town halls. Candidates are also leaning more heavily on methods they were already utilizing, like Facebook posts and texting phone banks. Long before the pandemic, a small number of younger candidates for office in New York had even started seeking viral fame on TikTok, the social media app beloved by Gen Z.
While incumbents have the upper hand in any election, some new candidates may have an edge when it comes to digital campaigning. Primary challengers are typically younger and more comfortable online compared to incumbents, which could be a real boon during the quarantine. Andom Ghebreghiorgis, a 34-year-old former special education teacher who is one of four Democrats challenging 73-year-old Rep. Eliot Engel, has started what's essentially a nightly talk show livestreamed on Facebook and Instagram covering topics as varied as monetary theory and Caribbean history. Lindsey Boylan, a 36-year-old former adviser to Cuomo who is one of four Democrats taking on Rep. Jerry Nadler, who is 72, has been posting short selfie videos on Twitter and Instagram. One video in which Boylan called on the federal government to give small businesses grants (rather than loans) was viewed more than 68,000 times. And for newcomer candidates, there's no cheaper or quicker way to get your name out there than a well-timed, fiery, viral tweet.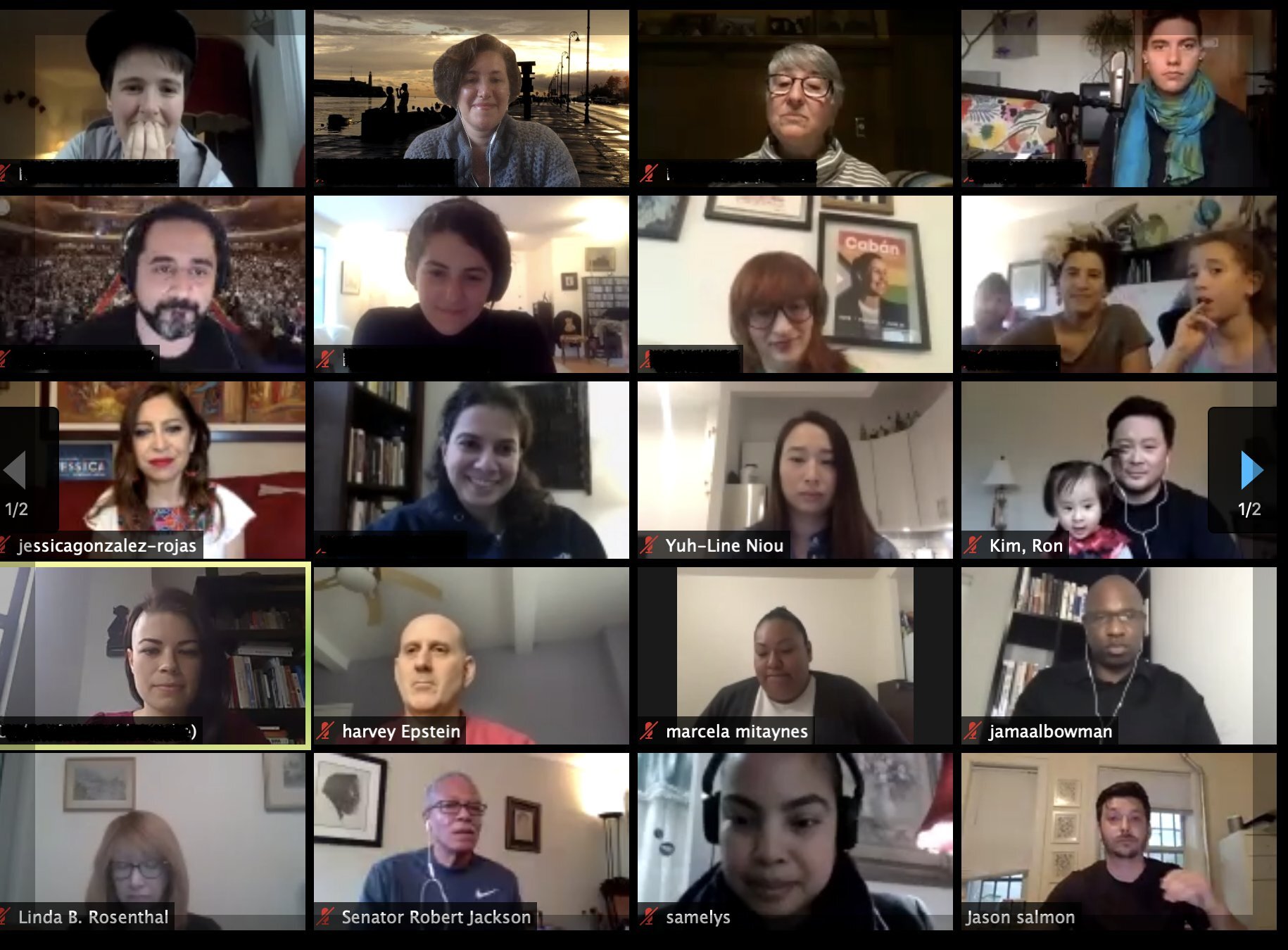 Submitted by Assembly candidate Jessica Gonzalez-Rojas
The campaigns that have relied on innovative uses of digital campaigning – and found success – have generally had younger, more agile candidates facing off against older, more experienced candidates. Take Barack Obama's
digital grassroots organizing
in 2008 or the social media powerhouse that is Ocasio-Cortez.
Of course, few insurgents can wield a social media account as effectively as Ocasio-Cortez, whose campaign playbook many set out to replicate this cycle. What's more, incumbency has its own advantages in digital campaigning. Current elected officials are likely to start off with a larger online following, Bleeker noted, and for challengers with fewer volunteers and less campaign cash on hand, investing in cultivating the campaign's social media presence – through promoted posts or ads, for example – might not be the top priority.
And it's not like the internet is some secret puzzle only younger candidates can unlock. U.S. Sen. Bernie Sanders of Vermont may not know how to code, but his presidential campaign had a passionate, vocal base of online supporters. In New York, 74-year-old Rep. Carolyn Maloney's political team switched to all-remote campaigning using phone banking and the text banking app ThruText, online town halls and virtual internship programs, a spokesperson for the campaign said. And for kicks, Maloney even posted a photo on Instagram of her exercising indoors to a vintage Jane Fonda workout video. It's unclear whether these changes are resonating with voters, but her pivot demonstrates that incumbents aren't ceding the digital domain to 20- or 30-something candidates.
Raising enough money has always been a concern for little-known candidates, and the coronavirus has only made it more difficult. The pandemic has hobbled the economy and caused nearly 1.2 million New Yorkers to file for unemployment. Everyone is having trouble raising money, said Kramer, the president of the political consulting group Get Out the Vote. But it's hurting insurgents who rely on lots of low-dollar donations much more than incumbents cashing checks from deep-pocketed business leaders and industry groups. "People who give $5 or $25 have been impacted, economically speaking, more so than people who are giving $250 checks," Kramer said. And many elected officials, especially those who haven't faced serious challenges in recent cycles, have had years to amass campaign war chests, while challengers must start from scratch. While some challengers have been competitive on fundraising, most races play out like the congressional primary on the North Shore of Long Island. Through the most recent fundraising deadline at the end of March, Rep. Tom Suozzi had more than $2 million on hand, for example. His nearest primary opponent, first-time candidate Melanie D'Arrigo, had just $59,776 – less than 3% of the incumbent's total.
New York's congressional and state legislative primaries remain scheduled for June 23, and while Cuomo has shown commitment to that date and has expanded absentee voting to all voters, other election details are up in the air with two months to go. Will ballots be mailed to all registered Democrats, or will voters have to print them out? Will polls open at all? An election entirely by mail would be a first for New York, but Oregon has been doing it since the 1980s – and it has tended to increase turnout. There are too many complex factors and unanswered questions to know how it will play out this cycle, but one thing's for sure: "Incumbents, especially (those aligned with) political party machines tend to be very good at being able to turn out that absentee ballot vote," Kramer said. Just look at Melinda Katz's 2019 primary win over Tiffany Cabán for Queens district attorney. Cabán declared victory on primary night, but Katz, who had the county Democratic organization's endorsement, eked out a victory after the absentee ballots were counted. Many New Yorkers who consistently vote absentee are older, and prefer establishment candidates. In 2020, Kramer said, "The winning side will be the one who gets those absentee ballots."
Many of those ballots, whether submitted by mail or filled out at a polling site, are going to have more names on them than ever. There are already more candidates challenging incumbents than in any cycle in recent memory. Now, the pandemic has made it easier for them to actually get their names on the ballot. The disease hit the state right in the middle of petitioning season, and Cuomo cut the number of signatures candidates needed to gather to make the ballot by 70%. In normal times, many of these insurgents would have had their petitions challenged and would have gotten booted off the ballot, but such challenges have been limited this year. Since the process of challenging a candidate's petitions requires some in-person interaction at a board of elections office, there have been growing calls to end challenges this year. Even the Queens Democratic Party, notorious for kicking challengers off the ballot, signed on. "Obviously things are different," said Rep. Greg Meeks, the Queens Democratic leader. "What I've got to consider first and foremost is the health of human beings."
Of course, that concern for health happens to be good politics. Facing one strong challenger could be a problem for an incumbent. (Just ask Crowley, the former Queens party boss.) But multiple challengers, who could split the anti-establishment vote? That's a relief for incumbents.
What this all means is that even in a high-drama time, it's likely to be a ho-hum primary night. But Assembly incumbents like Miller, who is facing Rajkumar and De Jesus, aren't declaring victory. "Yes, they could split all the people that don't like Mike Miller," the incumbent assemblyman said, but the challengers are also trying to peel off support for him. "People say there's an advantage?" Miller asked. "We'll find out June 23."