Opinion
Low-wage workers in New York City: falling farther down the income ladder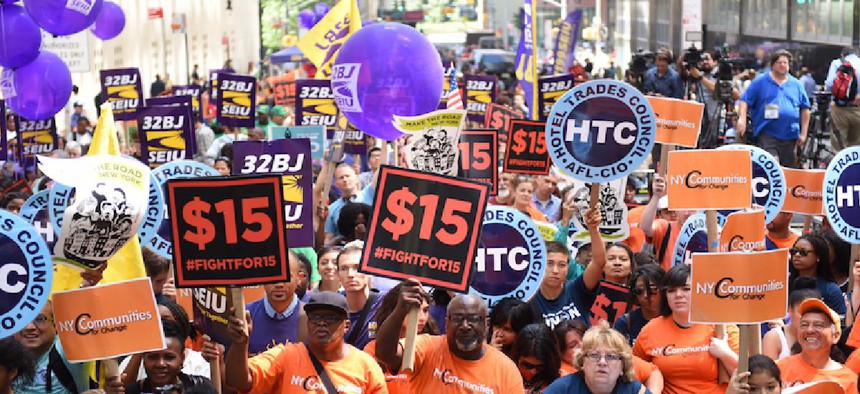 Most economic indicators suggest New York City is experiencing steady economic growth, and that's positive news for our city and our state. Yet beyond the headline numbers, a new, deeper analysis from the city comptroller's office tells a starker story – one of income polarization that is increasingly defined by boom times for the ultra-wealthy and struggles for working New Yorkers, with fewer opportunities to move up the income scale.
From 2009 to 2015, over half (57 percent) of all new jobs created in New York City were in low-wage industries, compared to just 41 percent in the five years prior to the Great Recession in 2008. In fact, nearly 40 percent of all the private jobs added have been in just three low-wage industries – retail trade, food service and home health care.
This follows a national trend. Over half of the fastest growing jobs in the U.S. are low wage, reflecting that the wealthiest nation in the world is increasingly becoming a low-wage nation.
In New York City, not only has the number of low-wage jobs increased, but the wages those jobs pay has actually decreased in real terms. From 2009 to 2014, the average pay in high- and medium-wage industries increased by 10.3 percent and 4.1 percent, respectively, while the average wage in low-wage industries actually fell by 3.2 percent, the comptroller's analysis found.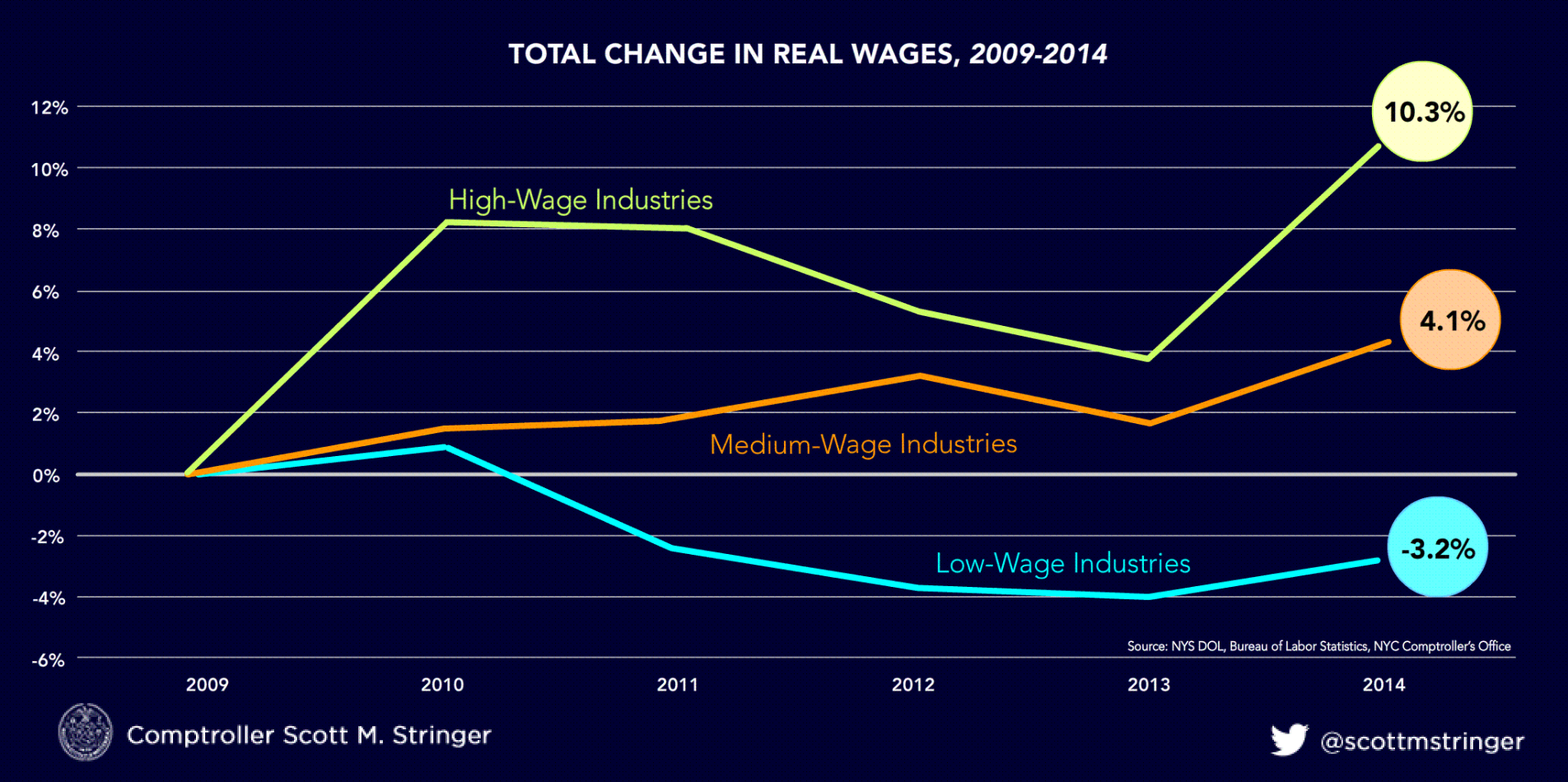 In other words, if you are a low-wage worker in New York City today, there is a good chance you are falling down the ladder, not climbing up. Although wage growth is expected to pick up somewhat as the unemployment rate falls further – and there is already some indication that that is happening – it is unlikely to grow enough to make up for years of wage erosion.
While paid family leave and fair scheduling policies can help families better manage their schedules and maintain their jobs, one of the most important steps we can take to ensure more New Yorkers feel the economic recovery in their wallets is to significantly raise the minimum wage.
The good news is that Gov. Andrew Cuomo, labor leaders and other elected officials are galvanizing support for raising New York's minimum wage to $15 by 2019 in New York City, and by mid-2021 statewide. And even better news - two-thirds of New Yorkers support the fight for $15 as well.
But there remains one large hurdle in making New York the first state in the nation to enact a $15 minimum wage: the state Senate.
The state Legislature has a history of acting when federal policies have failed to keep pace with the changing economic climate. In 1933, the Legislature enacted the nation's first minimum wage law, which paved the way for the federal Fair Labor Standards Act of 1938 – still one of the most important worker protection laws in the country.
The comptroller's office has found that a $15 minimum would lift wages by $10 billion for some 1.5 million workers in New York City alone. The increase in worker earnings would boost demand at local businesses, help relieve crushing household rent burdens and evenreduce government spending on certain income support programs.
The retail trade, food service, home health care, child care and social assistance sectors make up 44 percent of the workers who would benefit from a $15 per hour minimum wage in New York City. These industries are largely made up of women and people of color who have long been underpaid.
While women and people of color are overrepresented in low-wage jobs, increasing the minimum wage would benefit a broad range of New Yorkers. Statewide, 3.1 million people would see raises under a $15 minimum wage – more than one in three working New Yorkers. The typical affected worker is a woman over 25 years old, who works full-time and provides half of her family's total income. More than a quarter of those workers are the sole providers for their households, and 37 percent of all working mothers earn less than $15. In fact, 29 percent have bachelor or associate's degrees and another 23 percent have some college experience. These are not teenagers looking for weekend spending money, but adults struggling in the frontline jobs that make our economy run.
Although critics assert that raising the minimum wage will cost the state jobs, the most sophisticated research on the topic by the University of California at Berkeley's Institute for Research on Labor and Employment demonstrates that a phased-in $15 minimum wage in New York state would have no adverse impact on employment. The UC Berkeley study shows that the new consumer spending produced by broadly raising pay to $15 generates enough increased sales at businesses across the state to offset the higher payroll costs to employers, while also reducing turnover and increasing business productivity. That's why more than 75 economists from universities across New York have endorsed the governor's $15 minimum wage and the findings of the UC Berkeley study.
It's also why growing numbers of business groups are supporting Gov. Cuomo's $15 wage proposal, including the Brooklyn Chamber of Commerce, the Greater New York Chamber of Commerce, the Long Island African American Chamber of Commerce, the African American Chamber of Commerce of Westchester and Rockland Counties, and the National Organic Farmers' Association of New York.
We cannot let our city or our state become a place defined by vast wealth at one end of the spectrum and grinding poverty on the other – not if we want New York to be a place where everyone has a fair and fighting chance of climbing up the economic ladder. A $15 minimum wage can help ensure that all workers share in our economic resurgence and that New York lives up to its promise as the land of opportunity, not the land of low wages.
Scott Stringer is the comptroller of the City of New York. Paul Sonn is general counsel at the National Employment Law Project.