Opinion
The Tabloid Titan Whose Insults Never Stung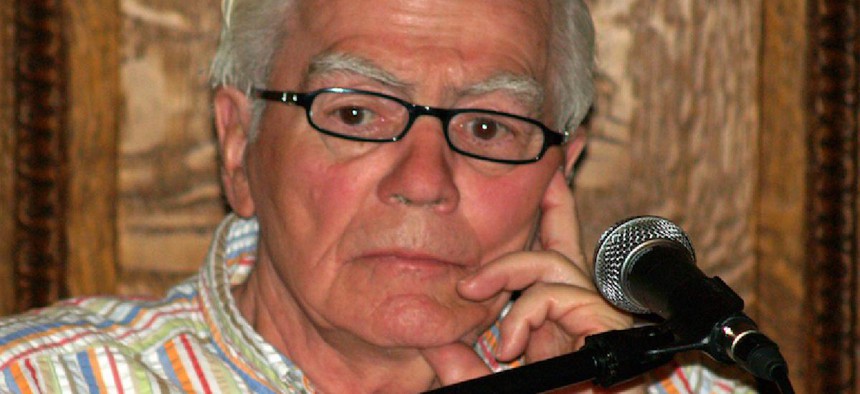 It was 1994 and New York Newsday, the daily newspaper, had just folded, a canary in a coalmine that foreshadowed the carnage that was to come over the next two decades in print media.
At the time, I was publisher of a chain of weekly newspapers in Manhattan, a relatively safe harbor for those of us who proudly boast of having newsprint in our bloodstream.
One of my colleagues came into my office with an intriguing idea: "Let's try to buy [Newsday columnist] Murray Kempton's column for the Chelsea Clinton News," publisher Bob Trentlyon suggested.
Since Kempton was no longer being published in a city newspaper (Newsday reigned still in Long Island only), perhaps the Los Angeles Times Syndicate would sell us his column.
I liked Kempton a lot, but I had an even better idea: "Let's also try to get Jimmy Breslin's column. We'll put that in The West Side Spirit and you can use Kempton in Chelsea," I replied.
That afternoon Bob came back to my office with a big smile: "We got both of their columns. It'll only cost us $25 per week per column."
This was the journalistic equivalent of winning the lottery. I couldn't believe our dumb luck.
Coincidentally, that week the famed civil rights attorney Bill Kunstler passed away suddenly. Breslin knew him well and wrote a very poignant tribute to the legendary attorney. I now had a very good reason to put our new columnist on the front cover that week.
"Breslin Joins The West Side Spirit: this week he writes exclusively about the fabled career of legendary activist attorney Bill Kunstler," blared the headline I wrote for the front page.
The day the newspaper came out, I was sitting at my desk with my feet up, proudly reviewing my coup, when the phone rang: it was Daily News gossip columnist A.J. Benza.
"I see you got Breslin to write for The Spirit. How much are you paying him?" the pesky scribe asked.
I had to think quickly. "Let's just say we're paying him less than Newsday did."
But Benza was a smart reporter and he then called the LA Times Syndicate. The next day there was an item in the Daily News: "For those of you who live in Manhattan who miss Jimmy Breslin's column, you can now read it in the West Side Spirit. And they're paying him a whopping 25 dollars per week." 
Early that morning my colleague Bob barreled into my office: "I just got a call from the LA Times Syndicate. They said they made a mistake. We can't run Breslin or Kempton's columns any anymore."
I smelled a rat. I knew Breslin very well because I had profiled him in my newspaper a few years earlier. I called his home number and that unmistakable gruff voice answered.
"Whattayu want?" he greeted me.
"Hey Jimmy, how come we can't run your column anymore?"
"YOU'RE KILLING ME!" he screamed into the phone. "NEXT THING YOU KNOW, THEY'LL BE RUNNING MY COLUMN IN A CHURCH NEWSLETTER!"
I had just been insulted by one of my childhood idols but he did it in his own unique and disarming way. I didn't care. I had glimpsed the glory of being Jimmy's editor for one week.
Jimmy Breslin, one of the giants of New York journalism, passed away this weekend, just months after the loss of Wayne Barrett and Nat Hentoff. The hits just keep on coming.
Jimmy Breslin was a reporter's columnist and one of the last of a dying breed. He constantly went out into the streets of the city – generally the outer boroughs – and told the stories of the weak and disenfranchised.
Breslin, unlike most of his columnist brethren, was interested in going to the loser's locker room after a game. He always said it was much more interesting than the winner's locker room.
When a nation was stunned by the assassination of President John F. Kennedy and with blanket coverage of his death in worldwide media, Breslin found a story for his column that is still taught in graduate programs in journalism. He profiled Kennedy's gravedigger. How did it feel to this invisible man to know that he was responsible for creating the beloved leader's eternal resting place?
Jimmy cared about the losers and the everyman and for that and so much more he will be missed by a generation of New Yorkers like me who grew up running to the newsstand every day to pick up the Daily News to read his column.
About a decade ago, I was looking for an emcee to host an event my company was doing to honor the "Building Workers and Doormen of the Year." I reached out to Jimmy's wife, Ronnie Eldridge, a former West Side councilmember, to see if he could do it. She said yes, but said that he was slowing down, so could I send a car to pick him up and take him home from the union headquarters where the event was taking place? I gladly obliged.
The night of the awards ceremony, I walked in front of my office building to find the car my secretary reserved. To my shock, it was a block-long white limo.
"It was the only car we had available tonight," the driver informed me when I asked why we needed such a big car.
We drove to the upper West Side to pick up our emcee. I walked out of the car to greet Jimmy and in an instant the loud, expletive-laced barrage began.
"I ain't going to no union headquarters in a limo!" Jimmy protested. We were on a tight schedule. I pleaded with him to get in. We're going to miss the ceremony, I claimed dramatically. No way said his body language. I then had an impish idea.
"Hey Jimmy, how about we park three blocks from the union headquarters, is that ok?"
He looked at me half cross and half with a twinkle in his eye. "I'm only doing this for the doormen, not for you."
Once again, an insult from Jimmy Breslin never felt so good.
Tom Allon is president of City & State.