Opinion
City and state officials should take immediate action on Rikers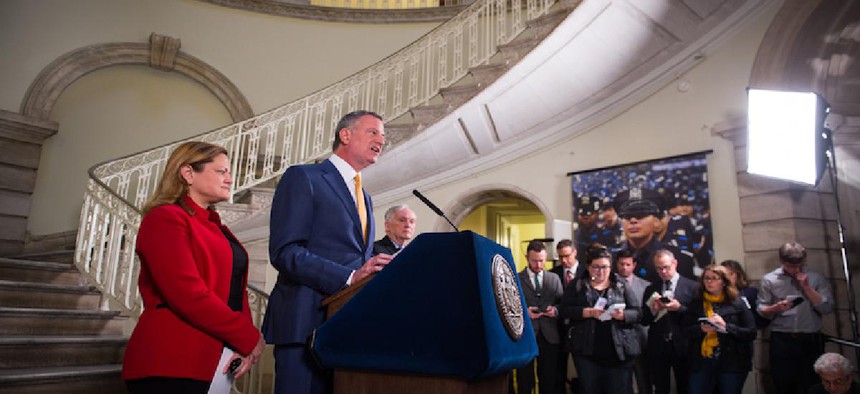 Several weeks ago, New York City Mayor Bill de Blasio, after a concerted push from grass-roots activists, finally threw his support behind an idea that was decades in the making: shutting down the troubled jail complex at Rikers Island, which has become synonymous with human rights carnage, corruption, violence, racism and represented a concrete, undeniable barrier to the city positioning itself as a progressive national idea.
The mayor's announcement coincided with the formal release of the final report of the Independent Commission on New York City Criminal Justice and Incarceration Reform – also known as the Lippman Commission – which unequivocally called for the city to close Rikers Island.
The idea of closing the 10 jails on Rikers Island has widespread popular support, with a large number of community groups and everyday New Yorkers in favor of the plan. Several New York City Council members have said they would welcome new jails in their neighborhoods if that's what it took to get "torture island" shut down. Correction officers and the New York Post editorial board appear to be the loudest opponents.
RELATED: 5 questions de Blasio's budget doesn't answer
Nevertheless, a variety of pundits have splashed cold water on the proposal, citing the tortuous Uniform Land Use Review Procedure and persistent NIMBYism to suggest that closing Rikers, no matter the value to public safety and the overall public good, will be difficult, or perhaps impossible.
But these issues are, in large part, a distraction that lets elected officials off the hook from the immediate actions they can take today to improve the system. Closing Rikers is not, for most of us, the endgame; rather, the real goal is the development of a smaller, fairer, more humane, less racially discriminatory system of pretrial process and reinvestment in the communities most harmed by mass incarceration.
It is a well-held empirical truth that the rate at which U.S. cities toss people in jail has no relation to crime; a simple scan of national jail populations will show the eccentric, irrational nature of this phenomenon. Racial disparities are the only constant.
Indeed even in New York City, while both crime and the jail population have declined since the early 1990s – primarily a result of community organizing and advocacy – the jail reductions have come more slowly, decreasing by 53 percent as major crime declined by 76 percent. Had the jail rate dropped in unison with the crime rate, we would have already reached de Blasio's arbitrary benchmark of reducing the city jail population to 7,000, which would be the first step in the process of removing people from Rikers Island for good.
Ninety percent of defendants are held in city jails on a misdemeanor charge and 78 percent of those held on a felony charge pose only a minimal to moderate risk of rearrest on a violent felony, according to a study by the Center for Court Innovation. This means there is no public safety justification for holding most of the people on Rikers Island in jail while they wait for their cases to be adjudicated.
While the mayor suggested winding down the jail system over 10 years – as the Lippman report did – this is an arbitrary timeline. In California, unconstitutional conditions required a sudden, dramatic reduction of the number of imprisoned people – with positive results. New Orleans experienced similar results after the city's jails were partly destroyed during Hurricane Katrina And there is precedent for expedited prison shrinkage in New York City: In 1983, the city immediately released 423 people from Rikers Island under a federal court order to address unconstitutional overcrowding.
There are people throwing up their hands and saying, "What are you going to do? Just release people out into the street, with no supervision, no job, no housing?" We must recognize that this is happening right now with approximately half of the city jail population turning over each week and 90 percent of population returning directly from Rikers to communities in our city within a year.
As the Lippman report said: "Individuals who go into jail with problems – substance abuse, mental health disorders, lack of education, etc. – tend to come out with those problems exacerbated."
Despite the well-documented horrors of the jails on Rikers Island and elsewhere throughout the city, the political realities of New York City are such that we unfortunately cannot rely on elected officials to take this type of principled approach to swift and sudden decarceration; and yet every delay comes at an enormous expense to our communities and for those that will go through the jails as we muddle toward reforms.
RELATED: Is Rikers beyond saving?
Here are some immediate steps the city can take:
New York City Mayor Bill de Blasio must immediately commit to abandoning proposals to build a new jail on Rikers Island and should reinvest this money in a combination of deeply affordable housing units and supportive housing for the hundreds of people who currently cycle repeatedly through city jails on low-level charges. He should also address the front end of the system by ending arrests for fare evasion, marijuana possession and other so-called "broken windows" charges, while increasing transparency and accountability for police officers. He should act on the Lippman Commission recommendation to divert as many as 113,000 criminal cases away from criminal court to ease court congestion.
Gov. Andrew Cuomo, who has also publicly supported the closure of Rikers Island, should stop vetoing bills (like the recent

gravity knife legislation

) that would reduce the number of people needlessly caught up in the criminal justice system. He must start showing leadership on fundamental system reforms that require state legislation like changes to speedy trial rules and discovery reform. He should crack down on corruption in the commercial bail bond industry, which causes people who have posted bond to spend extra days needlessly on Rikers Island, while siphoning millions of dollars each year from communities that can least afford it.

District attorneys argue in court every day to send people to Rikers Island on bail amounts they cannot afford, and argue to keep people there who have shown repeatedly that they are unable to pay the bail amount set by a judge. They should stop asking for bail in almost all cases and should start stipulating a release from jail for people who have been jailed solely because they could not afford to buy their way out. They should follow the lead of

Cook County State's Attorney Kim Foxx

in Chicago who is simply releasing people from jail who are being held on low bail they cannot afford.

District attorneys must also immediately provide defendants and their attorneys with all evidence. We recently learned about

Antoine Morris, who spent months at Rikers Island, before having his case dismissed

, all because his defense attorney never received relevant 911 calls, one of the most basic pieces of evidence. He should never have spent a day in jail.
The broad political support to shut down the 10 jails on Rikers Island is indeed a welcomed victory, but really, we are just getting started.
Nick Malinowski is the civil rights campaign director at VOCAL-NY, a statewide grassroots membership organization building power among low-income people affected by HIV/AIDS, the drug war and mass incarceration. VOCAL-NY is a member organization of the Campaign to Close Rikers.