Opinion
Investing in adult literacy will lift up New York City's immigrant communities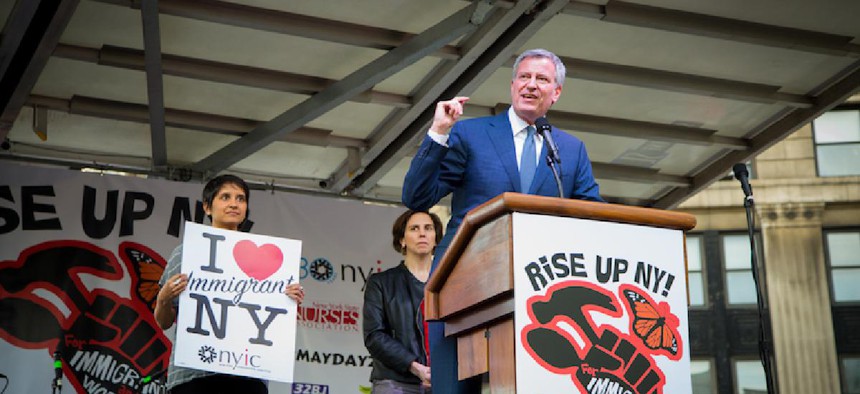 Adult literacy has always been a key factor in the successful integration of new immigrants into the civic and economic life of our city. Literacy has taken on new importance ever since harsh federal immigration policies were introduced earlier this year. Since then, immigrant families throughout New York City and across the country have experienced extraordinary uncertainty about their futures.
Therefore, it is critical that, in one of the largest sanctuary cities in the country, Mayor Bill de Blasio renews last year's $12 million investment in adult literacy and baselines the funding for future years to ensure adult literacy remains a priority in New York City.
Literacy opens paths for upward mobility, and is a critical tool as immigrants and their families negotiate the complex policies, documents and decisions that determine the direction of their lives. In the current political climate, literacy is not only fundamental to immigrants' ability to support their school-age children, and to access higher education, training and employment opportunities of their own, but also to advocate for their civil rights and the well-being of their communities.
RELATED: Uneven justice for undocumented immigration
Immigrants make up 37 percent of the population in New York City, comprise almost half of the workforce, and are the backbone of our economy. Here, in Sunset Park, Brooklyn, 35 percent of residents come from limited English-speaking households and 37 percent lack a high school diploma or a higher credential. Sunset Park is a community where many immigrant families have found a welcoming neighborhood to raise their children and pursue their hopes for a brighter future. These immigrants are our friends, neighbors, coworkers, brothers and sisters. They make significant contributions to the neighborhood's commercial and cultural vibrancy.
Ready access to adult literacy classes at organizations like Sunset Park's Center for Family Life, would unlock more opportunities for them to help New York City thrive. Community-based organizations are the best means of delivering literacy training because of their cultural competencies and the relationship of trust they've built with immigrants.
Today, the stakes are high and risks for immigrants are ever-present. Literacy is the key to avoiding marginalization and to combating political and economic exploitation. Adult literacy provides more access to information so immigrants can recognize threats, build resilient communities and protect themselves.
Building literacy skills in our community is also essential to public safety. People in linguistically-isolated immigrant communities are too often excluded from crime prevention resources, hesitant to interact with law enforcement or are unable to navigate the criminal justice system.
RELATED: Preventing nonprofit properties from falling to private capital
People with limited English skills are vulnerable to scams. This is most evident in more frequent reports of unscrupulous notarios who prey on immigrants' limited understanding of complex immigration laws.
As the Brazilian philosopher and educator, Paolo Friere noted nearly 50 years ago in his Pedagogy of the Oppressed, "education...becomes the practice of freedom, the means by which men and women deal critically and creatively with reality and discover how to participate in the transformation of their world." These words ring especially true for immigrant communities today.
In Sunset Park, and all over New York City, the pressing question is: what kind of city do we dream of living in? Supporting adult literacy is far more than an affirmation of our collective wish to see everyone achieve basic fluency in a shared language. It is, more fundamentally, an expression of our vision of a society where all voices are heard and valued, and where all people are fully welcome in the complex process of achieving fellowship and community. This is why it is critical that last year's $12 million investment in adult literacy be renewed and baselined now.
Julia Jean-Francois is the co-executive director of the Center for Family Life in Sunset Park, Brooklyn. Carlos Menchaca is a New York City councilman representing the 38th Council District in Brooklyn, and the chairman of the Council's Immigration Committee.