Opinion
What Beth Israel's closure means for the future of New York City's hospital system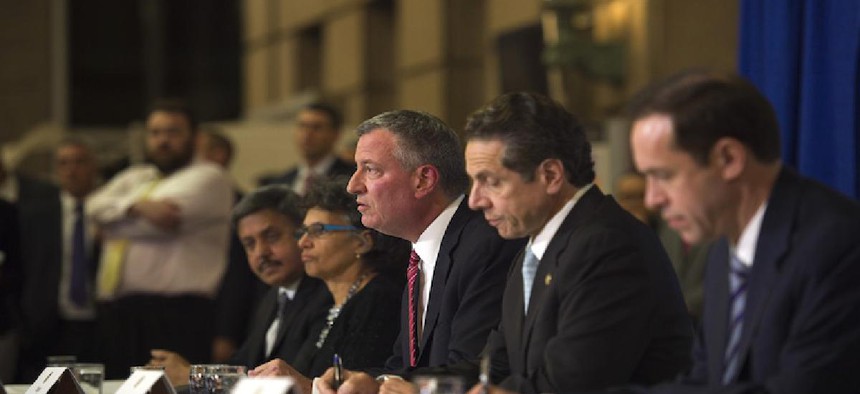 We may be less than a week away from the New York City municipal primaries, but hospital advocates wouldn't be blamed for not realizing that.
Four years ago, the dangerous trend of hospital closures and declining quality of care was on the tip of every political candidate's tongue in the city. Council members, state legislators and even our future mayor were arrested protesting to stop the unfair and deceitful closure of Long Island College Hospital in Brooklyn.
Today, things haven't changed. LICH is gone, the city's public hospital system remains in a precarious financial situation and hospitals continue to close across the city – with the latest closure coming to Mount Sinai Beth Israel in Lower Manhattan.
For me, the closure of Beth Israel is personal. Growing up on the Lower East Side, I have taken the trip up First Avenue to the nearly 120-year-old hospital countless times to visit friends or for doctors' appointments. Growing up in a low-income family, though resources were limited, we felt secure that high-quality emergency medical care was only blocks away.
RELATED: Agency Focus: The New York State Department of Health
But the hospital I knew for decades is almost completely gone now, as the closure process that Mount Sinai began in 2016 is inching closer to its conclusion. I've seen Beth Israel go from more than 800 beds to around 300, and I've seen almost every medical department, including the hospital's important labor and delivery department, close in recent months. 
While one of the last full-service hospitals in Lower Manhattan is slowly disappearing before our eyes, it's rarely talked about among average New Yorkers. In fact, 20 hospitals have been closed or overhauled since 2000, part of a pattern of closures and consolidations that has paralyzed the city's health care system. That may be because of a lack of pressure on health networks from elected officials, but it's also due to the exorbitantly rising cost of health care operations. Just because this is a slow-moving and massive problem doesn't mean we can continue to sit idly by.
As a neighborhood advocate and legislative director for Councilwoman Rosie Mendez, I have been working side-by-side with key advocates to keep more of Beth Israel's services open, and I will continue to fight to ensure that the Lower East Side has increased options and better support from the Mount Sinai system than what is currently being promised. Small replacement hospitals with only basic services don't even come close to the level of services our community needs.
This crisis also shows that we can't deal with each hospital on a case-by-case basis. The city must work to ensure that medical services remain on site in the event of a hospital closure or overhaul, which would remove the temptation from hospital owners to simply sell their properties to corporate developers looking to develop massive condos. We can't let what happened to St. Vincent's Hospital in the West Village happen ever again. That closure left emergency rooms at other hospitals bursting with patients and left the developers of the Greenwich Lane condos (which went up in St. Vincent's place) with a windfall of cash.
We also must hold hospital leadership accountable. While the Beth Israel hospital administration has dodged town halls and held few public meetings, a working group led by Manhattan Borough President Gale Brewer and local activists and advocates has been meeting monthly since late spring and is developing a "Community Health Needs Assessment" which must be completed by the hospital later this year. This will help us deliver an informed list of demands as soon as possible.
RELATED: Issues the New York State Department of Health faces in 2017
But in the long-term, the city must also create a more accountable and transparent oversight system for hospital shortcomings and closures. This system can and should be modeled after our tough and stringent Uniform Land Use Review Procedure. In addition, the City Council should also immediately conduct an assessment of the citywide health care network to determine where acute shortfalls in service are actively occurring and implement a rapid response plan that protects services in the short and long-term. 
Finally, the city and state will only truly solve our skyrocketing health care costs by implementing a single-payer health care system that makes care affordable for patients and evenly distributes the cost risks for hospitals as well. Gov. Andrew Cuomo should step up and lead this charge, especially with health care at the forefront of the Trump era. 
We are going to continue to make sure that Beth Israel lives on in some form, but if New Yorkers are going to actually survive in this city, something foundational needs to change when it comes to our hospital system. If I am elected to the City Council, I will ensure that everyone in our city gets access to the same levels of medical treatment, and that independent neighborhood hospitals do not become a distant memory.
Carlina Rivera is a Democratic candidate for New York City Council's District 2 in Manhattan. You can find her on Twitter @CarlinaRivera and at carlinarivera.nyc.