Rafael Espinal
Never abandon: Increase funding for the City Council's Holocaust Survivors Initiative
New York City is home to nearly 45,000 holocaust survivors, almost half of whom live at or below the poverty line.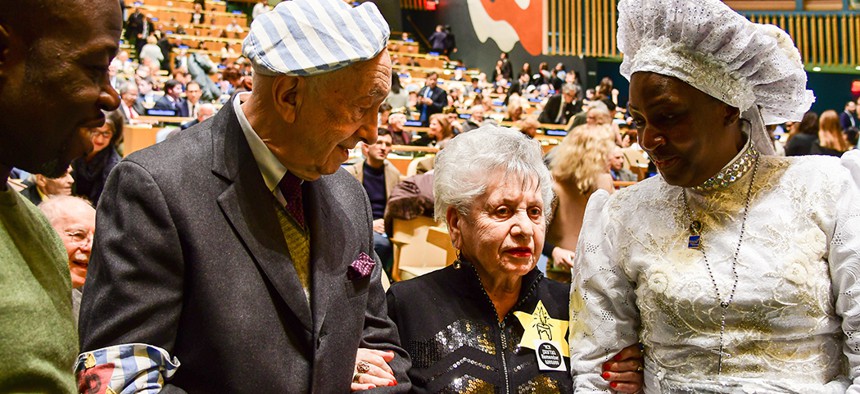 If you saw Mrs. W walking down the street in Queens, holding on to a companion's hand, you wouldn't know the horror she endured in her youth. You wouldn't know that she lived in the Lodz Ghetto in Poland. You wouldn't know that she was transported to the Auschwitz concentration camp and sent on a death march in January 1945, which she miraculously survived.
After the war, Mrs. W, whose full name was not used due to the sensitivity of her story, immigrated to the U.S. and lived a good life. Her story might have ended there, on a far happier note than it began. But as she aged, she began to exhibit symptoms of dementia. For a Holocaust survivor, that often means reliving painful childhood episodes as if they just happened. Leaving home to be transferred into institutionalized care can also trigger past traumas.
Thankfully, a family member connected Mrs. W with Selfhelp Community Services, which is the largest provider of comprehensive services to Holocaust survivors in North America, and is one of UJA-Federation of New York's nonprofit partners. She was assigned a social worker who provided home care and helped her secure Medicaid benefits. With all this, Mrs. W was able to receive the care she needed to be able to stay safely and comfortably in her own home.
Mrs. W is just one of the nearly 45,000 survivors that we know live in New York City, with nearly 20,000 living at or below the poverty line. The stark reality of these numbers is heartbreaking. Holocaust survivors who worked and made a decent living are now finding themselves struggling to make ends meet in their older years. Living in New York City is tough for any senior citizen, but especially for survivors, who require more care as the trials of their younger years show dire effects with age.
Common conditions related to aging also take a harder toll on survivors. Many are dealing with complex bone and dental issues that are the result of severe, prolonged malnutrition. Alzheimer's disease, dementia, depression, anxiety and other mental health issues are exacerbated because memories revert back to the Holocaust. For all these reasons, UJA-Federation of New York has made it a priority to raise funds to meet the needs of aging survivors. But philanthropy alone is simply not enough.
As New Yorkers, renowned for coming together when people need us most, we will not allow Holocaust survivors to suffer once more. Several years ago, New York City Councilman Rafael Espinal spearheaded a budget initiative now known as the Elie Wiesel Holocaust Survivors Initiative. The program earmarks funds to help survivors with an array of social and health care needs. It is appropriately named in honor of the late Nobel laureate, who survived two concentration camps and made it his lifework to tell his story in the service of the slogan "never again."
It is equally important to "never abandon." The Elie Wiesel Holocaust Survivors Initiative, together with federal, state and city dollars, fund New York City's unparalleled network of human services agencies that help seniors in need. These nonprofits provide life-enhancing programs, including meal and grocery delivery services; personal care; legal services and access to government benefits; end-of-life care; and specialized caregiver supports.
Providing an elderly person with a warm meal, a ride to the doctor or the relief that comes with knowing you aren't alone and forgotten might make the difference for them between despair and hope.
While philanthropy and government have stepped up, we must do more to meet the growing needs of aging survivors. Since Espinal spearheaded the program in 2015 with an allocation of $1.5 million, funding has increased year after year. This year, we urge the New York City Council to make its largest contribution to the Elie Wiesel Holocaust Survivors Initiative to date, $4 million.
Holocaust survivors have lived through the worst of humanity. Let us now show them the best.
Powered By
NEXT STORY: NYC citizenship fund would help welcome new Americans