New York City
To crack down on illegal hotels, regulate Airbnb
A New York City Council bill would help enforce the law against illegal hotel conversions.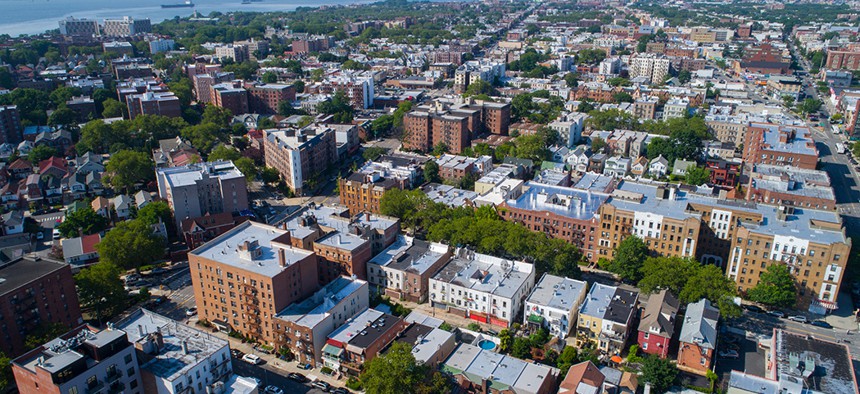 The affordable housing crisis in New York City does not discriminate. Indeed, it is a complex problem that was not created overnight, and therefore will not be solved overnight. But, if one thing is clear, it's that we cannot continue to have conversations about our city's housing crisis without acknowledging the role that short-term rental services like Airbnb are playing in making the problem even worse.  
Let me be crystal clear: I'm not talking about the young couple with the townhouse that rents out a spare room a few times a year for supplemental income to help pay their mortgage; I'm talking about the professional landlords who have converted their homes into completely illegal hotels. In one egregious case, an Upper West Side landlord was warehousing 250 affordable rental units to create an illegal hotel empire.
That is why today, the New York City Council, under the leadership of Speaker Corey Johnson, will introduce a bill, sponsored by my colleague Councilwoman Carlina Rivera, that will enact municipal oversight of short-term residential rentals. Rivera's bill will require monthly reporting to the Office of Special Enforcement by companies that offer a booking platform for short-term rentals in the five boroughs. This bill will provide the city with concrete data for use in housing market analysis and the ability to identify landlords who may be withholding affordable units in order to offer them as unlicensed hotels.
In my district, illegal conversions have become a very serious issue. Often a building goes from a two-family to a six- or seven-family after unscrupulous investors illegally renovate a house. The No. 1 concern with these illegal conversions is safety – for those living in substandard conditions, for their neighbors and for first responders. That's why I helped write the aggravated illegal conversion law which protects vulnerable, low-income renters from greedy landlords and hits violators with stiff penalties.
Make no mistake, these illegally converted apartments are not good deals or necessarily less expensive than legal apartments. In fact, because the developers of illegal conversions prey upon immigrants who often lack credit or don't know where else to turn, rents for the substandard and dangerous illegally converted apartments often are higher than the rent in a legal apartment on the same block.
We've all seen the negative side effects of Airbnb in our neighborhoods as more and more professional landlords convert to the lucrative – yet illegal – business of short-term rentals. Tourists with suitcases coming and going at all hours. Loud parties on typically quiet residential streets. An endless stream of here today gone tomorrow guests that have no investment in our community. But Airbnb isn't only robbing our neighborhoods of neighbors; as a recent report from New York City Comptroller Scott Stringer showed, Airbnb is also costing us hundreds of millions of dollars each year in higher rents because fewer apartments to rent means higher prices all around for full-time residents. It's simply a supply and demand issue.
Unfortunately, instead of taking responsibility for driving up rent and tenants out of our neighborhoods, Airbnb has responded by attacking anyone who tries to hold the company accountable through common sense regulations that would require them to share the addresses of their illegal listings with enforcement officials.
At a time when New Yorkers should be putting all options on the table and coming together to discuss thoughtful solutions to the astronomically high rents and the role short-term rentals are playing in making them even higher, Airbnb should try working with city officials in good faith – not seeking to divide us by claiming these common sense regulations would somehow hurt "middle-class" New Yorkers.
The reality is that Airbnb knows that the regulations being proposed today by my colleagues and me in the New York City Council would have zero effect on those who abide by the law and use Airbnb for supplemental income. There is literally nobody trying to take that right away.
If Airbnb truly wanted to be a good corporate partner with the city and if they really cared about helping people out in a city where it's getting harder and harder to get by, they would cooperate with legitimate government efforts to crack down on illegal listings. They share address information with cities such as San Francisco, New Orleans and Chicago. So why should they be held to a different standard in New York where the affordable housing crisis is so much more dire?
Commercial operators who convert housing into de facto hotel rooms for tourists are breaking the law. Plain and simple. Airbnb should share their data with city officials so we can finally put a stop to predatory housing schemes that ultimate hurt New Yorkers in desperate need of housing. I commend Councilwoman Carlina Rivera for her leadership on this critical issue.
Powered By
NEXT STORY: Pension politics puts solvency at risk