New York City
NYCHA's truth deficit
The New York City public housing authority keeps disguising its problems.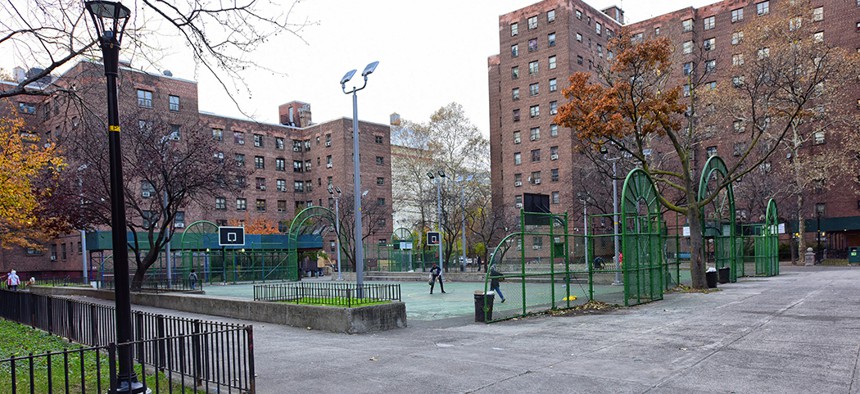 We know, thanks to investigative reports that emerged last month, that the New York City Housing Authority has $32 billion in unmet capital needs. That's a huge problem not entirely of the authority's own making: The decline of federal and state support for aging public housing is responsible for much of this gap.
But one area where NYCHA has been consistently bankrupt is an area that doesn't require a dime of funding: the truth.
Over the past few months, we have learned just how duplicitous NYCHA has become. The authority has misrepresented facts at City Council hearings, deceived its own residents and the public and, as we learned recently, falsified documentation to the federal government.
Only now, when already under investigation for misleading the public about elevated blood lead levels in more than 800 children living in public housing and failing to inspect for the presence of lead paint in as many as 130,000 public housing apartments, has NYCHA admitted it has not complied with a multitude of federal regulations.
This newfound penchant for openness won't undo the damage done by NYCHA's prevarication.
The City Council's ability to respond to the lead poisoning crisis was kneecapped by a lack of accurate information from NYCHA. During a December 2017 hearing, the council was told by Herminia Palacio, the deputy mayor for health and human services, that the city is a "national leader" on lead testing. If we knew there was a lead crisis and addressing it was simply a matter of funding, we could have gone to the state and federal governments demanding help, as we did when the City Council exposed that Federal Emergency Management Agency did not give the city a dime to replace Superstorm Sandy-damaged NYCHA boilers years after the storm. Instead, NYCHA's dishonesty and incompetence has drawn state and federal attention, which is making funding advocacy that much more difficult.
These latest shameful admissions won't make it any easier. Just as NYCHA has failed to investigate and protect residents from the dangers of lead, it is neglecting to meet federal mold remediation standards and is failing to preserve the rights of tenants during eviction proceedings. Then there are the dozens of cases of contamination in NYCHA water tanks – dead and decaying birds, rodents and insects in the water supply that thousands of New Yorkers are drinking from – were never reported to the city health department. This is a disturbing pattern of negligence and wide-ranging noncompliance at NYCHA.
The authority also has failed to follow regulations mandating it engage in a good faith effort to provide employment opportunities for NYCHA residents and other low-income New Yorkers when work conducted on NYCHA buildings results in the creation of jobs. We believe, as NYCHA residents do, that public housing residents shouldn't just be witnesses to work done in the developments they call home; they should be active participants. NYCHA's website references Section 3 of the U.S. Department of Housing and Urban Development regulation, which requires "employment and other economic opportunities generated by federal assistance to public housing authorities to be directed, whenever possible, to public housing residents and other low and very low income residents." The authority must follow through on this.
Resilience to climate change and increasingly frequent extreme weather events is another area in which NYCHA is failing to live up to its promises. As we approach the sixth anniversary of Superstorm Sandy, most of the public housing stock in our coastal communities that was battered by the worst storm in our city's history has yet to see the recovery repairs and resiliency upgrades residents were promised, even after the City Council helped secure a historic $3 billion FEMA investment more than three years ago to cover the costs.
Then there is the financial mismanagement. We know that resources at NYCHA are scarce, and the authority is hardly to blame for decades of disinvestment and federal budget cuts that have unjustly targeted public housing and people of color. That makes it all the more confounding and infuriating to learn that NYCHA is also failing to adhere to federal requirements regarding the bidding process, procurement or employee overtime. The authority needs $32 billion for repairs over the next five years, and its dysfunction has already cost New York City a $2.2 billion settlement. The last thing NYCHA can afford is more waste or misuse of funds.
We do not yet know the full extent of this because NYCHA, if it is to be believed, is still learning just how deep these failures go. But if the lead and mold scandals and this latest admission of guilt have proven anything, it's clear that NYCHA has lost all credibility with New Yorkers and the City Council. NYCHA will likely be under the oversight of a federal monitor, a condition of the consent decree settlement between the city and the U.S. Attorney's office. But while millions of city dollars will be allocated, a federal monitor would have no obligation to come before the City Council and would not be subject to city oversight.
NYCHA residents shouldn't have to rely on federal consent decrees to learn the truth about what's going on in their homes, and the city ought to have the internal capacity to get the necessary answers.
The city Department of Investigation and a number of local journalists deserve credit for bringing the lead crisis into the open and continuing to expose NYCHA's deception over the past few months. That's why it is critical that we do more to empower DOI, the city's investigator, to continue mining the depths of this noncompliance. We need to ensure that DOI and its NYCHA inspector general have the budgetary resources necessary to properly and adequately examine the scope of noncompliance and make recommendations to the City Council and City Hall.
New York City's 400,000 public housing residents deserve better than this, and NYCHA must spare them the excuses. Major changes must be made at NYCHA, and ensuring the health and safety of its residents must become the authority's top priority moving forward.
Powered By
NEXT STORY: Cuomo administration shouldn't put NRA on financial blacklist