New York City
Abolish ICE – and replace it with something better
The federal government should follow NYC's lead on immigration enforcement, argues Bitta Mostofi, commissioner of the New York City Mayor's Office of Immigrant Affairs.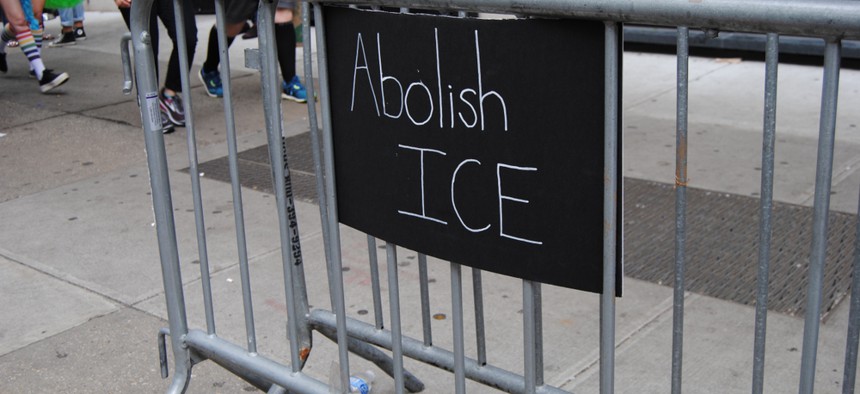 Recently, there have been many calls to abolish ICE. I too call for U.S. Immigration and Customs Enforcement to be replaced – the current system is broken, and we have seen far too many abuses and breaches of the public trust. Among them: indiscriminate enforcement at President Donald Trump's direction, courthouse arrests of victims, arrests of additional family members encountered during planned enforcement actions, increases in detention of both children and adults … and the list goes on. In the New York City area, civil immigration arrests of individuals with no criminal convictions increased by 225 percent in the first fiscal year under Trump compared to the same period before his term began. Let that sink in: not just people with minor violations or nonviolent misdemeanors, but many with no criminal record whatsoever.
As Mayor Bill de Blasio has said, the federal government should create something different and something better. For guidance, Congress need look no further than New York City.
A proper solution that upholds public safety and protects national security should also advance the inclusion of immigrant communities, a reality that has played out in New York City. With Trump in office, ICE Enforcement and Removal Operations – the division that largely conducts civil immigration enforcement throughout the interior – has ended prior policies that prioritized attention on individuals with serious criminal convictions. ICE's refusal to set reasonable priorities under this administration has resulted in far too many arrests of residents who pose no safety risk, needlessly breaking families apart, including many with children who are U.S. citizens. This is especially damaging in New York City, where more than one million residents live in mixed-status households with at least one person who is undocumented. Abandoning enforcement priorities threatens a huge portion of our colleagues and neighbors and friends.
Public safety is what drives our law enforcement work, and we will continue to work with immigration enforcement only where essential to keep New York City the safest big city in the country. For example, the city takes part in interagency task forces to fight terrorism and transnational criminal organizations. We work with ICE Homeland Security Investigations on criminal investigations of gangs, human trafficking and child exploitation. We also work with the Department of Homeland Security Office of Health Affairs to help monitor for biological or chemical terrorist attack.
These are crucial partnerships and point the way to a positive replacement for ICE. Congress should focus on defining clear and sensible priorities to limit civil immigration enforcement and detention to focus on those who truly pose a threat to our residents. ICE's replacement must also have better rules and sufficient oversight to ensure that enforcement and detention, when necessary, are conducted humanely and with respect for basic principles of fairness and justice – for instance, without making arrests in state courts or revoking longstanding orders of supervision.
In addition, separating civil immigration functions from criminal functions would help ensure that criminal work retains public trust without sparking fear among immigrant crime victims and witnesses. Lastly, any immigration enforcement must be coupled with identifying and providing tangible support to immigrants who may be eligible for humanitarian relief or permanent status.
We should abolish ICE. Replacing it with a system modeled on New York City's demonstrated successes in building trust with immigrant communities and keeping New Yorkers safe is no radical idea – it's a sensible solution to crack down on abuses, keep families together and expand justice for all.