MTA
De Blasio should focus on getting buses moving
New York City can redesign and regulate streets to help solve the bus crisis.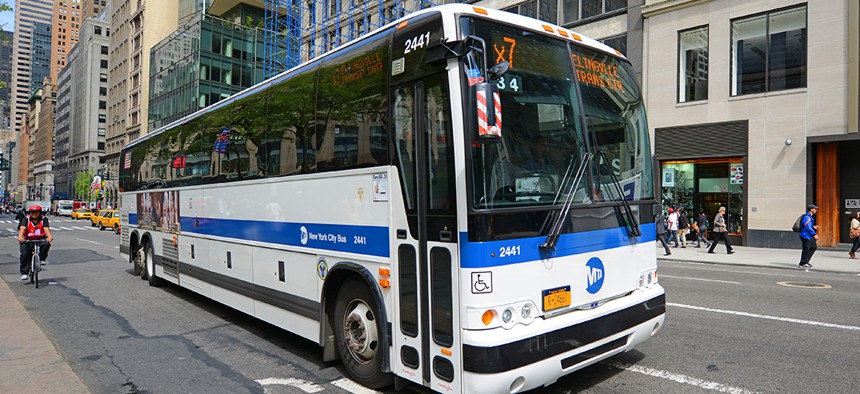 New York City Mayor Bill de Blasio understood tackling income inequality would be the central struggle of his mayoralty. Through programs like universal prekindergarten he has sought to shrink the gap between the rich and poor. His ability to change income distribution without concomitant state and federal policies is severely constrained, but there is one relatively easy way he could help lower-income New Yorkers: make a good faith effort to fix the city's bus system. He can give up his infatuation with ferries and streetcars and focus on reimagining a transit system used overwhelmingly by the city's working class and poor.
Bus service in 2018 has been particularly abysmal: A report released Monday from a group called the Bus Turnaround Campaign gave a D+ to the city's Department of Transportation for its lack of effort to prioritize buses on city streets, and gave a D to the NYPD for failing to ticket vehicles that block bus lanes."
Buses, like trains, are under the Metropolitan Transportation Authority's dominion, but the city controls the streets. As former Mayor Michael Bloomberg demonstrated with the expansion of bike lanes and creation of pedestrian plazas, that power can be used to take away some of the massive free space that has been given to private cars and redirect it towards more economical, environmentally friendly forms of transportation.
The ferry system is heavily subsidized, with more than $600 million in capital investment and $30 million per year in operating subsidies. But ferry ridership is a projected to be merely 24,500 passengers per day. If de Blasio's obsession with heavily subsidizing ferry service reflects his desire to undertake a transit expansion that requires no sign-off from the MTA, similar attention toward the buses could fulfill that same need – a way to make a difference in commuters' lives.
De Blasio's administration has largely ignored the bus system and it shows. New York City's buses are the slowest of any big city in the country and wait times are unpredictable. Ridership on buses in the city dropped 21 percent between 2002 and 2017, a period when the city's population grew by 7 percent.
Still, the bus system carries a tremendous number of people: 2 million weekday trips. That's almost 100 times the ferry ridership. Most of the neighborhoods that ferries serve, such as East Midtown, Williamsburg and Long Island City, are expensive and centrally located. Many of the same neighborhoods would be connected by de Blasio's pet streetcar project BQX. Buses, on the other hand, traverse every neighborhood in the city, including many that are deep in the outer boroughs, beyond the reach of the subway system. And, unlike the BQX, which may never come to fruition, getting already existing buses moving is relatively inexpensive and guaranteed to help suffering riders.
New Yorkers who don't have cars, don't live near the subway, or can't use it because the stations mostly lack elevators, and don't have the cash to spring for a car service or ride-hailing app, rely almost exclusively on the bus system. Bus riders are older and poorer, on average, than subway riders. Demographic data for ferry riders is not available, but the Village Voice interviewed 60 riders on four routes and found, "Ferry riders are, by and large, higher-income New Yorkers taking advantage of subsidized ferry rides to avoid subways and buses – not because it's a faster commute, but because of the ferry's creature comforts such as elbow room, concessions, alcohol, WiFi, and the fresh sea air." A bus passenger in East Flatbush can only dream of such luxuries. Buses also allow a free transfer to or from a subway and can be accessed with an unlimited MetroCard – neither of which are true for the ferries and the BQX. That they are stuck with slower, unreliable service is as much a crisis as that the much more high-profile problems with the subways.
Traffic congestion, outdated technology, a lack of police enforcement and an overall lack of imagination are all slowing our buses down. As the subway system fails, more for-hire vehicles flood the streets. Truck traffic from all-day, non-stop deliveries forces buses to constantly compete for street space.
Police have failed to properly chase cars from illegally driving and parking in designated bus lanes, as Streetsblog and transit advocates have documented. Police themselves are some of the worst offenders, routinely abusing their placard privileges to park in lanes. De Blasio, despite his reputation as an ambitious liberal, has been largely deferential to the NYPD as mayor. He has failed to crack down on the number of police officers using placards to break traffic laws.
The MTA – with New York City Transit President Andy Byford fighting for transit much more aggressively than the somnolent Chairman Joe Lhota – has taken more of an interest in buses lately, rolling out a "Bus Action Plan" that will redesign half-century-old bus routes and enable passengers to board from both the front and the back on more buses, a simple but highly effective change that will cut down on boarding time.
De Blasio's Department of Transportation could drive change much faster by aggressively expanding Select Bus Service, a program begun under Bloomberg that created express bus service across the city with dedicated bus lanes. DOT should also roll out traffic signal priority on a wide scale – technology that times traffic signals to turn green when buses approach. As of now, TSP is only being implemented on a limited basis.
City Hall could send a message that the roadways will prioritize public transit, not private vehicles, by reclaiming space for buses and making them fast and reliable. Cities like London, Seoul and San Francisco have rapidly expanded dedicated bus lanes and put into place this common-sense technology to facilitate commutes.
Buses are not sexy. Politicians do not relish ribbon-cuttings for new bus lines or champion advanced traffic signals in press releases. There is no high-profile glory for SBS, like there was for Cuomo's Second Avenue Subway, which cost billions of dollars to expand service to parts of the tony Upper East Side.
But de Blasio is supposed to be care more about helping the less advantaged. De Blasio should make a faster, more efficient bus system part of his legacy, before it's too late.