New York City
Repeal and replace the NYC Board of Elections
To fix New York City's election mess, Albany needs to create a nonpartisan body.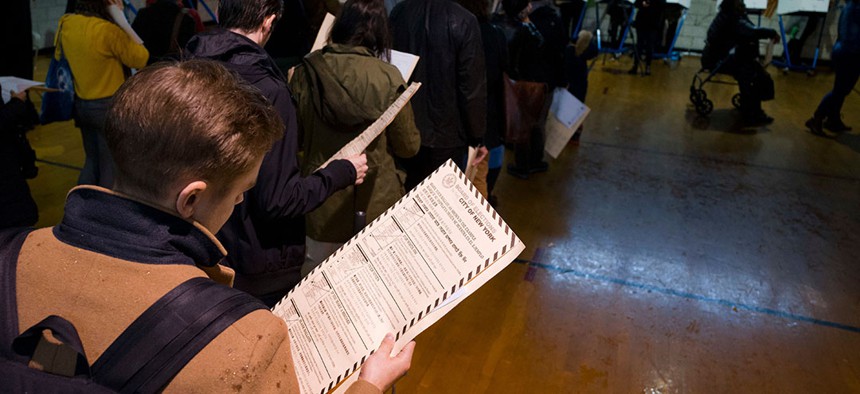 New York City's election administration was a typically embarrassing and disheartening spectacle on Tuesday. Long lines greeted voters across the city as ballot scanners failed and overwhelmed poll workers struggled to handle growing crowds. At times, it wasn't clear if the throngs at polling places could be attributed to interest in the election or just the absence of functioning machines and the incompetence of poll workers. Unable to endure the wait and afraid to arrive late at work, some potential voters left, having been effectively disenfranchised.
Politicians responded, speaking up for their constituents. City Council Speaker Corey Johnson called for New York City Board of Elections Executive Director Michael Ryan to resign. Brooklyn Borough President Eric Adams held a hastily scheduled press conference to call for a series of reforms, including an immediate investigation from the state and city into voting problems, better-trained poll workers and different technology.
New York City's chronically mismanaged elections long predate Tuesday's midterm. In the September primaries, longtime voters showed up to find their names were no longer on the voting rolls. In just the most egregious example from the previous election, 200,000 voters were illegally purged from the rolls in 2016.
Firing Ryan and adopting Adams' reforms might provide temporary relief. But the larger question is not just replacing the scanners or the dangerously technophobic system of sending voter lists to polling places – it's replacing the failed system of election management that created these problems in the first place. Real structural changes, however, won't come until the New York City Board of Elections is demolished and rebuilt anew as a nonpartisan entity.
Relatively few New Yorkers understand that the Board of Elections' failure to administer elections properly is a function of its design; party loyalty has long been prized over competence. The mayor and City Council have relatively little say over how New York City's board operates. It's an arm of the state Board of Elections, and therefore governed by state law.
The administration of the city Board of Elections is the worst in the state, in part because it is entirely political. It is the last bastion of political patronage in city government, a remnant of the machine era.
Ten commissioners – one Republican, one Democrat per borough – govern the board. The 10 commissioners get together to appoint an executive director, who is now the aforementioned Michael Ryan. Ryan, a Staten Island Democrat who has run for office before, was appointed in 2013. The City Council makes appointments with recommendations from local political parties.
Staffers at the Board of Elections do not pass a civil service test or face the vetting of a typical city employee. They are chiefly tied to the local Democratic or Republican party, and poll workers are recommended for jobs by party officials or elected officials. There is virtually no way to land a job at the Board of Elections without a political connection of some kind. Office staffers are hired through commissioner recommendations and connection to county political machines.
No city agency is perfect. Corruption, at various times, has infested various agencies like the NYPD and Department of Buildings. But in no other area of our local government are critical functions – in this case, safeguarding democracy – so blatantly political and so removed from the normal civil service and city administration framework.
To change this, the state Legislature should pursue the recommendations made by the good-government group Citizens Union nearly a decade ago and depoliticize the Board of Elections by creating a new governing body to administer our elections. In New York City, the mayor would appoint a chief local election officer to work with a board. There would be no Democratic and Republican commissioner system. The new entity would function like any modern city agency – imperfectly, but no longer catastrophically. Most importantly, under a system like this one, the hiring of staffers would follow typical civil service protocols.
Employment would be open to the public on standardized, merit-based practices. Hiring would not occur based on partisan commissioner recommendations and political connections. Job postings would be widely available.
Such a sweeping change would only be possible if Gov. Andrew Cuomo and the state Legislature prioritize a full revamp of the Board of Elections in the next legislative session. Cuomo, who shrugged off dismal city turnout a year ago, has never been particularly interested in voting reforms. A full-scale revamp could be the type of third-term accomplishment he takes a sudden interest in – or something he ignores altogether.
There are models New York could follow. Before Wisconsin Republicans killed it, the nonpartisan Government Accountability Board administered elections without direct political interference. Held up as an example nationwide, Republicans in the legislature targeted the body for investigating their governor, Scott Walker.
It's incumbent on city and state elected officials to apply pressure in the meantime. It's not enough to call for the resignation of one person administering a broken system. If Ryan is merely replaced with another political hack, patronage will still supersede competence.
New York City can't afford to be an electoral backwater anymore. Our local democracy is a laughingstock. Cuomo should care for the sake of this city – or at least the legacy he is obsessed with burnishing.
Powered By
NEXT STORY: Bloomberg killed New York City's soul