MTA
Joe Lhota's unfinished business
What the next MTA chair will need to do.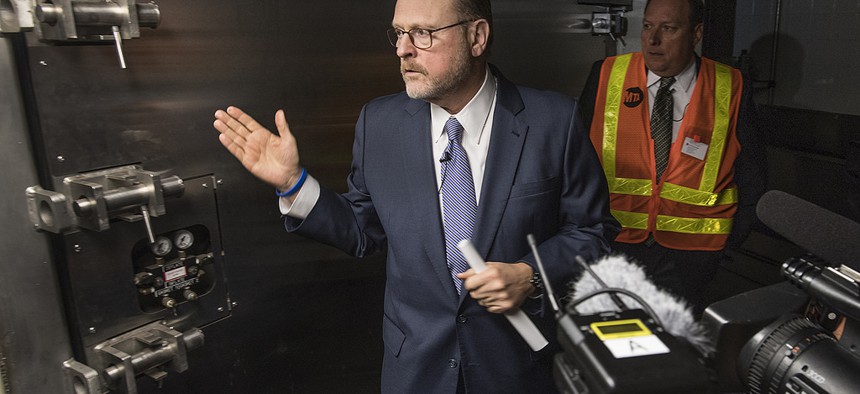 Joe Lhota's abortive return to the leadership of the Metropolitan Transportation Authority lasted barely a year and a half. When he was appointed by Gov. Andrew Cuomo, Lhota – who previously had served as MTA chairman in 2012 and as New York City's finance commissioner and office of management and budget director during Rudy Giuliani's administration – was touted as someone who would bring managerial experience and fiscal rectitude to the sprawling, wasteful and troubled agency. "It ain't going to be easy," Lhota said at the time.
He was right. While he presided over some changes, like the hiring of the experienced international transit operator Andy Byford to administer the New York City Transit Authority, he leaves the agency in turmoil similar to when he arrived. The subway's lack of on-time reliability remains at crisis levels, the agency's byzantine management structure is unchanged, and the MTA still has the highest costs for capital projects in the world.
Once again, the MTA is going to be under new leadership. The four key tasks that the next chairman or chairwoman will need to accomplish are clear. First, they need to secure the support of Cuomo and the state leadership for an overhaul of the subway's basic systems, like signals and electrical power supply. Second, they need to get construction costs under control so that they can address the system's shortcomings. Third, they need to make the agency's structure work for riders instead of perpetuating the institutional arrangements of a bygone age. Finally, they need to work on fixing the buses, a vital but long-ignored component of New York City's transit picture - and one that doesn't require billions of dollars to improve.
Lhota's hiring of Byford, who previously presided over modernization programs and campaigns to improve customer relations in London and Toronto, is a start. The MTA needed new blood and a fresh perspective. But it isn't enough. Byford announced a laundry list of essential items that are required to modernize the subway's antediluvian systems, many of which date to the subway's original construction before World War II. In particular, the MTA seeks to replace its antique signalling systems with communications-based train control, which allows controllers to know exactly where trains are at all times, so that more trains can be squeezed safely into the system. Unfortunately, the state government hasn't come up with the money to pay for those overdue upgrades. The new leader must be able to persuade the governor and the Legislature that the subways are the arteries of the city's economy, and right now the city is at risk of a stroke. This lobbyist role is their most important function. They need to make sure that everyone knows this is a crisis, and that the MTA knows how to fix it if it gets the money. Cuomo wants to leave a legacy of repaired infrastructure. While new signalling systems and repaired tunnels may not have the glamour of soaring bridges and gleaming airport terminals, a reliable transit system in the nation's biggest city is certainly a grand legacy.
Part of the problem when MTA heads go cap-in-hand to Albany is the agency's dismal record with previous capital projects. Without change, the MTA lacks credibility when it makes budget requests. The LIRR's East Side Access project was originally planned to cost $4.3 billion and to be complete in 2009. The current estimate is that it won't open until 2022 and it will cost $11.2 billion. The Second Avenue Subway's construction costs were easily the highest in the world. For example, Paris' new Line 16 Metro project will cost about $104 million per mile, while New York's Second Avenue Subway cost about $2.25 billion per mile. The costs for signalling improvements are also seemingly well above the prices paid for similar projects in other cities. This makes the skepticism that meets MTA requests in Albany unsurprising, even for basic and essential repairs.
While New York is struggling to maintain what it has, most similar cities are radically expanding their transit infrastructure. London's Thameslink and Crossrail projects are knitting hundreds of miles of commuter railways into express subways under Central London. Paris is building dozens of miles of new Metro lines through its suburbs. This isn't to mention Chinese cities like Beijing and Shanghai, which have been expanding their subways at a pace of a new line per year. Over the last two decades, New York has only been able to manage a few miles and four stops of new subway, while subway riders – especially in Queens and on the East Side of Manhattan – deal with severe overcrowding and vast swaths of the outer boroughs remain completely unserved by the subway. Until the MTA brings its construction costs down to normal levels, building the second phase of the Second Avenue Subway will be a distant prospect, let alone the major expansions like those in other cities. Yet we've heard virtually nothing about this problem from the MTA leadership. That has to change.
While fixing the subways will take years and cost billions, there are other ways to improve transit in the city that are comparatively low-hanging fruit. The first is to take advantage of the huge but underused infrastructure that's available in the Long Island Rail Road and Metro-North networks. Right now, their trains often run far less frequently than the subway, and their fares and poor connections to other transit make them useless for most transit riders in the parts of the city through which they pass.
There have been many proposals, including from the Regional Plan Association, to take advantage of this untapped resource. With East Side Access and, hopefully, more efficient operation of Grand Central Terminal and Penn Station, the commuter lines could run more trains and accommodate far more passengers from within the city. If fares were integrated with local transit, using these routes could add dozens of miles to the city's transit network paralleling some of the most congested parts of the subway, without the multibillion-dollar cost of new tunnels. Lower fares would attract more riders, which could mean higher total revenues even at a lower fare.
Integrating LIRR and Metro-North fares with the subway and bus system would necessitate other changes such as a unified fare card, and shifting fare collection to stations from a much-increased number of trains by replacing the conductor punching holes in tickets like it's 1875 with either turnstiles or a proof of payment system similar to those used in Europe. The trains need to become more like the subway, and it would obviously be impractical to check everyone's ticket on the subway. Making this happen requires a leader who is willing to take on the entrenched bureaucracies within the agency that may fight for the status quo.
Finally, while the subways get most of the airtime, the MTA needs a leader who pays attention to buses. Many of the city's bus routes are unchanged since the streetcar era. Since the city grew up around the routes, some of them still make sense, but a lot of routes are circuitous or don't conveniently serve modern origin-destination pairs. As a result, bus ridership has been steadily declining across the city – more than 7 percent in 2017 alone. Riders have been telling the MTA with their choices that the current service no longer meets their needs, but the MTA hasn't been listening. NYU researchers Eric Goldwyn and Alon Levy have produced an excellent plan that would dramatically improve the Brooklyn bus network by redesigning routes to make them more direct and to facilitate transfers, and by providing separate lanes for buses on congested streets. The MTA needs to sit down with riders, operators and researchers to develop comprehensive new plans for the bus networks in all the boroughs so that they meet 21st rather than 19th century needs.
When looking for a new MTA chair, the governor needs to prioritize two things: experience delivering projects at reasonable costs, so that they can have the credibility to go to Albany and ask for the money that's needed to fix the system, and a willingness to take on entrenched practices to modernize operations. New York's transit was state-of-the-art 100 years ago, but cities around the world have surpassed it. There are countless systems in Europe and Asia that have consistently delivered capital projects for vastly less than they cost in New York. The MTA needs to find an effective leader that has worked in one of these systems and who is capable of bringing that expertise here.