Ethics
Will New York close the double jeopardy loophole before it's too late?
Recent developments in the cases against Paul Manafort and Roger Stone show the urgency to close New York's double jeopardy loophole.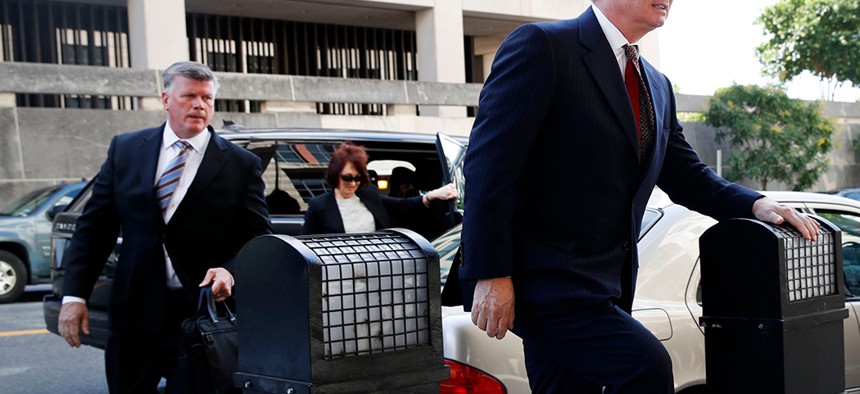 For anyone familiar with New York's staggeringly consequential "double jeopardy loophole," the news of Donald Trump's advisor Roger Stone's federal indictment for lying to Congress and obstructing an investigationwas more than yet another indication that the president may not have surrounded himself with the best people: it was also a painful reminder that New York law still leaves the state without recourse to prosecute a defendant based on the same act or criminal transaction as a prior federal prosecution, even if the president abuses his broad pardon power to protect his associates, family members or even himself. Last week's news that Manhattan District Attorney Cyrus Vance is preparing to charge former Trump campaign chief Paul Manafort with crimes that pale in significance to those brought against him by special counsel Robert Mueller further reinforced how the failure of the New York Legislature to close the double jeopardy loophole has made it exceedingly difficult and in some cases impossible for New York prosecutors to ensure that defendants pardoned by the president face consequences for their crimes.
A federal jury convicted Manafort last August of tax fraud and bank fraud, and he later pleaded guilty to conspiracy against the United States and conspiracy to obstruct justice. Any charges brought by New York would need to be based on acts distinct from the federal crimes charged by Mueller because of New York's double jeopardy law, which severely limits and complicates Vance's options. While the full extent of the criminal charges the DA is considering is unclear, evasion of New York taxes and failure to keep accurate books and records in accordance with applicable New York statutes appear to be among them. Ironically, while Mueller's prosecutors have recommended a sentence as long as 24 years, essentially life in prison, if Trump pardons Manafort and he is convicted on New York charges, he could face the even less desirable outcome of serving time in New York's notoriously grim and dangerous prisons.
Last August, New York's then-Attorney General Barbara Underwood, now state solicitor general, sounded the alarm, attempting to shake New Yorkers – and the New York state Legislature – out of the false security induced by cable news legal experts who repeatedly assure viewers that a defendant pardoned for a federal crime can still be prosecuted under state law. It is true that the United States Supreme Court has repeatedly held that the double jeopardy clause of the U.S. Constitution does not bar a state from bringing a subsequent prosecution for the same crimes charged by federal prosecutors or another state under the dual sovereignty doctrine. However, an unintended consequence of the phrasing of New York's criminal law means that an individual cannot be prosecuted for crimes under New York state law once jeopardy has attached in a federal action "based upon the same act or criminal transaction." Even though the New York state Assembly and Senate have passed 12 exceptions to New York's broad double jeopardy law, they have yet to add an exception for when the defendant receives a pardon from the President.
President Trump has publicly dangled the possibility of a presidential pardon and incentivized defendants not to cooperate with Mueller and the United States attorneys pursuing related cases. After it was revealed that Manafort briefed Trump's lawyers about his testimony in the Russia investigation, Trump said in an interview with the New York Post "Why would I take [a pardon] off the table?" One can assume Trump's comments were not lost on Roger Stone: the very day Stone was arrested and charged with obstruction of a government proceeding, witness tampering and five counts of knowingly making false statements to Congress, Stone proudly declared, "I will not testify against the president because I would have to bear false witness," an assertion of fealty he repeated in various forms in the days thereafter, leading to speculation that he was auditioning for a pardon. While the cockiness of Stone's demeanor may be explained in part by his unique personality, it may also stem from his confidence that he will escape punishment through a pardon as long as he doesn't testify against President Trump.
New York legislators are well aware of the serious consequences of the pardon loophole, and many have publicly supported legislation to amend it. Last year a bill to close the loophole was introduced in both chambers (Assembly Bill A10422 and Senate Bill S8236), sponsored by Assemblyman Joe Lentol and state Sen. Todd Kaminsky. Gov. Andrew Cuomo indicated that he would sign it, but the bill died in committee in both the Assembly and the Senate.
With a solid Democratic majority voted into the state Senate in November and the Democrats now in control of all three governing bodies in Albany, the moment to act on the bill would appear to have arrived. Newly elected Attorney General Letitia James first announced her desire to close the loophole from the campaign trail, and the bill remains a top priority for AG James. But while Sen. Kaminsky pre-filed the bill (S85) so that it could be reintroduced in the Senate on January 9, 2019, the very first day of the new session, and the bill currently has 23 Democratic co-sponsors, corresponding legislation has yet to be reintroduced in the Assembly. The attorney general, Assembly Speaker Carl Heastie and Senator Kaminsky continue to work on language acceptable to the Assembly that would narrow the scope of the bill so it wouldn't permit subsequent prosecutions for low-level crimes.
While it is important for the bill to be airtight, the indictment of Roger Stone was a reminder that the clock is ticking. It is already too late for New York to try Paul Manafort for crimes based on the same actions uncovered by Mueller that he was charged with in the Eastern District of Virginia and the District of Columbia since jeopardy already attached in those cases. Under New York law, jeopardy attaches when a defendant pleads guilty, or, if the defendant proceeds to jury trial, the moment a jury is sworn. Even the charges that Vance is reportedly preparing based on different criminal acts are likely to be challenged by Manafort's attorneys on double jeopardy grounds.
Because New York is the financial center of the country and home to the Trump Organization and many of Trump's family members and associates, it is vital that New York be able to bring to justice those who have violated New York law. Regardless of whether Trump ultimately declines to pardon Roger Stone and Paul Manafort, few doubt that Trump would use his broad federal pardon power to protect his family members -- and potentially even himself. The time to close the loophole is now, before more indictments fall.
Powered By
NEXT STORY: The Michael Cohen I know