New York State
Fusion voting supporters should study its history
The history of fusion voting in New York is flawed, biased toward conservatives, and has stymied more good government than supported it, according to Tom Watson.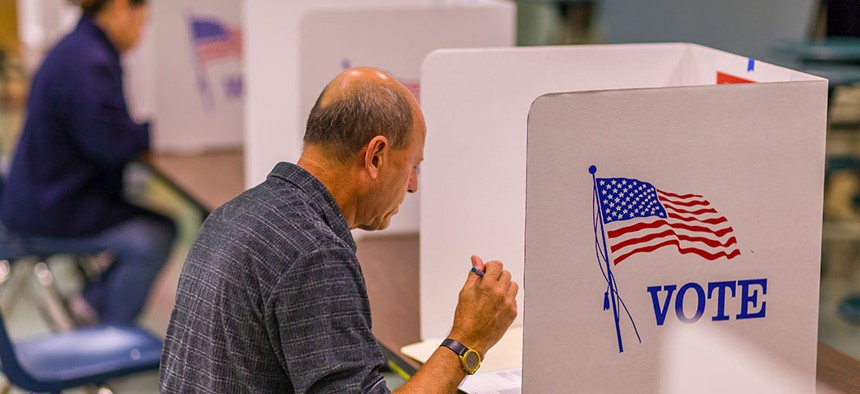 The year is 1989, and I'm seated in the capacious Third Avenue law office of Raymond B. Harding, the leader of the New York state Liberal Party. Harding is chain-smoking and vigorously trying to convince me of his party's progressive labor credentials, in the context of his choice in that year's heated mayoral election. Harding knows that my readership in the northwest Bronx – where I'm the deputy editor and political beat writer for The Riverdale Press – mostly leans left, so he's arguing that his minor party line on the state election ballot is where to find a "truly liberal" endorsement.
The story I was there to report was headlined: "Will Ray Harding make NY's mayor?" Four years later, he did: The mayor he made was Rudy Giuliani.
Harding's power stemmed from fusion voting, which allows minor parties in New York to cross endorse candidates on their ballot line. The practice can be used by parties on the political fringe to influence the major party, as the Working Families Party tries to act as a progressive check on the Democrats – much to the irritation of Gov. Andrew Cuomo, with whom the WFP has feuded.
But ballot line bosses like Harding have used it for other, less high-minded purposes. Harding's argument that Giuliani was the heir to the labor-based parties that provided an alternative to Tammany Hall in the New Deal era was absurd. It falsely painted Giuliani as a "liberal" successor to progressive Republicans like Fiorello LaGuardia even as the former prosecutor (and future Trump lawyer) pushed the city's politics decidedly to the right. Years of aggressive policing, censorship battles, cuts to homeless services and deeply frayed race relations were the direct result.
Last week, the New York state Democratic Committee recommended ending fusion voting as part of the package of election reforms winding their way through the state Legislature. In a moment of decided irony, progressive activists and elected officials are urging the party to preserve the state's corrupted fusion voting system, even as they work for election reforms on the table in Albany. Last month, in collaboration with the WFP, Senators Chuck Schumer and Kirsten Gillibrand and 17 other Democratic members of the state's congressional delegation signed a letter arguing that cross-endorsements "expand democracy" and help Democrats. And leaders of 19 liberal organizations, including Indivisible and MoveOn, sent a letter maintaining that the WFP is "a vital piece of progressive organizational infrastructure in New York and the nation."
I share the progressive coalition's policy goals and cheered its success in defeating the break-away bosses of the now-defunct Independent Democratic Conference in the state Senate. But I also think the history of fusion voting in this state is deeply flawed, is biased toward conservatives, and has more often worked to stymie good government than to support it.
During that interview in his office 30 years ago, Harding was exultant about the fusion vote – without saying it in explicitly racial terms, he laid out nonetheless how putting the Republican Giuliani on the line of the Liberal Party (which was founded in 1944 by union leaders)would "give permission" for white liberal Democrats to vote for Giuliani against David Dinkins. He was right. His blessing instantly solidified Giuliani as a viable candidate. "Our endorsement boosts any candidacy," said Harding. "It guarantees a presence in November." Giuliani won his second race against Dinkins.
Harding couldn't resist showing off his power to a reporter. With a finger to his lips to shush me, he put in a call on speakerphone to a major Democratic elected official and asked for a favor. He got it immediately.
Harding didn't always choose wisely, however. In 1998, he backed a conservative, Republican Lt. Gov. Betsy McCaughey Ross, for governor and she was shellacked. Four years later, the Liberal Party lost its automatic ballot line in 2002 when its gubernatorial candidate dropped out early and the party failed to get 50,000 votes in the race. That candidate was Andrew Cuomo.
Harding died in 2012, three years after pleading guilty to accepting more than $800,000 in exchange for doing favors for Alan Hevesi, the former state comptroller, after an investigation by the office of (you guessed it) then-Attorney General Andrew Cuomo, who said: "We see New York's state pension fund looted to reward a political boss."
Harding was right that, in his heyday, a Liberal Party endorsementguaranteed a presence in November. What it didn't guarantee was better democracy and a stronger system of government for New Yorkers. It didn't even necessarily help the most liberal major candidate win.
Now fusion voting is front and center in the endless New York political battle between our elbow-throwing three-term Democratic governor – who many progressives believe is behind the Democrats' recent measure against fusion voting – and the left wing of his party.
Ironically, given the contrary view held by progressive activists who often have butted heads with Cuomo, the Progressive Caucus of the state Democratic Committee has called for the end of fusion voting. It complains that "minor parties such as the Independence Party overtly manipulate fusion voting to enact their transactional pay-to-play politics" and points out that local chapters of statewide minor parties often go against the politics of the "parent" party. The caucus cited the 2017 election for Rockland County executive, in which Republican Ed Day tried to claim the support of the "Rockland County Working Families Party" over the formal endorsement of the actual WFP, which led to a confusing squabble over flyers (and did nothing to stop a GOP win). It also derides the Women's Equality Party, created by Cuomo himself, ostensibly to promote female candidates; but that minor party passed over women's rights' champion Liuba Grechen Shirley in favor of a more conservative male candidate in her primary to oppose right-wing congressman Peter King last year.
The Progressive Caucus also points to the political machinations necessary to remove a candidate from the third party ballot when a gambit to win a Democratic primary falls short. That objection brings to mind the political game of Twister necessary this past fall, after Cuomo easily defeated progressive challenger Cynthia Nixon in the Democratic primary. The Nixon Two-Step involved moving Nixon over to the WFP line in the contest for Manhattan's 66th state Assembly seat, held by a longtime progressive Democrat, Deborah Glick, who was not pleased with a backroom decision that she had no say in, even though Nixon didn't campaign. Then, the WFP – which had wagered all in its quixotic support for the television actor – had to go, hat in hand, to its arch-enemy and beg him to take their ballot line.
Why? Because keeping a third party line for the next four years requires 50,000 votes in the gubernatorial election. And the WFP is understandably loathe to be seen as taking votes away from Democrats in general elections and thus empowering Republicans; its main value proposition is using its line to promote progressive policy and force wavering Democrats to support more leftward positions. Since fusion voting enables that approach, at least in theory, progressive activists worry that giving up fusion voting will lead lefty voters to instead back the Green Party candidate and cost Democrats elections, as Greens have nationally and as the Liberal Party did in New York's U.S. Senate election in 1980 when it backed liberal Republican Sen. Jacob Javits, who had lost his party's primary. (Conservative Republican Al D'Amato won the general election, in a result widely attributed to Javits pulling votes from Democrat Elizabeth Holtzman.)
But, in practice, does fusion voting work the way they think it does? Another episode from last fall's "blue wave" season shows the pitfalls pretty clearly. After losing his June primary to upstart Alexandria Ocasio-Cortez, incumbent Democratic then-Rep. Joe Crowley baulked at executing his own version of the Nixon Two-Step, declining to either change his registration or address to get off the WFP line, even as Joe Lieberman (the conservative former Democratic senator from Connecticut generally hated by progressives) urged him in The Wall Street Journal to use the line to fight it out with Ocasio-Cortez in November. Lieberman's advice was particularly enervating to liberals because that's exactly how he retained his Senate seat after progressive challenger Ned Lamont defeated him in the 2006 Democratic primary. Lieberman went out and ran as the standard-bearer of the Connecticut for Lieberman Party, and won. Meanwhile, the irony of the progressive WFP failing to endorse rising left-side superstar Ocasio-Cortez – and then asking Crowley to vacate its line – could hardly be thicker.
Then there's the right side of the equation, where minor parties can also use fusion voting to pull a party away from the center. Home base of conservative movement godfather William F. Buckley, Jr. and long dedicated to dragging moderate New York Republicans firmly to the right, the Conservative Party is a fusion success story par excellence. In 1970, it elected Buckley's younger brother Jim to the Senate when two more liberal candidates, Democratic Rep. Richard Ottinger and incumbent Republican Sen. Charles Goodell, split the vote. New York's Republicans learned their lesson, setting out on a right-wing path they've never wavered from, as they've nominated candidates who could win the Conservative nod. No wonder that Conservative stalwart George Marlin, writing in the New York Post on the 50th anniversary of its founding, called the Conservative Party "the nation's most successful third party."
If progressive policies are your goal, then considering the impact of fusion voting should include a clear-eyed look at the numbers in New York. There are 485,000 registered members of the Independence Party, which thrice endorsed businessman Tom Golisano, one of its founders, for governor. Over the years, it has backed a bizarre ideological range of candidates: Pat Buchanan, Natural Law Party candidate John Hagelin, and Ralph Nader. Famous for its internal squabbles, the party's line has nonetheless remained valuable – billionaire Michael Bloomberg essentially took it over for his 2001 run for mayor. And guess what? The votes he received on his fusion lines exceeded the margin of his win over Democrat Mark Green. By contrast, there are 157,000 registered members of the Conservative Party in the state – and just 46,000 registered WFP members.
In arguing for the retention of fusion voting at the behest of the WFP, progressives from Bernie Sanders to Elizabeth Warren have extolled the virtue of more democratic choices. Tweeted Sanders (later deleted): "We should be for more democracy, not less. Don't you agree @NYGovCuomo?" The current battle over the fusion system is clearly rooted in the politics of the moment, the epic political struggle that defines left-wing Democratic politics under Cuomo. But given the history, those calls to preserve fusion voting may be short-sighted.
Just ask Ray Harding. Or Michael Long.