NYC small businesses want congestion pricing
New York City's congestion and transit crisis are hurting small businesses. And they want action.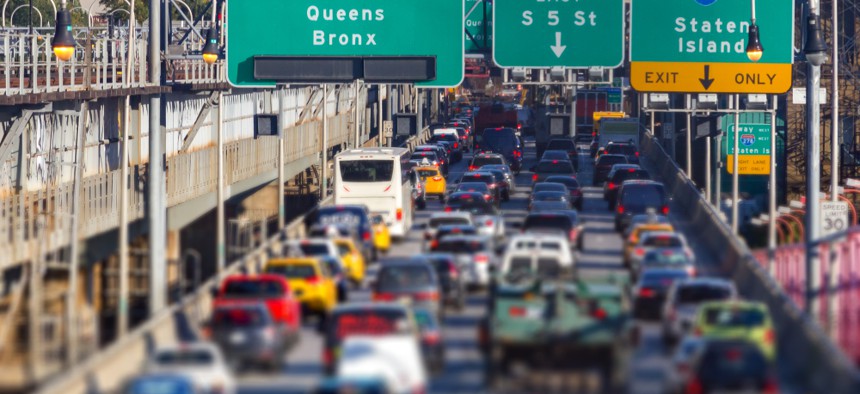 Every day businesses lose money and customers because the subway isn't reliable, buses are slow or delivery trucks get stuck in traffic. That's why small business owners are some of the biggest supporters of congestion pricing.
Kate Davies operates two yoga studios in Brooklyn. "We often have people who enroll in membership and they live a subway ride away," she said. "They'll be really excited about the studio and love our classes, and then within a few months they'll have to cancel their membership because they can't get here as reliably as they'd like."
Difficult commutes can affect customers' decisions on where they exercise, shop and eat. During commuting hours, there were subway delays nearly every morning – 92 percent – in 2018. And the average bus speed throughout the city is a measly 7 mph.
Shunan Teng runs Tea Drunk, a specialty Chinese tea house in the East Village. "We've heard complaints from our regulars, who come in and tell us how painful their journey to Tea Drunk that day was. If that starts to play into people's decisions, then maybe this person wouldn't come," she said.
Small businesses are the backbone of the city's economy. Of the more than 200,000 businesses located in New York City, a whopping 98 percent have fewer than 100 employees.
Unreliable transit and the slow movement of people and goods present a constant headache for small business owners. Traffic often results in fewer deliveries and service calls, more overtime pay and less productivity. The Partnership for New York City estimates that congestion and traffic costs the New York metro area $20 billion every year.
"We constantly experience multiple employees informing us they'll be late because of a transit delay," said Dominic Stiller, owner of the Long Island City restaurant Dutch Kills Centraal. "It's just non-stop. It's daily."
That's why small business owners want some relief, and they see congestion pricing as the way to deliver it. A comprehensive congestion pricing plan, like the one Gov. Cuomo has proposed, would charge vehicles once per day for entering the busiest part of Manhattan. Experts say it would raise over $1 billion per year, with the funds going toward updating and modernizing the city's public transit system.
Natasha Saunders, a small business owner in Queens, recognizes the steep cost of fixing transit. "Congestion pricing is going to put so much money into the basket for that," Saunders said. "It's not the complete answer. We know that we need upward of billions of dollars, but [congestion pricing] can get us much further."
Other cities around the world have implemented congestion pricing with success. Singapore and London, for example, experienced 20-30 percent improvement in traffic speeds and 20-25 percent reduction in traffic volume in the congested zones.
At the Queensboro restaurant in Jackson Heights, most of the employees and customers come by bus. Owner Dudley Stewart sees congestion pricing as a key piece of solving the transit puzzle. "I think congestion pricing is definitely one of the things we need to try. It's been done in other cities. It's going to make buses run a lot better."
Stiller adds, "In other cities it's shown that the city moves quicker, the delivery of goods moves quicker."
New York City Mayor de Blasio recently joined with Gov. Cuomo to release a plan to fix the city's transit, including an endorsement of congestion pricing. The state legislature has until April 1 to approve the budget and determine congestion pricing's fate.
Experts estimate that, with a robust congestion pricing plan like the one on the table, drivers will see an immediate 15 percent improvement in traffic speeds in the Central Business District.
Teng notes that a better flow of traffic is better for her bottom line. "Smooth, reliable, steady traffic of customers coming in – that's always good for business."
You can watch more small business owners explain why they support congestion pricing at www.fixourtransit.org/videos.