Amazon
How small-cell and wireless technology can propel NYC despite HQ2 loss
By providing wireless and broadband connectivity to all New York City communities New York will be better equipped to serve its growing tech community.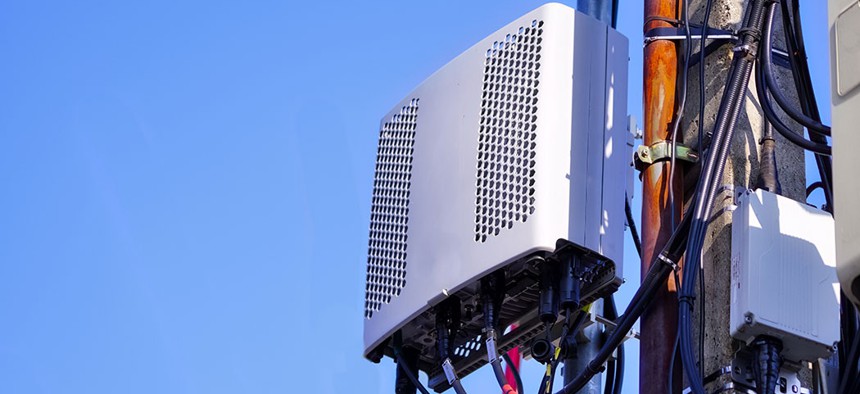 The cancellation of Amazon HQ2 in Long Island City is a huge loss for New York City's status as a leading technology hub, but it also represents a more fundamental issue – the lack of a pragmatic approach to economic development. State and city elected officials who vehemently opposed HQ2 claimed that it would be detrimental to lower-income residents and communities of color, but they overlooked the benefits of one of Amazon's requirements of the selection process: wireless and broadband connectivity.
Improved wireless coverage means that there is more network capacity for more smart devices, and technology that is now critical in homes and businesses throughout the five boroughs. This would definitely have been improved in western Queens, and would probably have also been brought to other boroughs. In communities of color, immigrant communities and low-income households, residents connect to the internet through smart devices through a higher rate than other populations. Therefore, improved wireless coverage would have helped to reduce economic and racial disparities in digital connectivity by improving access in underserved communities. People increasingly rely on their smartphones to find and apply for jobs, complete homework or even access transportation and health care resources.
An Amazon headquarters in Queens presented New York City with a unique opportunity to compete with Silicon Valley as the country's best hub for innovation. But New York can remain competitive if it continues to invest in emerging broadband technologies that all leading digital companies will require. For example, fast emerging 5G wireless network technology will completely revolutionize how we do everything, from communicating to conducting business to navigating to learning. Compact enough to be installed on existing street lights or utility poles, the small cell technology of 5G, supported by fiber optics, allows for unprecedented capacity and speed to transmit data to and from our mobile devices.
To guarantee that the benefits of 5G are widely distributed to all communities, New York City's elected leaders must prioritize deploying this technology. For the city to maintain its status as a leader in the 21st-century global economy, investing in 5G networks and streamlining the regulatory process around small cells, the backbone for 5G networks, will provide the foundational connectivity that is necessary for New York's fast-growing tech industry ecosystem to continue to flourish.
Keeping New York City moving forward with technological advances, like 5G networks, will need state and city elected officials to activate on the issue because 5G requires underlying support from small cell infrastructure. Small cells are built by wireless carriers and infrastructure companies and apply with New York City's Department of Information Technology and Telecommunications to install small cells. To build out wireless infrastructure specifically in New York City, DoITT needs to open more reservation periods. New York state can adopt legislation that streamlines the permitting and approval process for small cells and wireless infrastructure, as 22 other states have.
Historically important industries such as the banking, health care, education and media sectors are in the midst of a major transformation into digital enterprises. Many of them now think of themselves from a digital perspective first, whereas in the past the use of digital technology was mostly an afterthought. Now they are not only competing with tech companies for talent, but they are also upgrading all of their technological systems so as not to fall behind again. Their investments also require access to the most cutting-edge network technologies. For them, 5G networks will be vital arteries for the growth of service delivery and distribution.
Emerging smart city technologies, like connected traffic sensors, streetlights, and utility and water monitoring systems, will benefit the local economy, help create energy sustainability and underpin the future of mobility. The innovations offered by smart city technologies will require the kind of speed and capacity that 5G offer. Underlying smart city technology is the concept known as the "internet of things," which offers unprecedented opportunity to rewire how every physical object relates to every other physical object in real time. Imagine a city where there is no more traffic congestion, where smart street lighting can alternately increase safety and also dramatically reduce energy costs because they would only operate when people are present. Think of streetlights in an empty municipal parking or industrial area that would only operate when the systems sense a car approaching. Or even where garbage is only picked up where it accumulates. Smart city technology is already being deployed globally in cities competitive with New York – like Singapore, where the government uses sensors to monitor and control public housing lighting systems and waste disposal. New York must not be left behind. To that end, New York City's leaders could also ensure that the vast amount of data that is collected by smart city technologies like autonomous vehicles is done with the utmost care and consideration for the privacy of people's personal information.
New York City's tech sector attracts top talent from all over the world, and it reflects the diverse cultures of the city. The tech industry thrives when employees retain adequate digital and new tech training. By having the best new broadband technologies readily available, students and up-skilling professionals will learn state of the art skills on state-of-the-art networks. By supporting tech training with sound infrastructure, our future workforce will no longer have to play catch up with other cities and economies. New broadband infrastructure will also incentivize others around the world to choose New York as the best place to find a cutting-edge job or to start a new business. This, in turn, will keep our economy strong and our society stronger by keeping New York as the most diverse city on Earth.
New York City has the opportunity to be at the forefront of the global tech market. The infrastructure behind 5G is small cell networks. We need our city's leadership including the Mayor's Office, the New York City Council, borough presidents, and specifically the Department of Information Technology and Telecommunications to prioritize increasing our small cell network deployments on a larger scale. New York state leaders representing New York City also need to go to Albany with a focus on a standardized application and review protocol throughout the state. This not only ensures the success of New York City but ensures that communities statewide are able to prioritize the transition to 5G. We need to concentrate on next generation-infrastructure to support a 21st-century economy, workforce and society as a whole.
Powered By
NEXT STORY: Henry Stern's quest for the stars