New York City
Henry Stern's quest for the stars
Former New York City Parks Commissioner Henry Stern, who passed away on Thursday, was a brilliant, creative and eccentric public servants writes City & State Publisher Tom Allon.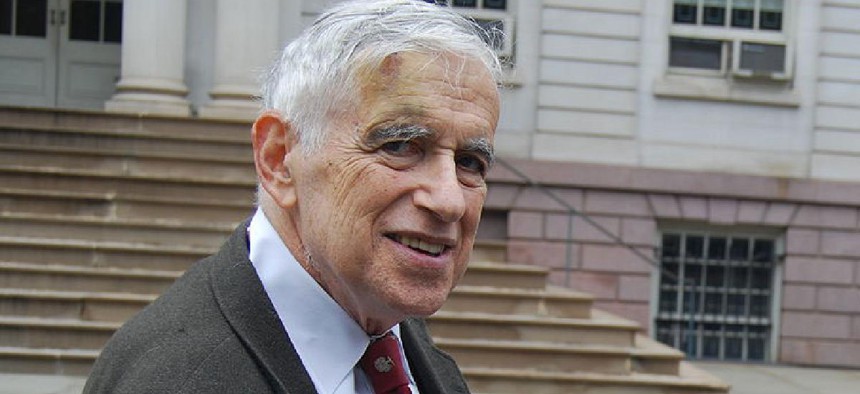 The first time I met Henry Stern, the erstwhile New York City parks commissioner, he treated me like he treated every New Yorker he met in his long life. "What's your name and where'd you go to high school?" he asked in his charming and impish way. Other personal questions followed in rapid succession.
After processing my fusillade of answers, he closed his eyes, conveying deep thought. "Your new park nickname is 'Stuyguy,'" an appellation indicating that I graduated from Stuyvesant, one of New York's finest public high schools. Henry was a proud alum of rival Bronx Science. Every time we ran into each other over the next two decades he would bellow, sometimes across a crowded room: "Hey Stuyguy!"
Every person Henry met as he roamed New York's many parks with his trusty dog Boomer would get a parks nickname, or as Henry slyly called them: noms de parc.
There are countless New Yorkers today mourning the passing of "StarQuest," Henry's own nickname.
Henry was one of the most brilliant public servants who ever graced New York City. He graduated from City College at 19 and Harvard Law School at 22, one of the youngest people to ever earn a degree from there.
But there would be no contract litigation or courtroom dramas in Henry's future. He went straight to city government and amassed an unparalleled resume in government: deputy commissioner of consumer affairs under Bess Myerson, councilman at large for Manhattan for eight years, parks commissioner under both Mayors Ed Koch and Rudy Giuliani – a Democrat and a Republican. Under Giuliani, he creatively found money in the private sector to compensate for budget cuts. He held that job for 15 years and left the parks cleaner and safer than the found them.
He was probably Koch's best friend and confidante, becoming Hizzoner's constant movie companion in his post-City Hall days. When I edited Ed Koch's movie reviews in the early 1990s, there was invariably a line like: "My movie companion, HS, was not impressed with the plot."
As the Times once noted, Stern "made public appearances dressed up as everything from a toy soldier to a matador." He also was criticized for allegedly favoring whites in his mentoring and for promotions – an accusation he denied.
I really only got to know Henry in the last decade, when his body began failing but his mind was as sharp as that 22-year-old legal scholar in Cambridge.
He was one of the wise elders of the Liberal Party, a once-powerful political institution, and in 2012 he helped me secure that party's endorsement in my long-shot bid for mayor. He then called me regularly with campaign advice and relished telling me some fun stories from the Koch era.
I am one of a legion of New Yorkers who was touched by Henry's genius and eccentricity. May his quest for the stars lead him to a better place.