New York State
How Heastie and Stewart-Cousins compare to the cartoon 'Wonder Twins'
The Assembly speaker says their legislative relationship is like that of a fictional 1970s-era superhero duo.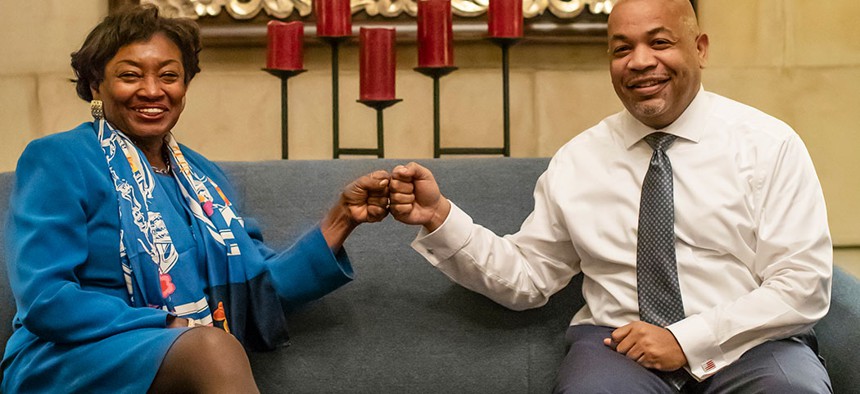 The shorthand for the way Albany operates has long been known as "three men in a room" – the governor, state Senate majority leader and Assembly speaker going behind closed doors each session to hash out what will or won't get done.
The old model is under threat, however, thanks to the arrival of the "Wonder Twins" – state Senate Majority Leader Andrea Stewart-Cousins and Assembly Speaker Carl Heastie, who turned heads this year by joining forces and cutting the governor out of some legislative negotiations.
"We're just so happy to be with somebody that we're like," Heastie told The New York Times in February. "It's like we're the Wonder Twins."
For the uninitiated, the Wonder Twins are the shapeshifting siblings Zan and Jayna who were featured in a 1970s Hanna-Barbera cartoon and a comic book series. To activate their powers, the twin brother and sister bump their fists together and shout, "Wonder Twin powers, activate!" While possessing remarkable powers – Zan turns into water, and Jayna can transform into various animals – they are relatively young and inexperienced, especially compared to their superhero friends like Batman and Superman. And by coincidence, the characters were revived in a comic book reboot this year.
In this week's cover story, City & State takes a closer look at the real-life Wonder Twins, and how they're shaking up state politics.
Powered By
NEXT STORY: Letter: Comptroller's office is holding the MTA accountable