New York City
How Keith Wright can be a lobbyist and Manhattan Democratic chairman
The county party's decentralized power structure makes it possible.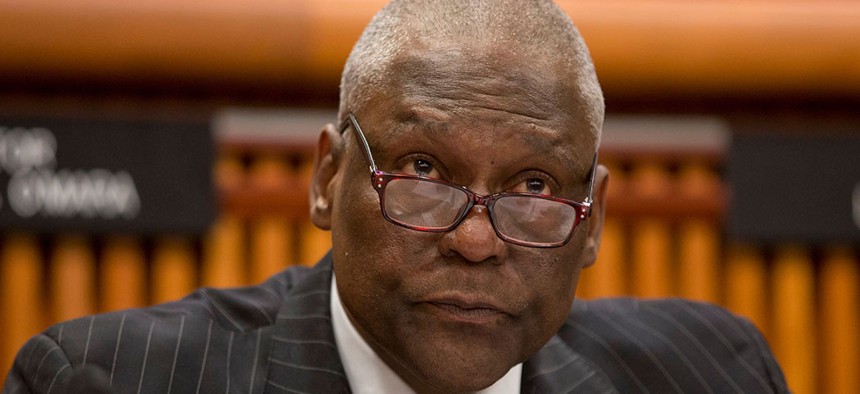 In 2017, Keith Wright, the unpaid chairman of the Manhattan Democratic Party, needed a new job. He had given up his Assembly seat after unsuccessfully running for Congress but soon found a gig as director of strategic planning at Davidoff Hutcher & Citron LLP, one of the most influential lobbying firms in New York.
Shockingly, to good-government groups at least, Wright chose to remain party chairman, a position he has held since 2009. Calls for him to resign were ignored. This month, he handily won reelection to another two-year term. He had no opponents.
In a statement to City & State, Wright argued there is no conflict of interest between his day job and his county party chairmanship: "I am not a registered lobbyist and do not lobby elected officials. … I provide strategic guidance and advice to some of the firm's clients." Wright faced a mandatory two-year ban on registering as a lobbyist after he left elected office. After January, when that expired, he registered as a lobbyist for a number of clients. According to Wright's spokesman, Thomas Butler, that's only because his firm automatically registered all of its government affairs staff, and he deregistered in late summer.
But it's easy to see how conflicts can arise, even if Wright himself is merely an adviser or strategist instead of a direct lobbyist. What if he is paid to advise a client on legislation that has a direct impact on a decision he can make as a county leader, such as the nomination of a judge? What if a political decision he makes as county leader affects a business or trade association that is represented by his firm?
Historically, Manhattan has been a bastion of anti-machine, good-government politics. So how has Wright remained in charge in the borough where the reform movement in New York was born? Why, unlike other controversial political bosses elsewhere, has he not been ousted?
According to his supporters and detractors alike, Wright's survival is actually a product of Manhattan's brand of democracy – as well as a general indifference in the borough to the relatively weak county leader position. Elsewhere, powerful politicians vie to lead their county organizations, but no one has expressed a serious desire to take on Wright directly since he took the reins of the party a decade ago. Some of that is a testament to Wright's personality – he's regarded as an easygoing, hands-off leader – and the rest has more to do with the peculiarities of Manhattan's political structure.
Since the product of past reforms is less power concentrated in the county committee, the county chairmanship is less important to both regulars and reformers. "Part of why he was reelected was nobody went against him," said Paul Newell, a Manhattan Democratic district leader who abstained from the vote to reelect Wright. "It takes some of the sting out of the folks who don't think we should have a lobbyist as a county leader if the county leader isn't dictating things in the same way."
Ben Yee, a Manhattan county committee member who has also been critical of Wright's regime, noted that to oust Wright, someone else would have to want the job. "Nobody else wants to be county leader," Yee said. "The county organization doesn't really impose itself like it does in other boroughs, so there isn't the incentive or feudal interest to challenge the county leader."
Wright, in his statement, referenced the county party's lighter hand than its counterparts in Queens, Brooklyn and the Bronx. "Most people recognize that the Manhattan Democratic Party has a decentralized structure, with members empowered within their districts, and my support comes from the bottom up," he said. Wright added that he is a "consensus-builder."
Manhattan hasn't had a strong, centralized Democratic Party since the fall of Tammany Hall, the old machine, in the 1960s. A reform movement led by a young Democratic district leader named Ed Koch helped defeat Carmine De Sapio, a political boss once so powerful he was courted by presidential candidates.
Since then, the post has become progressively weaker, a function of the limited leverage a county leader in Manhattan enjoys over other elected officials. Before Alexandria Ocasio-Cortez defeated him, then-Rep. Joseph Crowley was the consummate Democratic boss of Queens, whipping City Council members to vote for his preferred speaker candidate and successfully dissuading strong primary challenges for open seats and judicial races. Though the Queens Democratic Party has long been in decline, there are vestiges of power that remain, like the party lawyers who get rich in Surrogate's Court.
There is no equivalent in Manhattan. Power is diffuse and divided among political fiefdoms. There are political clubs and elected officials who hold sway in neighborhoods like Chinatown, the Upper West Side, Greenwich Village, Harlem and Washington Heights, but all lack the ability to move votes countywide. Wright's party can't mobilize a significant number of voters, sway unions or even raise substantial cash to support certain candidates. No disloyal Democrat will get a Wright-backed primary. And few Manhattan Democrats running for City Council in 2021 are aggressively courting Wright.
"People make the mistake of talking about the county leader of Manhattan like it's the Democratic chair of Kings County or Joe Crowley," said Barry Weinberg, the secretary of the Manhattan Democratic Party and the president of the West Harlem Progressive Democratic Club. "Manhattan is divided into so many neighborhood power centers. They don't want somebody who tries to rule with an iron fist."
Weinberg argued Wright has "significant influence in judicial nominations and appointing poll workers, but, other than that, Manhattan is a thoroughly decentralized system."
It's this decentralization, a product of various reforms from decades ago – even judicial nominations in Manhattan go through an extensive screening panel, depriving Wright of picking dubious allies, unless they are in his own backyard – that has allowed most Democrats in the borough, even the progressives, to avoid seriously scrutinizing Wright's conflicts of interest, like his firm lobbying Manhattan Democratic elected officials while he serves as their county leader.
The attitude boils down to something rather simple: Why bother with him if he leaves us alone? For progressives elsewhere, it's an approach that raises eyebrows. In Manhattan, which holds itself in especially high regard, that's just business as usual.
"What some people perceive as the weakness of the county leader is a strength of small 'd' democracy," said Doug Forand, a Democratic consultant who has worked on campaigns in Manhattan and the outer boroughs. "No individual is able to consolidate power to wield it in the way county leaders do in other boroughs."
Wright is not entirely disempowered, though. While Frank Seddio, the Brooklyn boss, drew the most attention for unifying his party behind Brian Kavanagh, his preferred candidate, for a 2017 state Senate special election in a district spanning Brooklyn and Manhattan, it was Wright who had the legal authority to pick a candidate unilaterally because Manhattan occupied a bigger portion of the district, according to Newell, who was Kavanagh's opponent and won the backing of a majority of Manhattan county committee members.
"Keith could've decided on whoever he wanted. Seddio had zero say in the matter," Newell said.
Kavanagh, with Wright's backing, would secure the nomination and end up in the state Senate.