New York City
The Glendale homeless shelter fight is really about a housing shortage
Last week, New Yorkers were shocked by the hostility of opposition to a proposed shelter in Glendale, Queens, but shelters are the inevitable byproduct of a housing shortage, writes area resident former City & State staffer Derek Evers.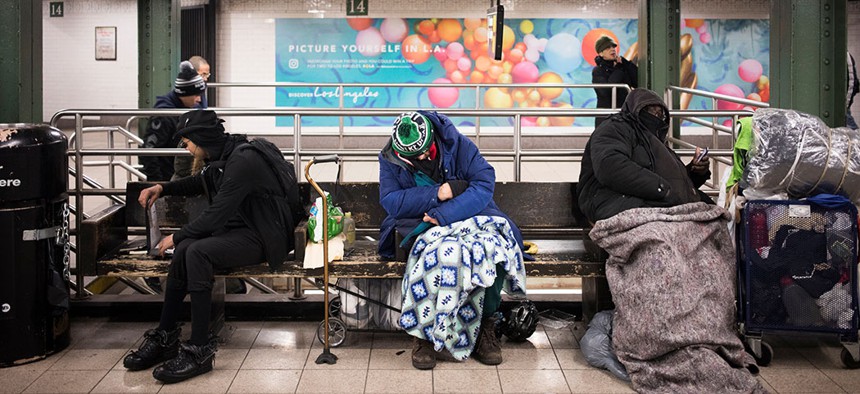 Progressive New Yorkers were shocked by footage and reporting from the Queens Community Board 5 hearing on Oct. 7 over a proposed men's homeless shelter in Glendale.
"Put them in a separate area away from society. They should be locked away forever and out of sight permanently."
"Homeless lowlife pieces of crap my tax dollars pay for."
"I hope somebody is going to burn the place down."
These were just a few of the violent and borderline racist remarks those opposing the proposed shelter at 78-16 Cooper Ave. shouted in an effort to drown out any support. But while the vitriol has not been lost on those who attended or covered the packed hearing in Middle Village, neither should the nuances of this very New York City problem be lost on observers. The Glendale homeless shelter opposition may be classic NIMBYism, but it's also a crash course in gentrification and the erosion of tenant-friendly rent laws, not to mention a window into the disconnect among city and state officials.
Since then-Mayor Michael Bloomberg took office in 2002, the city has gone through a rezoning blitz that has continued under Mayor Bill de Blasio. And while many can point to high-profile new high-rise developments, it's arguably the quiet downzoning of many middle-class outer-borough neighborhoods that has had a bigger impact on the city.
As the city's population continued to rise, that downzoning exacerbated a housing squeeze in many Brooklyn and Queens neighborhoods. "It seems to me that if you refuse growth, you are either implicitly saying we should change our immigration policies and not let people in, or immigrants should live in basements and attics or in the Poconos," Brad Lander, then-director of the Pratt Center for Community Development, told The New York Times in 2005 about downzoning in low-density Queens neighborhoods like Bayside, Whitestone and College Point. Lander, now a progressive member of the City Council from Brooklyn, added at the time, "This is a real problem throughout the city, preserving what people love about their neighborhoods and equitably meeting the needs of a growing city."
Growing demand for housing without a corresponding increase in new housing units has led to rents rising at twice the rate of wages and an explosion in New York City's homeless population. In time, sleepy deep outer-borough neighborhoods become gentrification's frontier and see their housing prices rise. That's what has happened in Ridgewood, which borders Brooklyn's hip Bushwick neighborhood and saw rents rise faster than any Queens neighborhood in the first quarter.
Raquel Namuche, an organizer with the Ridgewood Tenants Union who spoke in favor of the shelter at the contentious hearing, said there were approximately 250 homeless people from Community District 5 as of August. "The number of our homeless neighbors that have entered the shelter system has increased from 2009 to 2018 by 72%," she wrote in an email. "One of the primary causes of homelessness, particularly among families, is lack of affordable housing. With a median asking rent in Ridgewood of $2,300, the problem will only get worse."
Many of the pro-homeless shelter advocates in attendance at the Community Board 5 hearing, argued that the anger is being misdirected at the homeless and should instead be placed on creating more affordable housing.
But, in practice, it's not quite as simple as "build more." In many instances, the neighborhoods that have increased inventory have seen an increase in rental costs, whereas those that downzoned have remained relatively stable by comparison. There are reasons for this, primarily that upzoning has usually occurred in centrally located, transit-accessible areas that were already experiencing increasing demand and rising prices, such as Williamsburg and Long Island City.
Proponents of upzoning argue that allowing six- or eight-story buildings to replace two- or four-story buildings in neighborhoods like Glendale would increase the supply of relatively affordable market-rate housing. Skeptics say that upzoning just creates luxury housing that doesn't filter down to middle-class and working-class families. Meanwhile, longtime residents of these areas often oppose even modest increases in density as antithetical to the quiet, low-scale residential character of their communities.
Though mostly lined with modest brick row houses and distinct yellow brick "Mathews Flats" walk-up apartment buildings, southwestern Queens has not been exempt from large-scale development, with plans for two new luxury towers, drawing the ire of both the community board and tenants' rights activists.
"I keep saying over and over again to people, that if you're going to put shelters in my district, a district of mostly one- or two-family homes, it must fit the culture of the neighborhood," City Councilman Robert Holden said in a phone conversation following the contentious hearing.
That Holden is at the center of this debate is no surprise. His victory over incumbent Elizabeth Crowley in 2017 was buoyed by his anti-homeless shelter campaign, which saw Holden, a longtime resident and registered Democrat, win on the Republican line via a Wilson Pakula authorization. Holden told City & State he supports more rent-stabilized units as the answer to the affordable housing crisis, along with an increase in senior housing – policies that would also be championed by his most left-leaning colleagues in the City Council.
"But I would still build in existing stock," Holden said, insinuating that any new housing be placed in buildings that already exist. "We've already lost a lot of charming buildings, a lot of history. I think we're at a maximum (for new development)." The proposed shelter would be built on the site of an abandoned factory.
Without a line of attack against the building's dimensions, the anti-shelter movement has fallen back on fear-mongering and anti-homeless rhetoric, leading to the Trumpian display of vitriol at the hearing.
In an interview with City & State, Holden made the same safety-based arguments used that evening: "54% of the people coming out of jails in New York City are going directly into the shelter system. One out of five on the state level, so that doesn't make people feel better. … And when they say they're going to house (level 1 and 2) sex offenders, that doesn't sit well."
One thing that pro- and anti-shelter activists do agree on is that large shelters are not the solution to homelessness. At 200 people, the Glendale shelter would be one of the biggest in the city, housing 40% more people than the planned shelter on Billionaires Row in Manhattan, and nearly double the 113 people that will be housed at a new facility in Ozone Park – both of which also came under heavy scrutiny in their own communities.
"Our shelters are filled to the brim, with many individuals choosing to sleep in the streets and subway cars so as to not risk their safety in potentially dangerous shelters," Namuche wrote. State Sen. Joseph Addabbo Jr., who, like Holden, is opposed to the Cooper Avenue shelter, echoed the sentiments of Namuche.
"We've spoken to homeless individuals in my district who don't want to go to shelters, specifically larger shelters, because they fear for their safety," Addabbo said, before focusing his blame on the de Blasio administration. "Look at it from my perspective: We know there's a problem and I've approached the mayor – I mean, I know him as 'Bill' – I call his office and ask for help, and the answer I get is, he doesn't want to talk to any elected officials about the homeless problem. There's no discussion, no negotiation." Addabbo added that the only heads-up his office received about the shelter was an email from de Blasio's chief of staff Emma Wolfe giving them seven days' notice and the number of people it will house. "If I'm the mayor, I want as many people under the tent with me to find a solution," Addabbo said.
Holden was also quick to point to the de Blasio administration and New York City Department of Social Services Commissioner Steven Banks as a source of his discontent. "I've suggested to Commissioner Banks that we put in more supportive housing and more affordable housing and more transitional housing," Holden said. "We're getting a supportive housing unit in Glendale that houses 15-20 men. … I tried to get Steve Banks to work with faith-based groups, but it took him over a year to do just one. I have priests who are willing to take this on, but it doesn't fit their business plan."
In a statement provided to City & State, a Department of Homeless Services spokesperson commented specifically on the option of alternative addresses, noting that it's not the councilman's – or any other public official's – role to offer potential shelter sites without following the city's standard procedure for such proposals, including participation from the property owner. "Building addresses that may be casually mentioned, suggested offhand, referenced unofficially, or floated ad hoc to nonprocurement DHS staff are not considered actionable/viable if they are not supported by actual information about the building's current use, property owner's interest, and/or service provider's intent, let alone physical viability of a location, proposals. Such suggestions are wholly unsubstantiated, as they do not come with the necessary packaged participation/buy-in to be considered. In any case, the individuals with site control would have to reach out to us in order to render the suggestion legitimate for consideration, which has not occurred in this case or any other in this Community District."
At the heart of City Hall's plan to combat homelessness – dubbed Turn the Tide – is an effort to end the use of 360 so-called cluster sites and commercial hotel locations while opening 90 homeless shelters across the city. The onus then falls on the districts within the boroughs to house homeless people that originate from their communities. And it appears to be bearing fruit. For the first time in over a decade, the number of homeless people in New York City stopped rising in 2017, staying steady year-over-year, with estimates at roughly 60,000 in total.
City Hall noted that presently that are 131 households comprised of 249 individuals from Community District 5 who are being housed elsewhere throughout the city. City Hall's statement added, "This facility will be the first dedicated traditional shelter capacity in this entire Community District. Every neighborhood across New York City has a part to play in addressing this citywide challenge – and with zero shelters in Queens Community District 5, the need for new, high-quality, borough-based capacity could not be greater."
As the argument over who should bear the burden of housing the homeless rages on in Queens, it is abundantly clear that more housing is needed – a reality not lost on either side of the debate. But both pro-shelter progressives and anti-shelter centrists agree that merely upzoning and creating more market-rate housing won't meet the need for affordable housing needed to significantly reduce homelessness. So far, the upzoning that has occurred has resulted in a dramatic increase in new luxury units, with few units that are affordable to people of truly modest means.
Addabbo put it bluntly: "We need to go back to the drawing board. People's lives are at stake. Over 20,000 children are living in the shelter system. It's wrong. We need to figure it out."
Correction: An earlier version of this story contained the incorrect number of homeless people from the Ridgewood area due to inaccurate information provided to the reporter.