New York State
Don't let Harvey Weinstein have a nice night out
New Yorkers have the opportunity to call out high-profile dirtbags in person.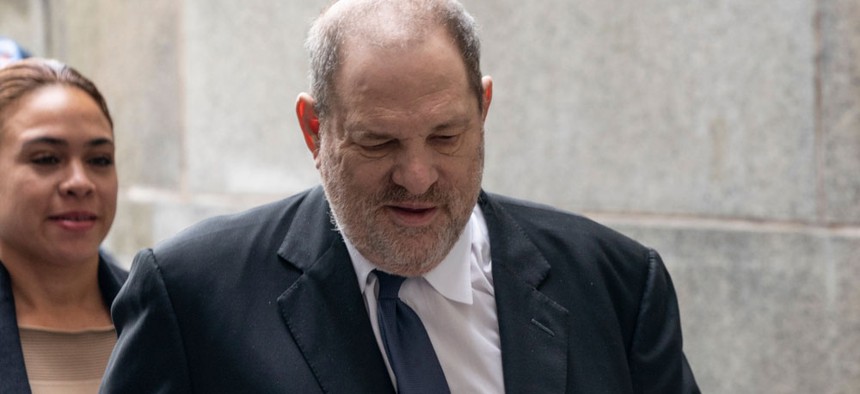 For all the talk of "cancelculture," it's becoming increasingly clear that powerful men who abuse women don't necessarily face long-term consequences for their actions. Their industries, friends and fans are only too ready to welcome them back into the fold after the flimsiest apology and the briefest step out of the spotlight. If the guy is facing criminal charges, conservative commentators argue that it's an affront to due process to shun the accused before a court has rendered its verdict.
New Yorkers have the privilege of observing many high-profile dirtbags in their natural habitat. Perhaps the only way to restore accountability is for ordinary citizens to exercise their right to free speech by telling alleged serial abusers exactly what they think of them – peacefully, but repeatedly. Let's put our legendary bluntness to use.
Despite the ongoing efforts of the #MeToo movement, powerful sexual abusers still operate in a culture of de facto impunity, with most escaping criminal prosecution. By speaking out, we can remind alleged abusers that while they may evade legal and professional sanctions, they can't escape the judgment of their fellow citizens.
In late 2017, comedian Louis C.K. admitted to pressuring fledgling female comedians to watch him masturbate and promised to step back from comedy and "take a long time to listen." The brevity of Louis' absence surprised even his defenders. By the following summer, C.K. had returned to stand-up, appearing unannounced at clubs in the New York City area, sometimes to the consternation of unsuspecting audience members. Now, C.K. is back on the road with a 14-city tour and his Richmond, Virginia, gig has already received a respectful review from The New York Times' comedy columnist. And, just like that, Louie's back.
Did you know that former state Attorney General Eric Schneiderman, who resigned hours after being exposed as a serial physical abuser, but dodged criminal charges, is now a certified meditation coach?
Even a criminal indictment for rape hasn't made Harvey Weinstein persona non grata. Weinstein was attending the October Actor's Hour, an exclusive mixer for up-and-coming talent and industry insiders at the Downtime Bar in Alphabet City, Manhattan. Weinstein, who is notorious for allegedly preying on young actresses, is said to be planning a career comeback of his own.
Weinstein also attended September's Actor's Hour and was ridiculed from the stage by comedian Ricky Brown. According to one attendee, Brown was chastised by event hosts for mocking their famous guest.
At the October event, comedian Kelly Bachman roasted Weinstein and the event's organizers for hosting him. "I didn't know we had to bring our own mace and rape whistles," she quipped. Bachman is a rape survivor, and at times her voice shook as she launched zingers and jousted with hecklers. "As I scanned the dark bar I saw the bartenders, event organisers and MC all booing," wrote Bachman's friend, actor Zoe Stuckless, who confronted Weinstein at intermission. Stuckless was outraged that the room was so firmly behind Weinstein, whom Stuckless described as smiling as the room turned against Bachman.
"Nobody's going to say anything?" Stuckless demanded. "I'm going to stand four feet from a fucking rapist and nobody is going to say anything?" Stuckless and Bachman were then ushered out of the bar by Weinstein's bodyguards, along with their friend, comedian Amber Rollo, who had also denounced Weinstein.
Event organizer Alexandra Laliberte told BuzzFeed News that she protected her young guests from Weinstein "by freedom of speech." Yet she allowed Weinstein's goons to escort two young female guests out of the club for criticizing him. Laliberte could have asked Weinstein to leave because his presence was disruptive. She could have asked the young women to sit down and stop bothering another guest, but instead, she let Weinstein clear the room for his own comfort. "This scene was uncalled for, downright rude and an example of how due process today is being squashed by the public, trying to take it away in the courtroom too," Weinstein's publicist later said in a statement.
"This guy was leading me out the stairs, just repeating 'due process, due process' to me," Stuckless told BuzzFeed News.
Sharing your opinion of someone in a club, or on the street, has nothing to do with due process. Weinstein is entitled to a fair trial, but that doesn't mean the rest of us have to withhold comment until the court has rendered its verdict.
Whether someone is guilty of a crime under New York law is distinct from whether it's appropriate for them to serve as an informal industry gatekeeper at a talent showcase for young actors. As of 2017, Weinstein had more than 80 named accusers, alleging bad behavior from the criminal to the merely despicable. Most of these allegations will never be heard in court, but that doesn't mean they shouldn't factor into our assessment of the man and his character – and that we can't offer that assessment to Weinstein or others like him if we see them around town.
Shameless alleged sexual abusers aren't just a Manhattan problem. Actor Cuba Gooding Jr. – who has been indicted on six counts of sexual misconduct from multiple accusers, with one count stemming from behavior captured on video – made an appearance at the Brooklyn Nets-New Orleans Pelicans game at the Barclays Center on Nov. 4. The actor wore a burgundy suit and snapped selfies with fans and Earth, Wind & Fire bassist Verdine White.
The spectacle prompted Queens native and rapper 50 Cent to write on Instagram that Gooding should "lay low." He also wrote, "He got 15 women saying he groped them. The f uck is he doing at the Nets Game." Somebody had to say it. Hopefully, next time, someone will say it to his face.
Update: Stuckless uses the personal pronoun "they."