MTA
Andy Byford couldn't have stopped political interference in the MTA
For the transit authority to change, elected officials must do so too.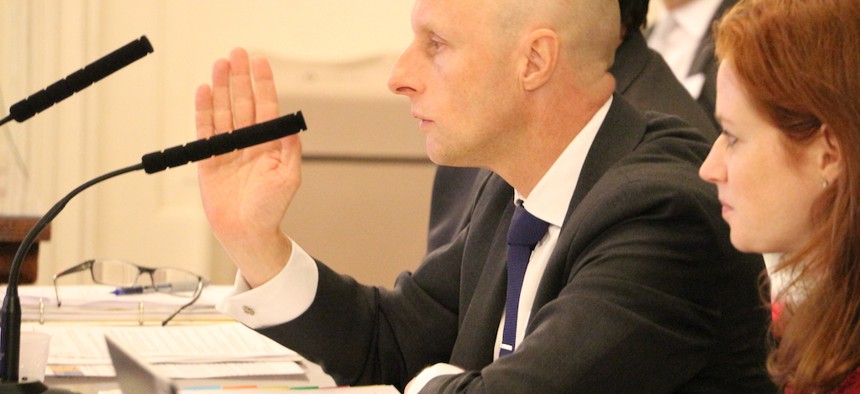 Immediately after Politico broke the news of New York City Transit Authority President Andy Byford's impending resignation, elected officials began lamenting the loss and newspaper editorials and opinion pieces started predicting dire days ahead for an already-beleaguered transit system.
While Byford's popularity, in part, stems from his passion and commitment to fixing New York's subways and buses, he has also garnered praise for being transparent, collaborative, accessible and a regular transit rider himself. Byford's approach, unquestionably, inspired MTA employees and attracted new talent to the agency by instilling a belief in them that working together they could achieve what many thought was impossible: a systemwide renaissance that would attract riders back onto buses and get subways where they need to go with fewer unanticipated delays.
Craig Cipriano, the acting head of buses who reports to Byford for another month, was quoted as saying that Byford's resignation "changes everything."
But disappointed transit riders and MTA employees should know that Byford's departure may change less than they fear, because he might not have been able to fix much of what ails the sclerotic transit authority, which is hampered by political interference.
It's unclear whether or not Byford's vision and enthusiastic support for signature projects such as bus network redesigns, increased disability access, or signal modernization were ever going to be enough to get them over the finish line. Despite the technical nature of these projects, politics – in the form of angry bus riders and skeptical elected officials – has wormed its way into the process and slowed things down. Since the MTA relies on subsidIes from federal, state and local governments, it is always susceptible to the will of the politicians who allocate these funds, leaving it often caught up in politics – a politics that doesn't always lead to the best solution to a transportation problem.
It's possible that new leadership will abandon or modify many of these politically polarizing projects in order to appease angry bus riders who may lose a bus stop in a redesign or legislators who would rather spend state money on something other than modern signals for the subway, but that was also possible if Byford had stayed. 
After decades of political interference, the agency's credibility has been undermined and its appetite for big, important fights that would improve New Yorkers' daily lives has diminished. 
Two examples clarify this loss of autonomy: Back in 2000, the MTA put forward a number of proposals to improve operations on the Lexington Avenue line. One of those proposals recommended scrapping express Dyre-Avenue-bound 5 train service between 180th Street and 149th Street in the Bronx in order to "eliminate conflicting merges" between the 2 and 5 trains north of 180th Street. These merges slowed down service and created cascading delays that gummed up operations down the line where the 3 train and 4 train were also impacted. MTA officials said that this service pattern, made it ''difficult to schedule and even more difficult to operate in a reliable manner.''
Some elected officials, including then-Assemblyman Jeff Klein and then-Public Advocate Mark Green, protested. They argued this service change would wreak havoc on the system and end with straphangers falling off of the narrow platforms at the 72nd Street and Broadway station in Manhattan, because thousands of additional passengers would flood onto the 2 train at 180th Street. Ultimately, the MTA capitulated and abandoned the plan. Twenty years later, northbound trains are still fighting for scarce track space in the Bronx and passengers are worse off because a group of state legislators with limited engineering experience outmaneuvered the MTA's experts.
As the MTA and New York City Department of Transportation have rolled out Select Bus Service, drivers and small business owners along proposed corridors have routinely objected to the installation of protected bus lanes, camera-enforced bus lanes and median-running bus lanes that reduce the number of travel lanes for cars and on-street parking spaces, in order to speed the bus along without fighting through congestion and double-parked cars. In 2018, the initial plan for the B82 Select Bus Service proposed taking 169 parking spaces along Kings Highway in Brooklyn. After community pushback, the bus lane was scaled down from 28 blocks long to only 9 blocks long, which meant that fewer than half as many parking spaces were eliminated. Again, rather than allowing the technocrats to do their jobs and improve the travel of more than 25,000 daily riders, local elected officials interfered and prevented the MTA and, in this case, the DOT from carrying out a technical change designed to benefit the greatest number of people.
Politics and transport policy will always be intertwined. It is usually the politicians, however, who do the intertwining. Unlike any New York City Transit head in recent memory, Byford embraced politics as best he could by convincing New Yorkers that he had a plan to make the trains run on time and be more accessible to all New Yorkers.
Byford explained that his decision to leave the agency stemmed from reorganization plans that will strip him of the authority to carry out much of his Fast Forward plan, which focuses on modernizing and upgrading everything from bus networks to warehouse software management systems to new subway cars.
Rather than accept a diminution of his responsibilities that would have given him fewer opportunities to transform the MTA, he fought back by making his resignation a public matter and forcing elected officials and New Yorkers to choose a side in the debate over whose vision should lead the MTA, the technocrats or the politicians.