Coronavirus
Conservative amateur sleuths deny New York hospital crisis
Apparently, you can tell how many ICU beds are open from across the street.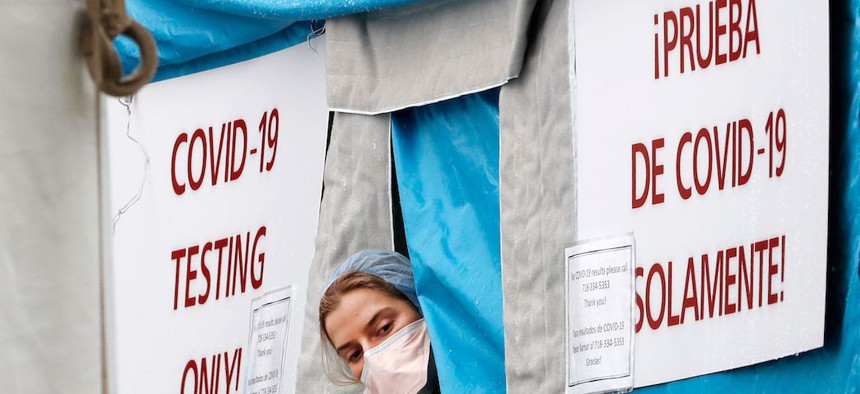 Hunkered down at home to hide from the COVID-19 pandemic, New York City residents can see and hear the signs of a horrific gathering calamity. "New Yorkers are hearing a constant wail of sirens as weary ambulance crews respond to a record volume of 911 calls, many from people experiencing symptoms of the coronavirus," The Associated Press reported on Monday. "The city's ambulances are responding to about 6,000 calls a day – more than 50% more than average." Makeshift hospitals are being assembled in the Jacob K. Javits Convention Center, in Central Park and on a tennis court that hosts the U.S. Open, as the statewide death toll has surpassed 1,500, with more than 1,000 of those deaths in New York City, the hardest hit city in the hardest hit state. The Wall Street Journal reported on Wednesday that New York City coronavirus patients are being transferred to hospitals upstate to alleviate overcrowded conditions in city hospitals. 
As the New York Post reported on Tuesday afternoon, "City dispatch centers haven't seen such levels since the terror attacks on Sept. 11, 2001." New Yorkers who know health care workers almost invariably know someone who has fallen ill from the virus, or who is contending with dangerous shortages of personal protective equipment such as face masks. EMTs are overstretched, the Post noted, and some have contracted the new coronavirus themselves. 
The Post is owned by Rupert Murdoch, who also owns Fox News. Like all Murdoch media outlets, the newspaper is politically conservative. It crusades for tough-on-crime policies, delights in embarrassing liberal politicians such as Rep. Alexandria Ocasio-Cortez and features a raft of right-leaning columnists. The Journal is also owned by Murdoch and it too has a staunchly conservative editorial page and stable of op-ed contributors. 
And yet some conservative pundits and activists now think the Post and the Journal are part of a liberal media – or, depending on who you ask, "deep state" – conspiracy to hype a non-existent coronavirus emergency in New York City. 
As the Daily Beast reported this week, "Right-wing figures eager to downplay the coronavirus pandemic's death toll have hit on a new idea: filming quiet hospital parking lots. Over the weekend, a growing number of pro-Trump personalities decided that the way to prove that the media was overhyping the pandemic was to film places where cars and ambulances show up to drop patients off." 
The trend apparently started on Friday when Todd Starnes, a former Fox News host, wrote a column on the right-wing website Townhall.com arguing that "Democrats and the Mainstream Media" were overhyping the severity of the crisis in New York. His evidence? "I personally visited two hospitals in Brooklyn and did not seen (sic) any unusual traffic. Nor did I see hospitals that were overrun by patients seeking treatment." That has spawned a movement of copycats around the country, who bravely sit in their cars across the street from outdoor hospital parking lots and post videos with the hashtag #FilmYourHospital.
These courageous citizen journalists have drawn the attention of conservative pundits and activists on Twitter. So certain are some conservatives that a video of a quiet hospital entrance disproves the empirical fact – reported by the Post – that New York City intensive care units are nearly out of beds, or that ventilators are in short supply, that they have taken to responding to straight news headlines about overstretched New York hospitals with an invocation of the hashtag. Notorious right-wing provocateur James O'Keefe filmed himself in New Rochelle, Westchester, interviewing one anonymous member of the Army National Guard who incorrectly claimed the coronavirus is nothing more than the flu. 
Fox News itself is promoting this supposed debunking of its sister outlets' reporting. On Sunday, Fox News contributor Sara Carter talked up the #FilmYourHospital hashtag and its profound revelations on air.
Of course, there are a few flaws in the logic of these amateur epidemiologists. The vast majority of videos carrying the hashtag are in places far from the epicenter in New York, such as Canton, Georgia, or Scottsdale, Arizona, that haven't yet experienced the dramatic growth in caseload that New York has.
Brandon, took your cue. Canton GA Northside Cherokee Hospital. March 30 2020. Crickets. This is a 544 bed university hospital that services north Georgia rural areas as well pic.twitter.com/dveWAScLZr

— Q-baby (@SuperPowersT) March 31, 2020
#FilmYourHospital Scottsdale Az Mayo Clinic hospital 3/31/2020 some tents put up and not that many people. I did not drive up to the front, but this is a major Phoenix hospital. And yet Scottsdale is calling for a lockdown ?!? Ridiculous. pic.twitter.com/xDeZdAbIen

— Nibor79 (@Nibor792) April 1, 2020
Typically, the accompanying commentary says something like, "We are all being sold a bunch of lies" or "We can't trust the news."
Here's one of the biggest hospitals in Tucson, with ZERO CV activity going on.
We are all being sold a bunch of lies.#FilmYourHospital https://t.co/avq6NLiSGj

— Davidoff1010 (@Davidoff1010) April 1, 2020
We are not being told the truth. Why?? Let's get #FilmYourHospital trending. We ARE the news now. We can't trust the news. Post pics of ur hospital here !https://t.co/202TfwlO35

— Davidoff1010 (@Davidoff1010) April 1, 2020
These videos typically aren't taken from inside intensive care units or emergency rooms – apparently, the right-wing grassroots activists' commitment to truth-telling about the minimal risk from COVID-19 doesn't go far enough to expose oneself by spending a few hours with infected patients. 
Nor would a video from an ER mean anything anyway. As scientists are fond of saying, the plural of anecdote is not data. If you find a handful of hospitals that are not visibly crowded in one brief window of random time, that doesn't change the overall statistical picture. (In an effort to counter the misinformation campaign, some Twitter users have shared a video of dead bodies being put in a refrigerated truck outside Brooklyn Hospital, and added the #FilmYourHospital hashtag.) 
Moreover, as the Daily Beast noted, these videos are particularly poorly designed to accurately reflect the nature of this specific pandemic. "The videos also don't consider that, as hospitals cancel elective surgeries and ban visitors, fewer people could be parking at the hospital," Daily Beast reporter Will Sommer wrote. "The videos also don't take into account the fact that coronavirus patients are likely isolated from the rest of the hospital, meaning they can't be easily seen by walking past an entrance or lobby." 
A video shot outside Elmhurst Hospital in Queens led a commenter to declare reports of its overwhelming coronavirus caseload a "hoax." One New Yorker responded, "Just because that's the outside, doesn't mean that's the inside. I had previously interned INSIDE the hospital in the labs (that's now suspended because of COVID-19). On the last day before my internship was suspended, there were 6 deaths in that 8-hour shift." 
So why are conservatives mounting this propaganda offensive? It would seem that they have two motives: defending President Donald Trump's handling of the crisis and protecting the interests of big business. For most of the new coronavirus' course thus far, Trump has downplayed the risks, refused to take action to address New York's shortage of medical equipment and resisted tighter restrictions on business activity to limit the virus' spread. To preempt the public from recognizing the deadly consequences of the Trump administration's failure to produce accurate tests in sufficient numbers and Trump's resistance to supplying hospitals with lifesaving equipment, one must deny that the conditions are as bad as they are. And to justify reopening businesses before public health professionals think it wise, one must minimize the public health emergency and portray health care providers as hysterics.
As the website Conservative HQ put it, efforts to contain the spread of coronavirus are causing state governments to do the worst thing imaginable – impose temporary restrictions on free enterprise in order to save lives. "The Left has a new Wuhan virus-centered tactic to advance its agenda of controlling every aspect of our lives – we call it Fear Porn," wrote editor George Rasley. "Fear Porn is based on projections of mass deaths, images of 'overwhelmed' medical facilities and other fantasies of a coronavirus apocalypse …. Fear-based decision-making is destroying the country; it is time for our leaders to stop watching the Fear Porn and to set some procedures and deadlines to get America back to work."
In better times, willful ignorance and superstition among extremist Trump supporters might be a source of amusement to the average New Yorker. It's hard not to chuckle at Trump's suggestion that U.S. Sen. Ted Cruz's father was involved in the assassination of President John F. Kennedy, or his suspicion of foul play in the death of U.S. Supreme Court Justice Antonin Scalia. 
But this current conspiracy theory is more upsetting than amusing – even to some Trump-supporting New York Republicans. Denying the reality of COVID-19 is a precondition to taking ill-advised risks, such as refusing to practice social distancing, that worsen the pandemic. Refusing to concede that New York hospitals are overburdened is an excuse to keep letting New York suffer.
New York City Councilman Joe Borelli, a pro-Trump Republican from Staten Island, responded thusly to City & State's inquiry via Twitter direct message as to what he'd say to those who deny the reality of what's happening in New York hospitals: "It's hard to imagine the ignorance of saying it's some over-exaggerated hoax. I can assure them, real people who two weeks ago were as alive as you and me are now are in the morgue. I have seen some of these dumb hot takes and I'd love to invite them to Staten Island for a quick smack and a long education." 
Rep. Peter King, a Republican from Long Island, agrees with Borelli. "It's dangerous; it's wrong," King told City & State regarding coronavirus conspiracy theorists. "It's inexcusable that they're trying to spread this around. I've spoken to any number of people who are in health care: They're not just overcrowded, they're over-burdened to the verge of collapse. I hate even discussing this (conspiracy theory) because it's absolute BS. The health care workers are getting sick, one after another. The medical equipment shortage – we're trying to get it from anywhere in the world." 
However, King doesn't think that Trump's statements on the virus or the situation in New York are at all responsible for this movement among some of his supporters. "I wouldn't blame President Trump. These guys are wackos or they're trying to make money or something. The president talks to (Gov. Andrew) Cuomo and (New York City Mayor Bill) de Blasio every day, he sent in the Navy hospital ship and built eight field hospitals." As King noted, Trump wouldn't have sent those resources if the hospital capacity problem were nonexistent. 
"I've actually been in a war zone. It is a pretty good analogy," a Queens paramedic named Phil Suarez told the Post. Suarez has provided trauma care in ­Mosul, Iraq, as a humanitarian aid worker. So, unlike the online skeptics who call him a liar from the comfort of their cars, he doubly knows whereof he speaks.