Opinion
Bring back Bill Bratton to fight crime and police brutality
The turnaround artist could be a bridge to a NYPD commissioner of color.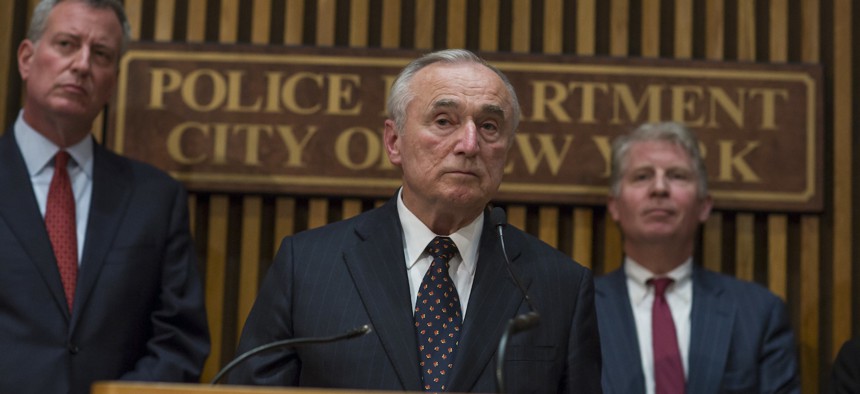 As New York City struggles with a panoply of problems – the pandemic and its economic reverberations, a yawning budget gap, rising crime and police brutality and the unrest it inflames – many of the rich are fleeing the city, leaving parts of Manhattan as empty as a garden party after a skunk shows up. Some of these problems, like the United States' failure to control COVID-19, are beyond the city's control and must wait for a new president to take the reins. But some, such as crime and community-police relations, can be improved by good governance. 
Conservatives fret about the rising rate of shootings, while liberals are distressed to see police continuing to manhandle suspects of color and peaceful protesters. New York City Police Commissioner Dermot Shea has shown that he isn't up to the task of fixing either problem, presiding over a department that used excessive force during recent Black Lives Matter protests, with little evidence of accountability, while simultaneously seeing slower response times and more prevalent violent crimes. 
The NYPD needs a turnaround artist, someone who has the credibility with cops to sell them on much-needed reforms while also helping them to more effectively fight crime. There's one person who has previously swooped in like Batman to fight crime when Gotham has been in crisis, and who could do the job again – this time, before handing it off to a woman or person of color – former NYPD Commissioner Bill Bratton. New York City Mayor Bill de Blasio should summon Bratton back to emergency duty for one year to get the NYPD and the soaring crime rate under control. 
Bratton should merely be a fixer of our current ills and help the next mayor find a progressive NYPD chief capable of implementing the many reforms that are overdue. There have been only two black New York City police commissioners since the current job was created in 1901, and never any female commissioners. Next year, before he departs office, de Blasio should appoint a woman or person of color – or, ideally, a woman of color – to run the NYPD. But as he embarks on that search, he should immediately transition from Shea to Bratton, who has a demonstrated track record of driving crime down and unwinding aggressive over-policing. 
After an impressive stint as chief of New York City Transit Police in the early 1990s, Bratton was appointed police commissioner in 1994 by then-Mayor Rudolph Giuliani to try to rein in a murder rate that exceeded 2,000 per year. By the time he was pushed out in 1996 for doing too good a job and outshining his boss on Time magazine's cover, the murder rate had been cut nearly in half and was on its way to a 25-year steady decline. The murder rate plateaued at roughly 300 per year in 2018-2019, an astounding 86% reduction from 1990.
Some of his proactive approaches to policing, notably the use of Compstat, are recognized successes among many progressives. Others, such as enforcement of quality-of-life crimes, have shown that they can create opportunities for abuse. But, at the time, Bratton was trying to improve community-police relations. As a 2009 article in the Daily Trojan reported, "Bratton decided to focus on rebuilding the broken sociocultural bridges between the police department and many of its low-income and minority citizens, who often felt antagonized by law enforcement. The new model was rooted in the assumption that successful crime reduction and quality-of-life improvement depend on understanding localized demographic and social nuance. Under CompStat, more decision-making authority shifts from top-level officers to local precinct commanders, who are more familiar with the specific policing challenges that their communities present." 
In 2002, like a caped crusader, Bratton flew into Los Angeles, the second largest police department in the nation. During his seven-year tenure as LAPD chief, violent crime, including murders, dropped 50 percent. He also transformed a department notorious for brutality. As a Los Angeles Times editorial noted at the time of his departure, "police are using less serious force; and city residents overwhelmingly approve of the department's work." That success was driven by Bratton's community-engagement approach to policing that he first implemented in New York. 
In New York, Bratton's successors such as Howard Safir, Bernie Kerik and Ray Kelly, ramped up racial profiling tactics like stop-and-frisk. While the crime rate kept on its long-running descent downward, the trampling of civil liberties fell heavy on minority neighborhoods. The well-deserved backlash against stop-and-frisk led to a judicial order that curbed its use, but the issue helped propel de Blasio's successful campaign in 2013.
Bratton heeded the call to save his city once again when de Blasio wisely made him commissioner in 2014. Bratton not only drove crime down to record lows, but he did it while dismantling the stop-and-frisk monster that had haunted Gotham for more than a decade. Stop-and-frisks went from over 532,000 in Bloomberg's penultimate year, 2012, to less than 23,000 in 2015, Bratton's second year back at the helm.
When I interviewed Bratton at a public event City & State hosted in July 2015, he made news by saying he wouldn't stick around for a second de Blasio term. Like many, I held my breath when his hand-picked successor, James O'Neill took over. Because Bratton handed off such a well-run NYPD, O'Neil's steady hand helped keep our city safe for another three years before he retired in November 2019. 
Now, with a relatively new commissioner, the wheels have come off the bus and New York is careening into dangerous territory. Even though crime rates remain well below historic highs, some fear a return to the crime-ridden New York of the 1970s and '80s is right around the corner. While other crimes such as rape and assault are down this year, the murder rate is up more than 30% over this time last year. Burglary is up more than 50% and in July shootings surged dramatically – 177% higher than July of last year. 
What to do? The mayor and the governor must appeal to Bratton's love for New York and persuade him to get New York back on track. No offense to Dermot Shea, but the rookie leader walked into a swirl of crises: health, economic, systemic racism, and he hasn't found his footing. And in this case, we cannot wait for him to do so. 
Bratton is revered among law enforcement professionals. That reputation and record allowed him to get police cooperation on reforming stop-and-frisk. De Blasio needs the same rank-and-file buy-in to enact further reforms. If the mayor brought him back as either commissioner or as a special monitor with strong autonomy while mentoring a progressive commissioner, it would send an important signal to everyone that the NYPD and the city will rise to meet the current challenges. Everyone from business leaders to average citizens fearful of crime – or of brutal cops – could take heart and develop the optimism needed to keep their personal and financial futures in New York City. 
Let's hope Bratton is waiting by the Bat Phone for the mayor's call.
Powered By
NEXT STORY: How to bring New York City back