Editor's Note
Editor's note: "Da Homeless Hero" makes a splash
How Shams DaBaron stood out among the VIPs at City & State 15th anniversary celebration.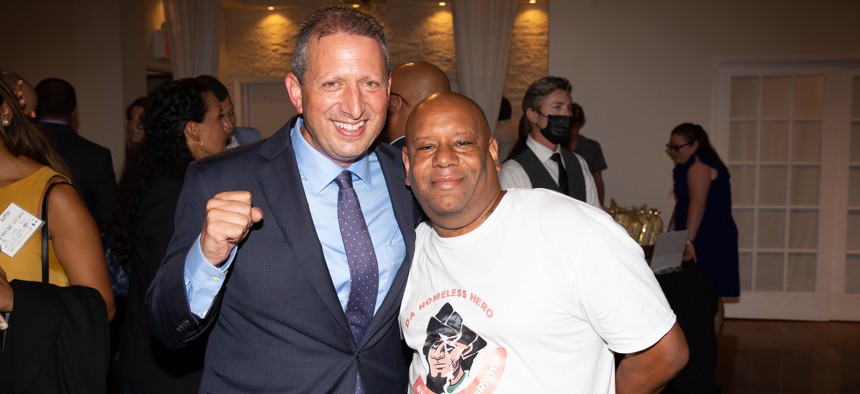 City & State celebrated its 15th anniversary at its first in–person event since the start of the coronavirus pandemic on Aug. 18, drawing more than 200 political players and insiders to Midtown Loft in Manhattan for a much-needed get-together.
Among the big names who spoke at the event were U.S. Senate Majority Leader Chuck Schumer, state Sen. Jessica Ramos, New York City Comptroller Democratic nominee Brad Lander, Manhattan Borough President Democratic nominee Mark Levine and Assembly Member Yuh-Line Niou.
These were high-profile speakers with supporters and other well-known politicians in the crowd, including Manhattan Borough President Gale Brewer and Queens Borough President Donovan Richards. Also there was Shams DaBaron, beaming with excitement, shaking hands and posing for photos – New York's unexpected "homeless hero."
DaBaron was housed with 240 homeless men at The Lucerne Hotel on the Upper West Side that had been used as a shelter during the pandemic. He became a spokesperson for the residents and gave voice to all of the city's homeless residents.
I expressed my frustration at not doing more personally to help this vulnerable population. "But you did," DaBaron told me. "You, the media, helped to get our message out." He also reminded me he was named a winner on City & State's Winners & Losers in October.
This guy wasn't just a winner and a hero, he was a historymaker. That's why City & State will remember him when we mark our next milestone as someone who made a difference.