Personality
How Shams DaBaron became the 'homeless hero'
The Lucerne resident helped organize an upcoming mayoral forum.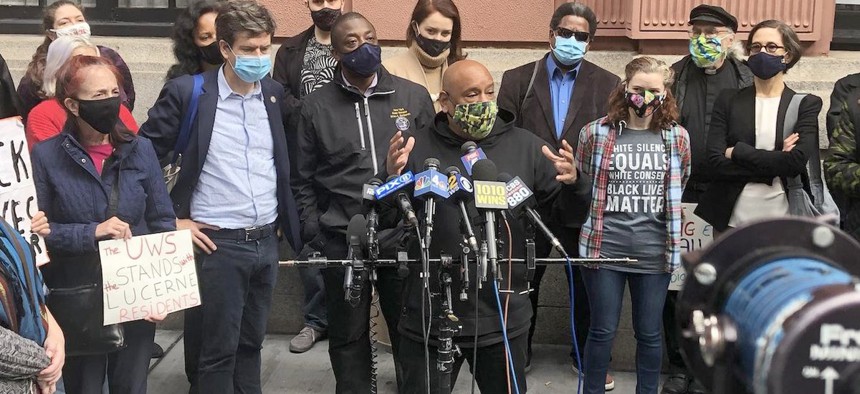 This Thursday, homeless New Yorkers will ask questions directly of New York City mayoral candidates during a virtual forum. The historic event's conception and organization was led in part by a New Yorker who is homeless himself – Shams DaBaron, an advocate for the city's homeless and a resident at the Lucerne, an Upper West Side hotel operating as a shelter, who developed the event in partnership with activist groups including the UWS Open Hearts Initiative.
Thursday's forum marks the culmination of a recent foray into activism for DaBaron, who spent last fall organizing and speaking at rallies alongside locals and his fellow residents to successfully block New York City Mayor Bill de Blasio's efforts to move its occupants elsewhere.
DaBaron has previously garnered the attention of several New York City mayoral hopefuls. "I think some have a stereotype in their minds about who the homeless are and what they think they look like," said Dianne Morales, a former nonprofit executive running for mayor as a Democrat, who calls DaBaron a friend. "Part of what's been so powerful about him elevating his voice in this struggle is that he shatters all of those notions in the most beautiful way."
Two weeks ago, DaBaron, 51, took a trip to his childhood neighborhood in the South Bronx, with Democratic mayoral candidate Maya Wiley, a former top aide to New York City Mayor Bill de Blasio. DaBaron spent the day introducing Wiley to locals and community leaders. "Shams is a model for who we should all be as New Yorkers," said Wiley in an email.
DaBaron credits the attention to his outspoken honesty. "I'm a straight shooter," said DaBaron. "I'm not controlled by anybody."
That confidence comes from having overcome a life full of challenging experiences. DaBaron's mother took heroin while pregnant and he entered foster care at two years old. He first experienced homelessness at around age 10, after the system couldn't find him a permanent home. He made hip-hop as an MC in the Bronx and started dealing drugs in the 1980s to get by.
In the mid1980s, DaBaron's life trajectory began to change: after his business partner was arrested, he told DaBaron to stop dealing drugs because he didn't want to see his friend end up in jail too. DaBaron started to question his lifestyle and began turning youth that he had initially taught to sell drugs away from the corners. One of them was his cousin, William Evans, who now runs Neighborhood Benches, a community organization for keeping youth away from crime and violence. Later, DaBaron became a single father and got his son through high school while living in a family shelter.
By 2018, DaBaron was living in an apartment in Atlanta and developing a TV series based on his life in the Bronx. DaBaron was in need of money but the production company he worked with backed. He decided not to renew his lease and went back to New York City in fall of 2019, where he could use public libraries to work on his project. DaBaron did this while living on the streets again, relying more and more on alcohol as the weather got colder and growing increasingly depressed.
DaBaron went to a shelter in Greenpoint to ask for a referral for outpatient services. He was transferred to another shelter, but soon left after feeling that the security guards there were disrespectful. DaBaron decided to ride the subway to keep warm at night. While leaving a station, DaBaron said that a group of cops approached and handcuffed him as a part of de Blasio's Subway Diversion Project.
"It was scary, because I honestly didn't know what they were going to do to me," said DaBaron. The police took DaBaron back to the Project Renewal shelter. Wary of encountering the cops again, DaBaron decided to stay at the shelter and receive treatment for his alcoholism and depression. He credits the shelter's services for saving his life. 
In March, he caught COVID-19 at the shelter and spent three weeks recovering from severe symptoms at a hotel quarantine site in Astoria. When Project Renewal gave DaBaron the opportunity to live in a hotel instead of a shelter, the choice was easy.
Along with around 280 other homeless men, DaBaron moved into the Lucerne in July, as a part of a city government effort to use empty commercial hotels to halt the spread of the coronavirus in dormitory-like homeless shelters. Shortly after, concerned Upper West Siders formed a Facebook page that amassed thousands of members and contained hostile rhetoric from commenters. Some even referred to the Lucerne men as "scum" and "thugs." Uncomfortable with the hateful language, but also with homeless men living at the Lucerne, a group of locals splintered off to form another group called the West Side Community Organization, threatened to sue the city and raised over $200,000 to retain Randy Mastro, a former deputy mayor under Rudy Giuliani who helped de Blasio settle two lawsuits in 2013.
Other locals met the Lucerne residents with support rather than hostility. As soon as the men moved into the neighborhood, a coalition of local moms formed a group called UWS Open Hearts Initiative and wrote welcoming sidewalk messages in chalk with their children outside of the Lucerne. After seeing this, DaBaron reached out to Open Hearts and told them the writing was nice but that men at the hotel need tangible help. According to DaBaron, the group immediately said they could provide 12-step programs and other daily activities for residents free of charge. DaBaron spoke with the hotel's service provider and the programs were put into place.
As pressure grew to move the Lucerne men out of the neighborhood, Open Hearts took on activist roles, such as scheduling press conferences and rallies that DaBaron and other men could speak at. The first rally was scheduled outside of Gracie Mansion in September.
Initially, DaBaron didn't want to show his face or give out his name. Pulling from his skills as a filmmaker and hip-hop musician, DaBaron preferred for his advocacy to appear in writing under the name of Da Homeless Hero. "He didn't want to be known as 'the homeless guy,'" said Corinne Low, an economics professor and co-founder of UWS Open Hearts Initiative. "I think over time he saw what an incredible impact it would have for him to bring his really incredible and passionate voice, advocating specifically for homeless people."
DaBaron decided to speak after he ran into an old friend at an outpatient clinic. The man is known as JDL from his time in the once-prominent old-school hip-hop group the Cold Crush Brothers and he recognized DaBaron, from their days making music in the 1980s South Bronx. After learning his friend was now living on the streets, DaBaron walked away in tears and later decided to speak at the Gracie Mansion rally. "I kept thinking, man, it's not just me," said DaBaron. "We have established a multibillion-dollar industry. We've laid the foundation for it. And here we are, homeless with nothing."
His first Gracie Mansion speech caught the ear of then-Lucerne resident Larry Thomas, 59. "He speaks the truth," said Thomas. "He understands what people are going through."
What stood out to Thomas was DaBaron's notion of "trauma on top of trauma," the dual horrors of homelessness and displacement. Thomas introduced himself to DaBaron afterwards and the two became close friends, both appearing together in future rallies and press conferences.  
More and more residents have become active in maintaining what they have at the Lucerne, according to DaBaron. Prior to the court hearings in November, DaBaron managed to get 160 signatures of the 180 or so men still living in the hotel on petition in favor of staying. (Of the around 280 men who moved into the Lucerne in July, around 50 left for a variety of reasons and another 30 found permanent housing.)
Another product of DaBaron and Open Hearts' partnership are the weekly Soulful Walk and Talks, where faith leaders and Lucerne residents spend time outside to learn about each other. DaBaron came up with the idea for the walks after learning that a fellow resident wanted more people to talk to. Feeling that many men at the Lucerne could use the same thing, DaBaron and Open Hearts' organized with local faith leaders to host these events.
One Protestant minister who works with the homeless, Ian Alterman, describes DaBaron as both humble and courageous after getting to know him through the walks. As a former community board member, Alterman is impressed by the attention DaBaron has gotten from those campaigning for office. "He is essentially being courted by mayoral candidates," said Alterman.
In September, de Blasio announced the Lucerne's occupants would go elsewhere and eventually settled on a hotel in the Financial District. A downtown group sued the city in response, claiming the mayor had caved to political pressure. Meanwhile, progressive Upper West Side activists and Lucerne residents mobilized to oppose the move, arguing that leaving abruptly would inflict trauma and jeopardize the health of residents working through mental illness and substance abuse.
On the scheduled move date in October, a judge ruled in favor of a temporary restraining order that DaBaron and two other men petitioned for. The same judge dismissed the order in November, but a subsequent filing to an appeals court has allowed the men still living at the Lucerne to stay until at least May.
DaBaron hopes that Thursday's forum will pressure candidates to better understand the lives of homeless New Yorkers and to propose tangible solutions.
Mayoral candidate and former U.S. Housing and Urban Development Sec. Shaun Donovan has also met DaBaron and appeared at a Lucerne rally in November; New York City Comptroller Scott Stringer, another mayoral contender, has also voiced support for the hotel. Local representatives that DaBaron has spoken to include Council Member Helen Rosenthal, Manhattan Borough President Gale Brewer, New York City Public Advocate Jumaane Williams, and state Sen. Brian Benjamin, who is running for New York City comptroller.
"He's got the right personality and the right intelligence," said Brewer, of DaBaron. "He has a following in terms of his fellow residents – and that's important."
To DaBaron, what he has to offer to decision makers who listen to him is an articulate and thoughtful voice for the homeless experience. "I relapse like they relapse; I struggle, I get triggered, I go through every last thing they do," said DaBaron. "I'm them."
Corrections: The shelter in Greenpoint is not run by Project Renewal. DaBaron caught COVID-19 in March. The mayoral forum was developed by DaBaron and the UWS Open Hearts Initiative. DaBaron retained an attorney himself. 
Powered By
NEXT STORY: Prove you're New York enough to run for mayor