Opinion
NY's pot leaders need to consider environmental impacts now
Environmental justice should be the top priority when devising the state's regulatory framework.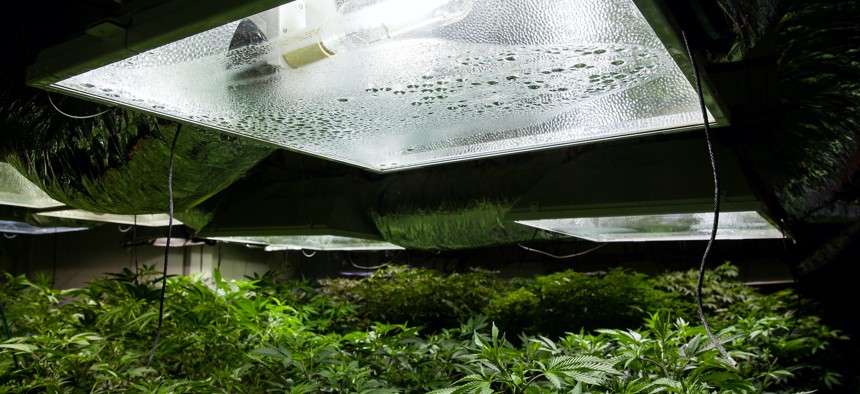 Investors and politicians are salivating at the potential size of the new recreational marijuana industry in New York. The state estimated the industry could bring in as much as $350 million in tax revenue annually, which would make it one of the largest cash crops in the state.
And while marijuana is projected to be an economic panacea, we are wholly unprepared for its environmental effects.
When New York passed the Marijuana Regulation and Taxation Act earlier this year, it was more mindful of its reparative potential – including specific provisions for those harmed by the war on drugs – than other states, but the law still has room for improvement when it comes to environmental justice.
If New York is dedicated to creating a successful recreational marijuana industry, it must be sustainable. The introduction of any new agricultural commodity poses a great stress on resources like water, soil and energy – but especially when that crop is finicky and requires curated conditions to thrive.
Where are all the new growing and processing facilities going to be located? These manufacturing centers pollute the surrounding area, which can bring an increased risk of illness or death for the people who live nearby – more often those are low-income people and people of color.
In the implementation of the Marijuana Regulation and Taxation Act, there are essentially two aims: to minimize environmental impact and maximize opportunities for environmental justice. The responsibility of these goals fall to the new regulators of this industry: the state Office of Cannabis Management and the Cannabis Control Board. And the rosters have now been chosen.
After five months of delays by her predecessor, Gov. Kathy Hochul announced her picks to lead the state's recreational marijuana regulatory framework. She picked former Drug Policy Alliance Policy Coordinator Christopher Alexander to be the executive director of the Office of Cannabis Management, and former Assembly Member Tremaine Wright, a longtime champion of drug policy reform, as the chair of the Cannabis Control Board. These choices were lauded by both the agricultural and business communities.
Adding to the ranks of the Cannabis Control Board, Assembly Speaker Carl Heastie selected Adam W. Perry, a partner at a prominent Buffalo law firm, and state Senate Majority Leader Andrea Stewart-Cousins chose former state Sen. Jen Metzger.
Hochul also selected two board members for the Office of Cannabis Management, Reuben R. McDaniel III and Jessica Garcia, neither of which have a background in plant or earth science. To compensate for the current appointees' paucity of environmental expertise, Hochul must appoint at least one biologist to the open leadership positions.
While these leaders may have won the confidence of key industry players, I will not trust the leadership of the Cannabis Control Board and the Office of Cannabis Management until they establish environmental justice as their top priority.
Policymakers viewed this law as an opportunity to obtain revenue by adding an agribusiness product to the legal market, as well as to reinvest revenue in the lives of the people who were harmed by the racial injustice of mass incarceration. The Marijuana Regulation and Taxation Act is unique for its inclusion of social justice measures to undo the damage inflicted by the criminalization of marijuana.
The worst outcome would be if this new industry harms those same communities that lawmakers sought to help.
States that are a few years into their own legal marijuana industries are facing the consequences of not anticipating and planning for environmental impacts. Recent research calculated that the indoor production of one kilogram of dried cannabis produces thousands of kilograms of carbon dioxide.
Without the proper infrastructure, the cannabis plant can burden our built and natural environment. It is critical to include policies that lift up lower-income, historically marginalized and overpenalized communities, as well as integrate environmental conditions such as water supply, air quality, location and a climate change timeline.
Some states have already started this critical work. Government officials in Boulder County, Colorado, set up a certification program to incentivize lower energy usage or the transition to renewable energy sources. This program could serve as a model for New York regulators.
It is difficult to make specific recommendations because there is a lack of precise energy data from the recreational marijuana industry.
A recent study by Colorado State University researchers found what many industry insiders already surmised: the cannabis industry is an enormous suck on the energy grid. In large-scale growing operations, one farm can operate multiple indoor facilities equipped to grow hundreds of acres of plants. These facilities use high-wattage light fixtures, heaters, air purifiers, irrigation systems and other electrically powered equipment in order to simulate optimal outdoor growing conditions.
While emissions costs vary by state, researchers said the most influential factor is geographic variance in climate and temperature, which causes facilities to need different levels of climate control.
For example, an indoor grow facility in Kaneohe Bay, Hawaii, requires four times as much energy for humidity management than a facility in Long Beach, California. The contents of the resulting pollution  – carbon dioxide and other gaseous chemicals  – will contribute to the global temperature increases and worsen climate conditions.
The leaders of New York's marijuana industry can reduce this additional strain on the planet by easing access to lower-impact technology like solar-powered HVAC systems for growers and processors. This will take subsidies for equipment, increased funding for technological research and a robust environmental assessment process.
Metzger seems like a hopeful candidate to embody these ideals. In a statement, she expressed her enthusiasm for creating an "environmentally sustainable, equitable, and accountable" marijuana market for New Yorkers.
Metzger's resume shows that she has the ingredients to realize these goals. She actually has experience in marijuana legislation. She authored and sponsored the framework for New York's 2018 hemp law. She identifies as an environmentalist and received campaign endorsements from the Sierra Club and other environmental groups.
As for the other appointees, their climate scorecards are not as strong.
During her time in the Assembly, Wright worked on policies pertaining to aging, families, transportation, cities and banks. She was one of many legislators to co-sponsor New York's version of the Green New Deal and one of three to co-sponsor a bill to create a permanent environmental justice advisory council.
Alexander's career has a common thread of social justice. In 2017, he authored a HuffPost piece in response to the police killing of Philando Castile, a Black man who was killed under the assumption that the alleged scent of marijuana made him a threat to public safety. Alexander wrote, "We need to legalize marijuana because prohibition has been ineffective, costly and racially enforced. But, more importantly, it is beyond time that we make clear that marijuana can no longer be used as a justification for police violence or murder." While his résumé shows continuous advocacy for the Democratic Party platform, we cannot infer with certainty that his social justice beliefs will include environmental justice.
On Perry's law firm's website, he lists 15 areas of practice – including "Cannabis & Hemp" – but none relating to environment, land or climate.
The process of integrating an outcast substance into the formalized structure of democratic government is a challenge, but the New York state government has laid out a more holistic roadmap than other states. This is an exciting time for the state, we are on the precipice of a turning point.
The state can direct an ethically regulated cannabis industry only if the benefits of the process outweigh the industrial and agricultural environmental impacts.
When the new regulatory leaders begin to implement the law, it is imperative that they prioritize environmental justice at every level of this new industry.
Amanda H. Cronin is a Fulbright scholar and policy researcher who recently graduated from Cornell University with a degree in environmental science, climate change and law. Her research focuses on the environmental impacts of the cannabis industry.