Opinion
Opinion: Poll finds public support for educational standards in yeshivas
A new survey shows that regulating ultra-Orthodox Jewish schools is popular in New York.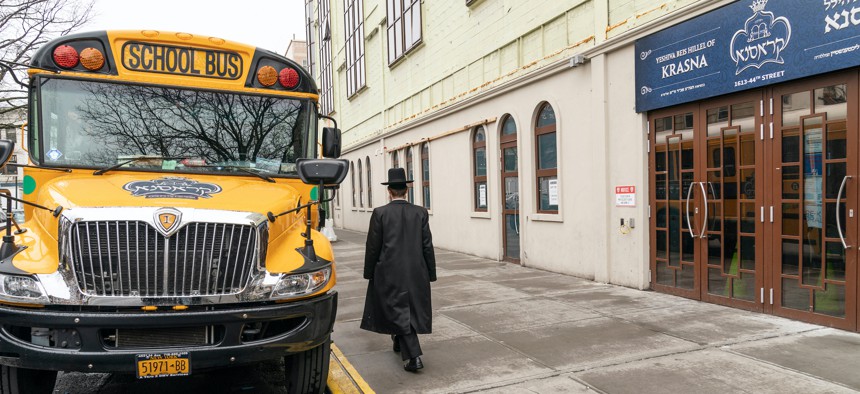 In New York, enforcing secular educational standards in ultra-Orthodox Jewish schools, known as yeshivas, is politically difficult because of the vocal opposition from ultra-Orthodox leaders. But here's something that should make it more politically palatable: the overwhelming majority of New Yorkers actually believe that all students deserve an education that meets basic standards. The New York State Education Department and the Board of Regents, who are currently in the process of developing new regulations, would be backed by the public if they approve strong regulations to address the rampant educational neglect in these schools, which leaves its child victims uninformed about essential subjects like biology, math and English.
YAFFED – an advocacy organization dedicated to improving secular education – commissioned a poll from Charney Research, a firm that has conducted numerous surveys in New York and around the United States, as well as in more than 45 countries, to see if data supports what we have heard time and time again: New Yorkers believe all students have the right to a basic education. On the issue of enforcing secular education in ultra-Orthodox yeshivas, it is clear that common sense prevails.
The poll finds that 84% of registered New York voters support requiring non-public schools to offer students an education in secular subjects that is "substantially equivalent" to what public schools offer, in accordance with New York state law. 
It is also notable that 93% of all New York's registered voters, 97% of private religious school parents, and 95% of Catholics support requiring that all private school students are taught English, math, science, social studies, art and physical education. It makes perfect sense – these skills and experience are vital to finding a career or trade with a living wage, or pursuing further education. New Yorkers want all students to have the opportunity to be active, contributing, financially independent and civically-engaged members of society.
The vocal opposition from some in the ultra-Orthodox community contradicts the public's belief that not only should substantial equivalency standards exist, but they should be strongly enforced—and that requiring up to half the length of a typical secular school day, and conducting inspections are reasonable elements of making regulations that actually achieve their stated purpose. The poll shows 76% of New Yorkers believe in requiring students in private schools to get at least 3.5 hours of secular education daily. Nearly three in five (58%) favor unannounced inspections to ensure students receive the education to which they are entitled under the law.
There still will be loud opposition to regulations from yeshivas and private school interests. There will even be accusations of religious oppression and antisemitism, even though plenty of private Catholic and Jewish day schools have long demonstrated that religious and secular studies can coexist to create a quality, well-rounded education. Despite this pushback, the state should fulfill its duty of putting an enforcement mechanism in place to ensure substantial equivalency is enforced.
This fall, as NYSED drafts regulations for the Board of Regents' consideration, they should know the public stands with them. New Yorkers believe in developing strong regulations to ensure students in ultra-Orthodox yeshivas and in all schools across the state receive the basic education they deserve.