Opinion
Opinion: New York's climate goals inspire Biden's clean energy agenda
The President's administration looked to the 2019 Climate Leadership and Community Protection Act to set its own clean energy agenda.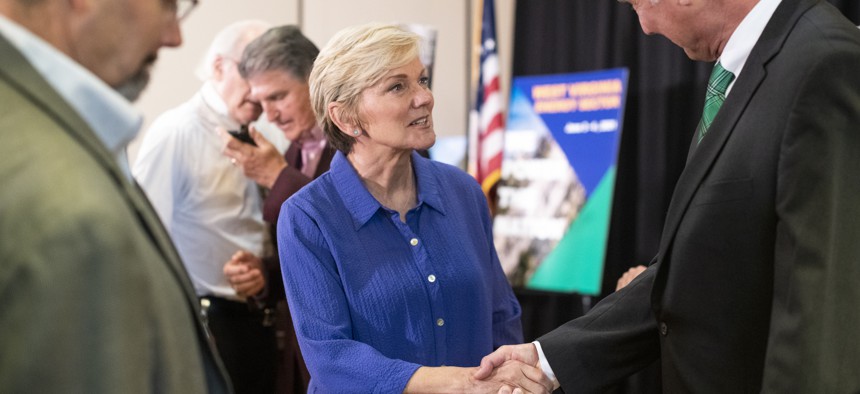 After my visit to New York's Capital Region earlier this month, it's clear to me that the Empire State is becoming an empire of clean energy. With President Biden's agenda to build a better America, this empire will deliver good-paying jobs, cheaper energy bills, cleaner air, and greater resilience to New Yorkers.
The world now recognizes that clean energy is not only the answer to climate change, but this century's greatest economic opportunity. As more countries plan their transition to clean energy, the global market for clean energy technologies is skyrocketing. By the end of the decade, it'll reach $23 trillion – and our economic competitors are racing to stake their claim.
New Yorkers have long understood this. That's why, when Washington pulled back from clean energy and climate action under the previous administration, this state leapt forward. The 2019 Climate Leadership and Community Protection Act (CLCPA) made New York a national climate leader by setting goals to reduce carbon pollution by 40% by 2030 and reach 100% clean electricity by 2040. The Biden administration looked to New York's example in setting our own bold national clean energy agenda, which calls for 100% clean electricity by 2035 and reaching net-zero by 2050. In fact, the CLCPA's climate justice provisions inspired our own Justice40 initiative, which puts disadvantaged communities at the front of the line for federal climate and clean energy investments. 
As I saw on my second visit to the state as Secretary of Energy, clean energy is already helping New Yorkers save money, grow their local economies, and make their communities healthier and more resilient in the face of climate change. Nearly 163,000 New Yorkers work clean energy jobs – and more will soon join them. Equinor is constructing new offshore wind manufacturing hubs at the Port of Albany and the South Brooklyn Marine Terminal – both of which will employ hundreds of New Yorkers to assemble turbines for wind projects up and down the coast, including in the waters off New York. As U.S. Sen. Gillibrand, Rep. Paul Tonko and I saw firsthand, students at Hudson Valley Community College are training for jobs in offshore wind, electric vehicle manufacturing, and solar—jobs with family-sustaining wages and the opportunity to join a union. And the New York Independent System Operator (NYISO) has a plan for building out wind and solar energy across the state that could save consumers nearly half a billion dollars a year.
This is only the beginning. In her State of the State address three weeks ago, Gov. Kathy Hochul outlined an impressive range of new clean energy plans, including developing enough offshore wind capacity to power nearly three million New York households, electrifying and decarbonizing two million homes, and investing $1 billion in electric vehicle infrastructure. She also announced efforts to increase climate resilience in communities across the state, grow the state's clean hydrogen industry, and build a battery research and manufacturing center at Binghamton University.
Outside of state government, New York City is moving forward with all carbon pollution-free new construction. Ithaca is pursuing a first-of-its-kind plan to decarbonize its entire building stock. And from the Hudson Valley to Monroe County, communities have made New York a leading state for community solar projects.
President Biden is giving these efforts a massive boost. The Bipartisan Infrastructure Law is deepening research and development for wind energy. It's allowed the Department of Energy to launch our new Building a Better Grid Initiative to speed transmission deployment – so that we can get more clean energy sources like offshore wind online and keep the power on during natural disasters and cyber attacks. There's $8 billion for clean hydrogen demonstration projects up for grabs. The $3.5 billion investment in the Weatherization Assistance Program – which has improved energy efficiency in over 94,000 low-income New York households – will help us lower energy bills for thousands of New Yorkers. Some of them may currently depend on the Low Income Home Energy Assistance Program, which has more than $875 million available for New York households this winter. And there's funding to support a national network of electric vehicle charging stations and shore up our domestic battery supply chains.
With the second piece of the President's agenda, which is in Sen. Chuck Schumer's capable hands as Majority Leader, the federal government will provide tax credits and incentives to make clean energy technologies like electric vehicles, heat pumps, and rooftop solar panels affordable for middle class families. It'll boost domestic manufacturing of these technologies, so we can build them, use them, and create jobs – all here in America. 
America saw a record 6.4 million new jobs added to the economy in 2021 – the most under any U.S. president in one year. There's more to come. The President's full economic agenda will add 1.5 million jobs a year over the next decade, and the vast majority won't require an advanced degree. Many of those jobs will be right here, thanks to a flourishing clean energy empire that builds a healthier, wealthier future for every New Yorker.