Opinion
Opinion: Cuts to crime victim services funding will leave survivors behind
Tens of thousands of victims use the help to access vital community resources, recover from trauma, and get back on their feet in the wake of abuse, assault, or exploitation.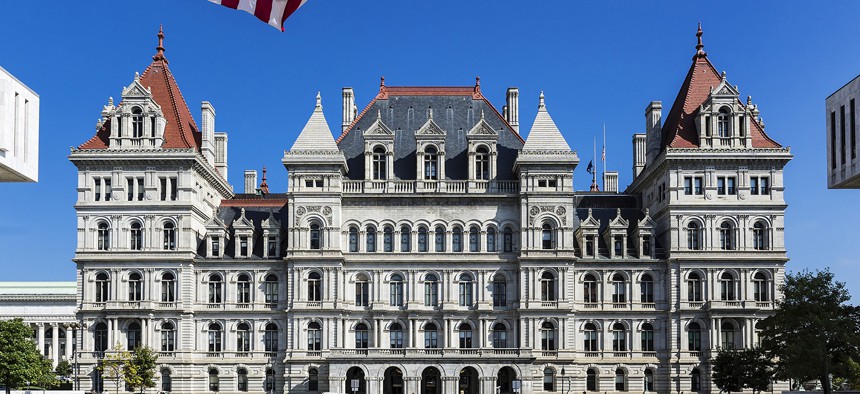 New York Gov. Kathy Hochul recently announced amendments to her proposed budget that included $14.4 million for life-saving victims services across the state. While we applaud this additional critical funding, it is unfortunately not enough to rectify the catastrophic cuts to legal services that help our most at-risk neighbors. 
For decades, the state's Office of Victim Services (OVS, formerly the Crime Victims Board) has been the conduit of federal funding for more than 200 nonprofit service providers, hospitals, district attorneys and other law enforcement agencies in all corners of New York State that deliver critical services, including counseling, case management, and hotline assistance to crime victims. Each year, these services help tens of thousands of victims access vital community resources, recover from trauma, and get back on their feet in the wake of abuse, assault, or exploitation. 
OVS grants are drawn from once-plentiful deposits in the Crime Victims Fund, a long-standing federal program that collects billions in fines and penalties paid by convicted offenders, dating back to the 1984 Victims of Crime Act (VOCA). In 2018, OVS made the transformative addition of a legal assistance program, committing $17 million annually over five years to more than 60 service providers statewide, allowing them to significantly expand or even launch new legal programs for underserved New Yorkers. 
Unfortunately, with VOCA deposits severely depleted in the past several years due to changes in federal prosecutions and fines, OVS abruptly notified legal providers in late December that it will be terminating its contracts early, leaving providers just nine months to figure out how to fill this gaping hole. 
This loss of funding will have a devastating impact. At Safe Horizon, the nation's largest victim services nonprofit, OVS funding for legal services has allowed us to serve an additional 1,887 survivors of domestic violence, child abuse and human trafficking, assisting them in family law and immigration law matters. At Sanctuary for Families, OVS legal funding supports the work of nine family law, immigration, and legal helpline attorneys and support staff who collectively have served more than 1,800 survivors in over 2,400 legal cases over the past four years. Many smaller agencies—and new legal programs launched with this funding—face the prospect of shuttering their programs altogether. 
Vulnerable victims of domestic violence, sexual assault, and other crimes already face countless hurdles that can hinder their ability to access justice. Poverty, lack of knowledge of their rights and the services available to them, immigration status, language barriers, fear of law enforcement and the criminal justice system, fear of retaliation, trauma –  all these factors and many others can leave victims feeling like they have to navigate their options alone.  
The acute need for victim services has only intensified during the coronavirus pandemic. Crime victims and their families, especially those from lower-income Black and brown communities and other communities of color, have felt the brunt of the public health crisis. Housing instability, food insecurity, job loss, lack of childcare, school closures, isolation, lack of access to testing and vaccines, higher positivity rates and illness—these are just some of the myriad dynamics that led to a documented increase in incidents of violence, abuse and exploitation.   
In Washington, lawmakers of both parties recognized the grave situation facing victim service providers and the vulnerable individuals and families they serve. Last year, Congress acted with a "VOCA Fix" bill, passed with overwhelming bipartisan support in the House (384-38) and Senate (100-0), and signed into law by President Joe Biden in July 2021. The law channels additional revenue into the Crime Victims Fund, which eventually should resolve the issue. However, budget analysts estimate that it will take 2-3 years for the Crime Victims Fund to be restored to previous levels.
The funding recently announced by Governor Hochul solves one problem but still leaves a gaping hole for victim legal services. Fortunately, it doesn't need to be this way. Gov. Hochul has trumpeted the state's strong financial position, thanks to increased tax receipts, a thriving stock market, and the influx of federal aid from the American Rescue Plan Act (ARPA). There is, in fact, a budget surplus, including an estimated $24 billion in ARPA funds. A number of other states have already committed funding to keep the victim services sector whole – California set aside $100 million in ARPA funds, and other states, including Washington, Alaska, and Iowa, have made similar commitments. This is precisely the kind of urgent need this funding was intended to address. In New York, adding just over $10 million to the pool for a total of $25 million – a tiny fraction of the state's budget, less than 1/10th of 1% of the surplus alone – would fill the legal services gap and keep these programs intact for the reminder of the contract term. 
In a year when the state boasts strong fiscal health and the Governor is proposing bold, multi-billion-dollar investments for essential initiatives like rebuilding healthcare and public education systems and workforce, and anti-gun violence programs – within an overall Executive Budget $4.3 billion larger than last year's approved state budget – allocating modest resources to forestall devastating cuts in crime victim services seems like an obvious choice. We applaud Governor Hochul for the steps she has taken. Now it's up to the Legislature - a total of $25 million in the final budget is a small price to pay for safety and critical services for victims of crime.